Joe Douglas survived his first NFL Draft as the general manager of the New York Jets with a couple of high-profile selections with O-lineman Mekhi Becton (Louisville) and WR Denzel Mims (Baylor).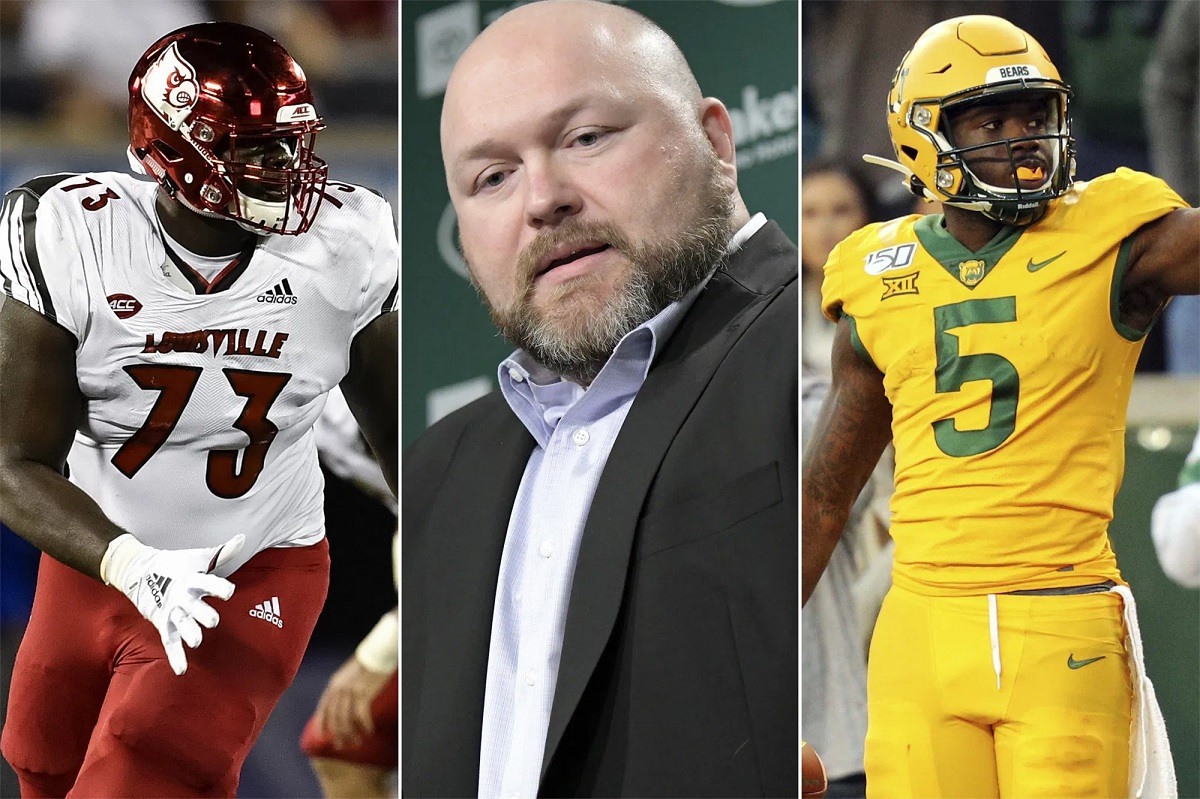 In the past, the Jets made bold moves to trade up in the draft and those gambles rarely panned out. In the 2020 NFL Draft, Douglas pulled off a couple of trades and took advantage of two instances in which he traded down for more picks, and still selected players on his watch list.
Insiders always knew Douglas had a keen eye for evaluating talent and he pulled off a couple of trades for the Jets so that they were able to acquire 11 players and future draft picks.
2020 NFL Draft – NY Jets Picks
RD 1, #11: Mekhi Becton (OT, Louisville)
RD 2, #59: Denzel Mims (WR, Baylor)
RD 3, #68: Ashtyn Davis (S, California)
RD 3, #79: Jabari Zuniga (DE, Florida)
RD 4, #120: La'Mical Perine (RB, Florida)
RD 4, #125: James Morgan (QB, FIU)
RD 4, #129: Cameron Clark (OT, Charlotte)
RD 5, #158: Bryce Hall (CB, Virginia)
RD 6, #191: Braden Mann (P, Texas A&M)
The punter is the only pick that raises eyebrows. Sure, it is a sixth-round pick and the Jets' last overall selection. But in Douglas' defense, he selected the #1 punter in the draft. Braden Mann won the Ray Guy award back in 2018, but had a lackluster season last year with Texas A&M. The Jets punted more than any other team in the NFL last season, so they were in the need for a punter.
Jets Love Big Guy Becton
The Jets made a wise move to shore up the left side of their line with Mekhi Becton, their first-round pick in the NFL Draft. Becton, all 6-foot-7 and 369 pounds of him, will be protecting Sam Darnold's blind-side.
Becton started his last three seasons at Louisville. He played both tackle positions, but spent most of his career as the LT.
Mekhi Becton impressed scouts,especially the Jets, when he unleashed a blistering 5.11 time in the 40-yard dash. To put that in perspective, Becton is the largest player invited to the NFL Combine and he demonstrated ungodly speed for a man of his size. He's the largest player to run a sub-5.2 40-time in 14 years.
Becton's stock dropped a bit when he was flagged at the combine for a positive test. He tested clean all four seasons at Louisville, but he admitted he made a "one-time mistake" with either marijuana or PEDs. The news of his positive test was vague and wasn't enough of a risk to deter Douglas from drafting Becton.
"I dominated the man in front of me," Becton told the media during the NFL Combine. "It shows on the tape, every play. I make sure he falls every play."
A quick glance at Becton's highlight reel confirms his domination, and will be a huge addition to the NY Jets.
Welcome to the Jets, Denzel Mims
It's a long way from Waco, Texas to New York City, but Denzel Mims is ready to travel and take the NY Jets to the next level. He's fast, like the wind, and dazzled scouts with a 4.38 40-time.
The Jets added Mims in the tail-end of the second round, but that doesn't mean he doesn't have the ability to make some big plays for Adam Gase, Sam Darnold, and the offense.
"Denzel Mims is a clutch player," said Matt Rhule, who coached Mims at Baylor. "He's someone who goes out there and when it really counts makes big plays. "His best football is still ahead of him, and the greatest thing about him is he's a guy that wants to learn. He wants to get better. He wants to improve. He's driven to be good."
Mims scored a pair of game-winning touchdown receptions in his career. Baylor fans still talk about his touchdown catch to put the Bears over Oklahoma State.
"When it was crunch time, he was who we went to," said Rhule said. "Lots of guys have stats, but they disappear at the end of games. Denzel did not disappear.
Even after surgery, Mims had a solid year with 66 receptions for 1,020 yards and 12 touchdowns.
The Jets needed help at wide receiver after Robby Anderson left for Carolina in free agency.
Bolster the Secondary and the Florida Guys
The Jets needed help in the secondary, and they've added a couple of strong players with Ashtyn Davis and Bryce Hall.
Davis played safety at Cal and he's a speedster. He went from a walk-on to one of the top defenders in the Pac-12. Douglas selected Davis at the top of the third round with the #68 overall pick.
The Jets selected cornerback Bryce Hall with a fifth-round pick. Considering how far Hall dropped, the Jets got a steal.
Douglas also drafted a pair of players from the Florida Gators. They selected edge rusher Jabari Zuniga with the #79 overall pick in the third round.
They also took a flier on running back La'Mical Perine in the fourth round when there were a couple of other backs still available like Deejay Davis (Miami) and Eno Benjamin (Arizona State).
The Jets also selected a quarterback in the fourth round, even though they have Sam Darnold. James Morgan (FIU) appeared on OG's list of quarterback sleepers in the 2020 NFL Draft. There were a couple of other quarterbacks still available at the time, including Wazzu's Anthony Gordon, Jake Fromm (Georgia), and Cole McDonald (Hawaii).
The Top 5 Trades
ESPN liked the maneuvering Douglas pulled off for the Jets during the NFL Draft. They utilized the famous Jimmy Johnson "Draft Value Chart" to analyze the trades that Douglas engineered. ESPN graded two of his trades in their Top-5 Trades in the 2020 NFL Draft.
Douglas didn't pull a crazy scheme like Kevin Costner did in the film "Draft Day," but he managed to get back a pick the Jets originally gave up to the New England Patriots.
The Jets traded their #48 pick to the Seattle Seahawks in exchange for #59 and #101.
"When we were getting closer to 48, we had a strong group of players, not only wide receivers, but other positions," said Douglas. "Moving back to 59, you may lose a few, but there were still going to be enough players that you're excited about. So, we felt that it wasn't too far to move back and wait a little bit and get it done with Seattle."
Douglas parlayed the #101 pick into three picks. He traded #101 to the New England Patriots for #120 and #125, plus a pick in the sixth round in 2021. That sixth-rounder was originally the Jets pick anyway. They had to give it up to acquire Demaryius Thomas last season.
"Just trying to do what's best for the New York Jets," said Douglas. "And if it happens to be working with the Patriots on a trade or working with the Seahawks on a trade, I mean, if it's something that we feel strongly that can help us moving forward, we'll do it."
"In the end, the Patriots paid a pretty hefty price for the right to select tight end Dalton Keene," said ESPN analyst Seth Walder.