With news that guard Jayson Tatum will miss at least the next two games with an ankle injury for Team USA after near upset in a 1-point overtime win against Turkey, USA's odds to win the FIBA World Cup shrunk to even money, while Serbia's increased to 3/2 odds to win the Cup.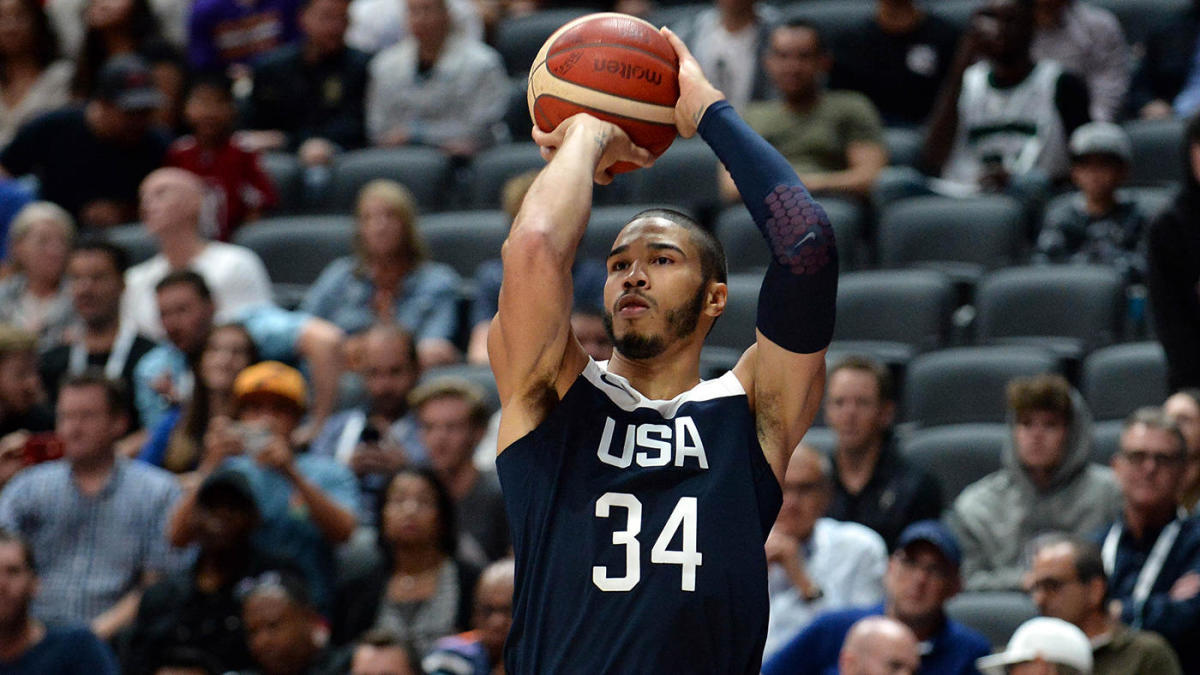 The opening round of group play is almost complete in China. The top two teams in each group advance to the second group round.
Team USA is 2-0 with victories over Czech Republic and Turkey and expected to advance to the second round.
Over the weekend, USA scored only 88 points but defeated the Czechs by 21 points. Donovan Mitchell from the Utah Jazz led USA with 16 points. Czech's Tomas Satoransky, who played with the Chicago Bulls, led all scorers with 17 points.
FIBA WORLD CUP ODDS (9/4/19):
USA 1/1
Serbia 3/2
France 16/1
Spain 16/1
Australia 20/1
Lithuanian 20/1
Greece 33/1
USA got lucky after a one-point overtime scare over Turkey 93-92. Pundits are wondering if that was the wake-up call that head coach Gregg Popovich and Team USA needed. On the flip side, the Turkey debacle could be a precursor of impending doom for the rag-tag bunch of pros with limited international experience.
USA won 44-straight major games, but suffered a shocking loss to Australia in an exhibition game leading up to the World Cup.
Team U-S-Who?
A crop of premier pros, including LeBron James and James Harden, chose to skip the World Cup this year to focus on resting up for the next NBA season. Coach Pops took a very young and inexperienced team to China. However, he feels the squad has enough talent to win another FIBA Cup.
"They've become close in a short period of time," said Popovich said. "The camaraderie has blossomed, and I think that will bode well for us."
Before the World Cup began, forward Kyle Kuzma returned home to the States with a foot injury. USA also suffered another blow when Jayson Tatum turned his ankle in the Turkey game.
Khris Middleton and Jayson Tatum hit key free throws down the stretch of the Turkey game. Middleton led USA with 17 points, while Tatum added 11 points and 11 rebounds before he left the game with a sprained ankle.
If Team USA wants to avoid another loss, it will be up to Kemba Walker to shake off a long-range shooting slump. After dropping 13 points against the Czech Republic, Walker posted a bad game against Turkey when he missed nine shots.
Serbia Undefeated, Bogan Fuego
Serbia came into the 2019 FIBA World Cup as the second-best favorite on the board behind Team USA at 2/1 odds. If it weren't for the Americans, the Serbs would be the team to beat. Serbia jumped to 3/2 odds after the Turkey scare.
Over the first three games of group action, Bogan Bogdanovic lead all scorers with a 24-point average. Bogdanovic shot 61.5 percent from the field and 65.2 percent from three-point range. Teammate Nikola Jokic is averaging 13.3 points per game, but the big man from the Denver Nuggets only averages 6 rebounds in limited action.
Undefeated Serbia is leading all teams with 107 points per game during their first three contests. USA is tied for sixth averaging 90.5 points in two games.
Serbia's sharpshooters are part of the reason they've been so successful in the World Cup. Serbia connected on 53 percent of their three-pointers. The squad is also averaging nearly 12 made treys per game. Only France has a slightly better average at 53.8 percent from downtown.