James Harden's torrid scoring streak continues with his second-straight 50-point game after the Rockets guard unleashed 58 points in an overtime loss to the Brooklyn Nets.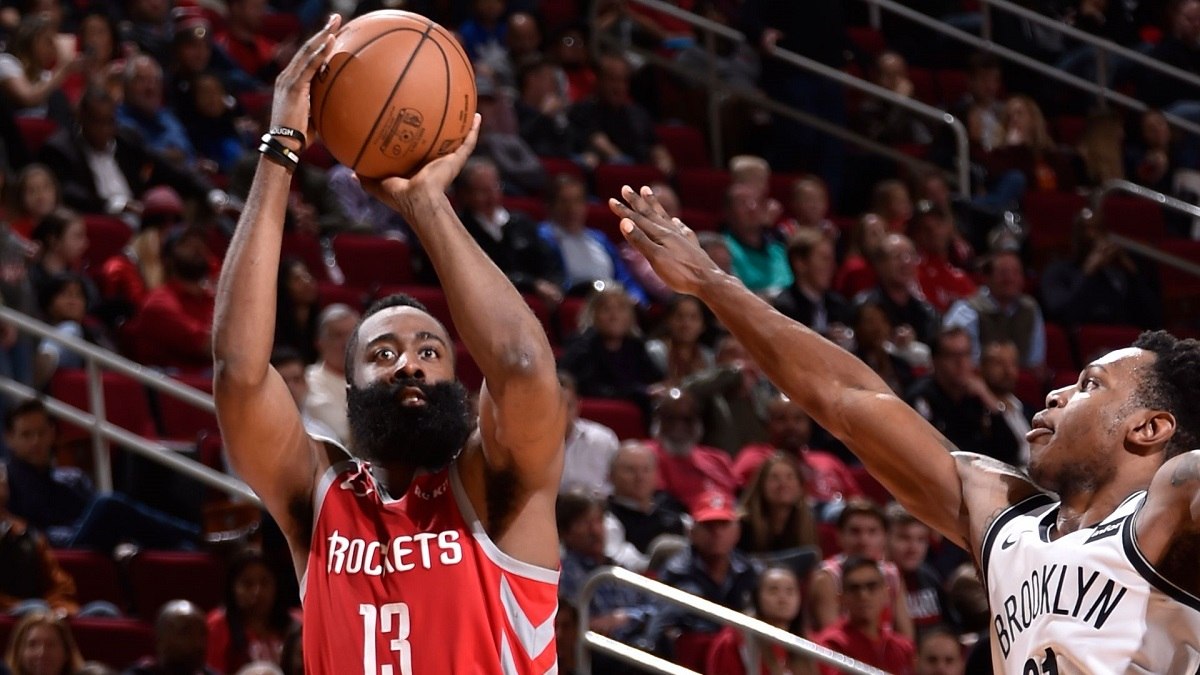 The Nets (23-23) won 145-142 and the Rockets (25-19) suffered their fourth loss in the last seven games. The Rockets set an NBA record with 70 three-point attempts during the game.
Harden had previously set a season-high with 57 points on Monday night against the Memphis Grizzlies. After an off night in Orlando last weekend in which he shot 1-for-16 from three-point range, Harden scored 115 points in his last two games.
During his current scoring blitz, Harden scored 30 or more points in 18 consecutive games. Wilt Chamberlin unleashed 20 30-plus scoring games in a row back in 1964.
Harden has also scored 40 or more points in nine out of his last 12 games. In his last 21 games, Harden is averaging 41 points per game.
70 Treys
The Rockets unleashed an aerial bombardment with 70 three-point attempts, which set an NBA record. They made only 23 and shot 32.9 percent from behind the arc. The Nets shot only 36 treys and connected on 16 of them for a 44.4 percent clip.
Harden struggled from downtown and only shot 5-for-19 from three-point land. He went to the free throw line 23 times and missed only two free throws. He finished a highly efficient 11-for-15 inside the three-point line.
Harden finished the night with 58 points, 10 rebounds, and 6 assists.
Dinwiddie Time
The Grizzlies could not stop Harden during his 57-point performance and the Rockets cruised to an easy victory. The Brooklyn Nets managed to keep pace with the high-flying Rockets all night, but they hunkered down in overtime and the Nets made several key defensive stops.
"The man had 60 and we won," Brooklyn guard Spencer Dinwiddie said about surviving Harden's output. "That's big time for a young group."
Dinwiddie was a one-man wrecking crew. He scored 25 of his team-high 33 points in the fourth quarter and overtime session. He added 10 assists and hit three key three-points to close a nine-point gap late in the game. He finished the night shooting 4-for-8 from downtown.
"Frustrating," Harden said on the OT loss. "Very frustrating."
Beard Streak
There was a stretch of five consecutive games at the end of December in which Harden scored 40 points or more. He came into the new year smoking hot with no indications of cooling down.
In January alone, Harden scored 40-plus in five out of eight games. In two of those games Harden failed to make 40, he still scored 38 points.
A game against the Portland Trailblazers, on December 11, 2018, marked the last time Harden's line dipped under 30 points. He scored only 29 points that night. Since then, he's scored 30-plus in 18 consecutive games.
Since Thanksgiving, Harden unleashed four 50-point games. He dropped 54 against the Wizards in overtime for his first 50-gamer of the season. In mid-December, the Rockets hosted LeBron James and the Lakers and Harden put up 50 points and a triple double without breaking a sweat.
Limp Rockets
Injuries is one of the reasons why Harden has been handling the brunt of the scoring load during his most recent scoring streak.
The game against Brooklyn marked the first time the Rockets had Eric Gordon back in the lineup after he missed the previous eight games with a knee injury. Gordon scored 20 points in only 21 minutes of action.
Veteran point guard Chris Paul, who has been nursing a hamstring injury, missed his 13th straight game.
On Deck: Lakers, Sixers, and the Knicks
Earlier this season, the Rockets and Lakers were involved in fisticuffs in a game that spoiled LeBron James' home debut as a new member of the Lakers.
The Rockets host the Lakers on Saturday, but fans will not get the LeBron vs. Harden showdown they hoped to see. LeBron injured his groin on Christmas and he missed 11 games. Team doctors cleared LeBron for practice next week, but will miss the roadtrip to Texas.
The Lakers have been struggling without LeBron James in the lineup the previous three weeks. Plus, it seems like every few weeks there are whispers about the impending departure of Luke Walton as head coach. A win over the last-place Bulls might have saved Walton's job… for now.
Next week, the Rockets hit the road and visit the northeast for games against Jimmy Butler and the Philadelphia 76ers and then a quickie visit to Madison Square Garden to take on the Knicks.