Jake Paul came into his fight with Nate Robinson on Saturday night with a major experience advantage in the ring, while Robinson hoped his history as a professional athlete would allow him to overwhelm the YouTuber. In the end, experience won out.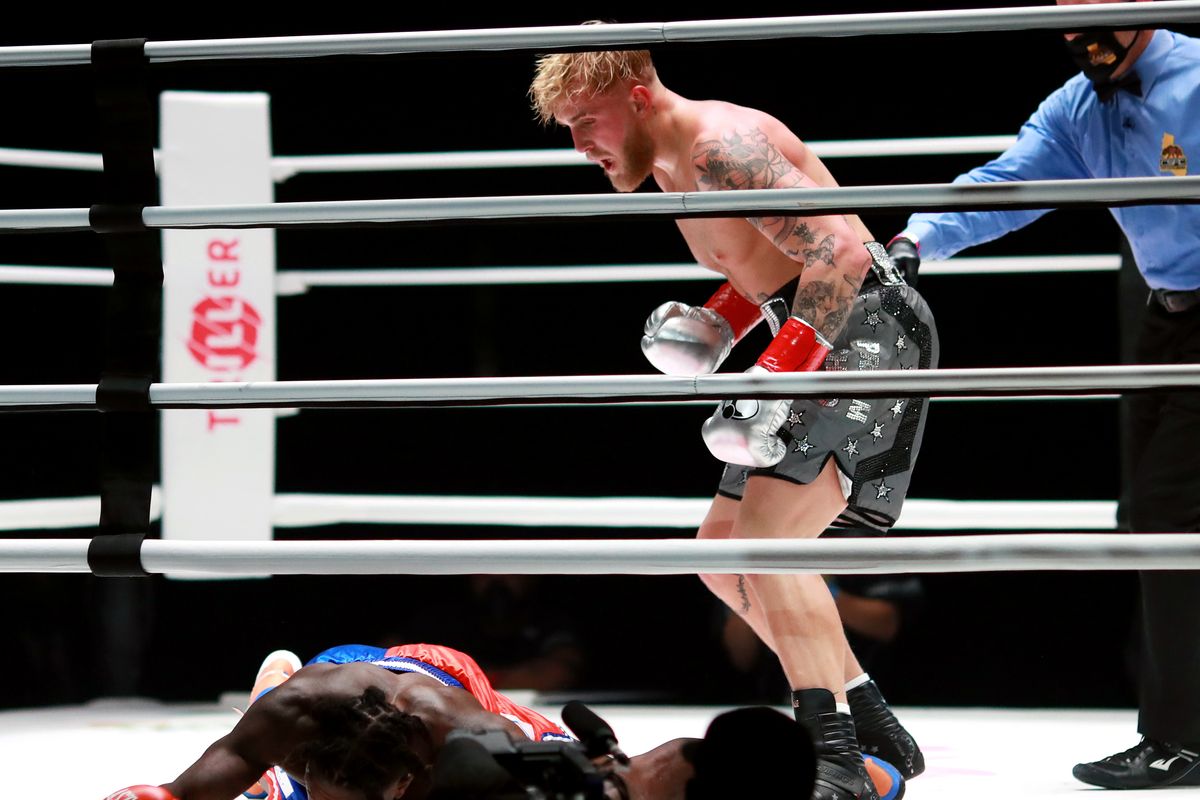 Paul (2-0, 2 KOs) knocked down Robinson once in the first round, then scored another knockdown before finishing the fight with one monster punch about 1:35 into the second round.
Paul Pounds Charging Robinson
Robinson (0-1) fought aggressively for the time that the fight lasted, charging into Paul time and again. That actually slowed down the pace of the fight, as the two men often ended up in clinches after Robinson got in close.
When punches were thrown, Paul outclassed Robinson. While he only landed eight punches in total, three led to knockdowns, including the final punch that ended the fight. Rap legend Snoop Dogg provided the color commentary.
In case y'all didn't see the end of the Nate Robinson vs Jake Paul fight… Goodness gracious pic.twitter.com/8W736B5XRt

— Reggie Chatman Jr. (@ReggieChatman) November 29, 2020
Snoop Dogg's commentary on Nate Robinson vs Jake Paul pic.twitter.com/wbvTBCHWXL

— The Cruz Show (@TheCruzShow) November 29, 2020
Robinson showed his inexperience in the ring compared to his opponent. While Paul is nowhere near being a world-class fighter, he has trained as a professional, and the difference showed. That led many to question why this fight even took place. As much as it may be a cliché, it's true that you can't "play" boxing, and the frightening knockout led analysts to ask why officials would allow a boxer without even any amateur experience to box without headgear against a fighter with a pro bout under his belt.
I don't care about athletes or not, stop allowing guys who don't know how to fight into ring!! Paul has actually trained to fight. Awful. #TysonJonesJr #TysonJones

— Teddy Atlas (@TeddyAtlasReal) November 29, 2020
That fight should have been stopped twice before that third scary knockdown. Guy needed yo be saved from himself. Wtf CSAC!! That wasn't a professional who was probably concussed. Did you see the knockdowns?!? C'mon now!!!! #boxing #TysonJones

— Lou DiBella (@loudibella) November 29, 2020
Paul entered the fight as a -245 favorite over Robinson (+175), according to DraftKings Sportsbook.
After the fight, Paul said that he had to fight with a broken nose, an injury sustained by falling on his face while meditating. While he says that he's not in a rush to continue his boxing career – he said he would focus on his music instead – he made a series of callouts, including once again challenging UFC fighter Conor McGregor.
Regardless of who he fights next, however, Paul said he thinks he has found a new calling.
"Being one of the most hated people in the world, I have to fight through that," Paul said after the fight. "It's not easy. So for me, this is my perfect sport."