Jacob deGrom is enjoying the kind of start that could earn him his third career Cy Young Award. After another sterling performance on Friday night, Mets fans were chanting for deGrom to win an even bigger prize: the NL MVP trophy.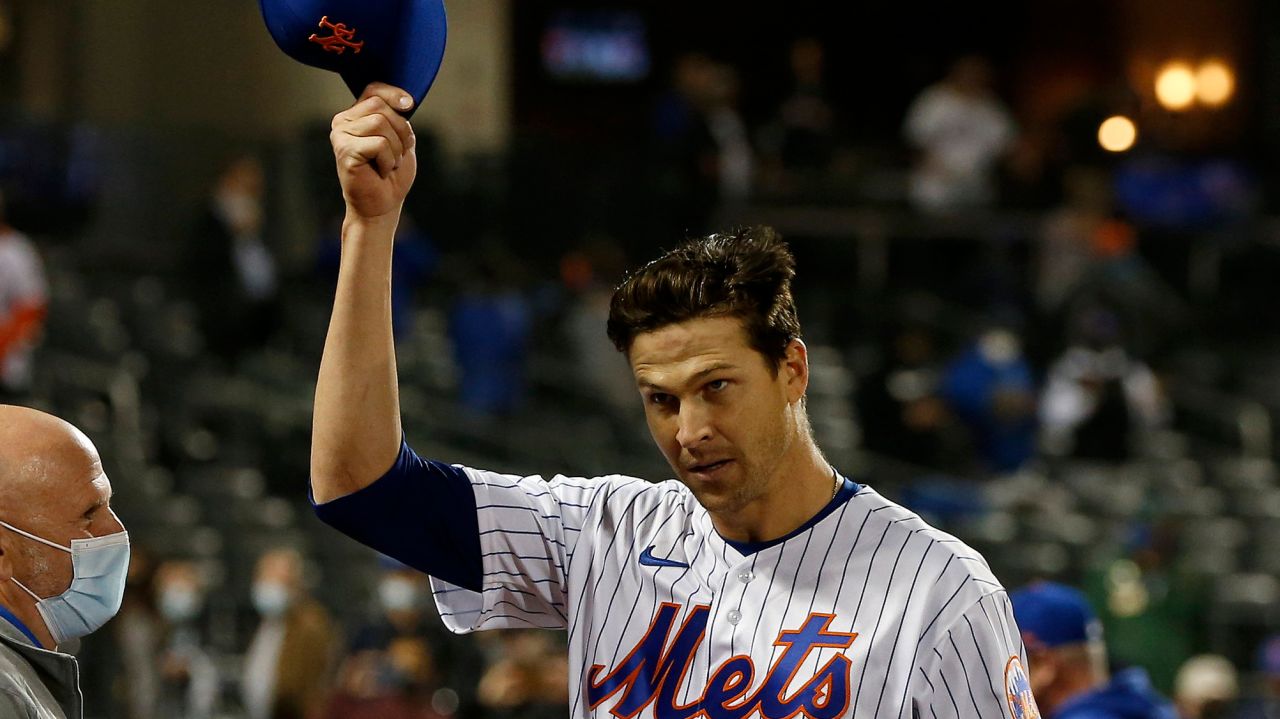 deGrom threw a complete game, two-hit shutout and struck out 15 batters in New York's 6-0 win over the Washington Nationals on Friday.
deGrom dominates on mound, at plate
Not only did deGrom dazzle on the mound, but he also excelled at the plate. The pitcher went 2-for-4 with a double, RBI, and run scored. So far on the year, deGrom is 2-1 with a 0.31 ERA, while hitting .545 with a pair of RBIs.
All 15 strikeouts from Jacob deGrom's career night. Come for the whiffs, stay for the "Oh!," "Ohhh," and "Ohh boy" exclamations from Keith. pic.twitter.com/ryrEXzYb5G

— Anthony DiComo (@AnthonyDiComo) April 24, 2021
That's a two-way performance Shohei Ohtani would take any day. Of course, deGrom is most focused on his pitching. The 33-year-old set a career high with the 15-strikeout performance, and struck out at least 14 for his third game in a row.
"He singlehandedly won and changed the game," Mets outfielder Brandon Nimmo told reporters. "When you see someone do that in baseball, that is really, really hard to do. It is such a team game it is hard to have one person completely beat the other team. It's the most impressive performance that I've ever seen. I'm still blown away that I got to be a part of it."
The performance generated MVP chants from the limited capacity crowd at Citi Field on Friday on multiple occasions.
MVP! MVP! MVP!

Another hit for deGrom and @mets fans love it. pic.twitter.com/yN6FkEbN9W

— MLB (@MLB) April 24, 2021
"That was definitely cool," deGrom said afterward. "You set personal goals, but the main thing is to help the team to win. Obviously, it would be really cool to win an MVP. Hopefully, we'll see if we can keep this thing going."
Kershaw last pitcher to win award
There's no doubt that deGrom has established himself as the early NL Cy Young Award favorite. FanDuel Sportsbook lists the Mets ace as the +130 pick to win the award, far ahead of Corbin Burnes (+450) and Trevor Bauer (+900).
But pitchers seldom win MVP awards, as they struggle to convince voters that they have the same overall impact as everyday players. Clayton Kershaw was the last pitcher to pick up an MVP award, winning the National League trophy in 2014. That year, Kershaw went 21-3 with a 1.77 ERA to beat out Giancarlo Stanton and Andrew McCutchen for the award.
---
NL MVP Odds (via FanDuel Sportsbook)
Ronald Acuna Jr.: +300
Juan Soto: +900
Mookie Betts: +900
Corey Seager: +1200
Fernando Tatis Jr.: +1500
Freddie Freeman: +1500
Jacob deGrom: +1500
Bryce Harper: +2100
Francisco Lindor: +2100
---
deGrom has certainly inserted himself into the conversation. FanDuel now lists him as a +1500 pick to win the NL MVP, the same odds as Fernando Tatis Jr. and Freddie Freeman.
Ronald Acuna Jr. (+300) currently occupies the favorite role in the NL MVP race. The 23-year-old Braves outfielder is hitting .394 with seven homers and 16 RBI in his first 17 games. Juan Soto (+900), Mookie Betts (+900), and Corey Seager (+1200) will also factor into the MVP race.
But deGrom is putting together a special year, and if he keeps it up, he may rocket further up the ranks of MVP candidates.
"I mean, he's really good," Nationals outfielder Kyle Schwarber said after Friday's performance. "And there's no doubt about that."