New York Mets ace Jacob deGrom is throwing harder than ever heading into the 2021 season, a sign that he could make a strong run at the National League Cy Young Award this year.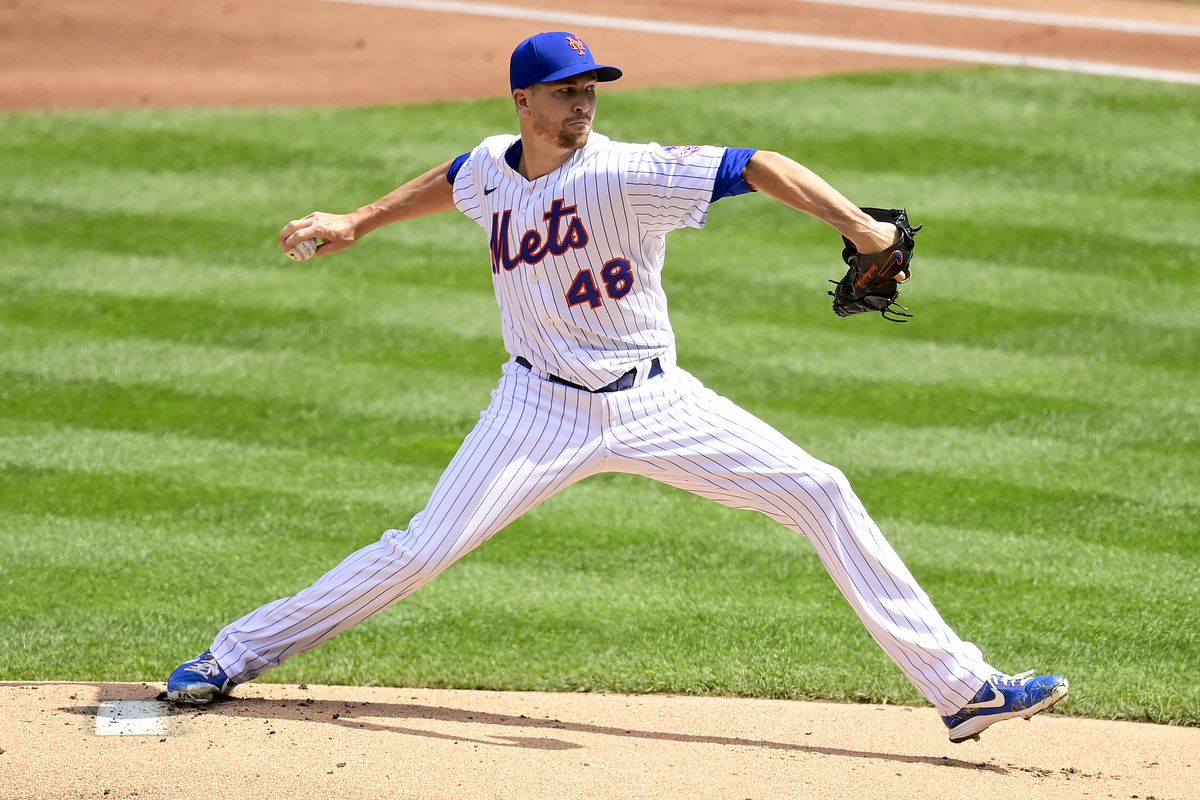 PointsBet lists deGrom as a +400 pick to win the trophy, which would be his third win in four years.
deGrom Flashes Powerful Fastball in Spring Training
deGrom is now 32 years old; an age where most pitchers are beginning their transition into the crafty veteran stage of their careers. But the Mets star continues to throw harder every year. He even flashed a 101-mph fastball in a spring training start on Sunday.
While deGrom didn't win the Cy Young Award last year, it was hardly a down season. He went 4-2 with a 2.38 ERA, finishing third in the voting behind Trevor Bauer and Yu Darvish. In last Sunday's outing, deGrom went head-to-head with another leading contender, Max Scherzer of the Washington Nationals.
"I enjoy going out there and competing with Max," deGrom told reporters after the game, which the Mets won 6-2. "Those are normally fun games, and we both love competing, so we go out there and try to leave it all out on the field. Whoever had the better day is probably going to win that game."
Scherzer and deGrom are likely to face off again on Opening Day, and could clash many times over the course of the year as divisional rivals.
Scherzer (+850) comes in as the third choice on the PointsBet board. The Nationals starter gave up four runs over five innings in that preseason showdown with deGrom. The result didn't bother the 36-year-old, who already has three Cy Young Awards to his credit.
"You kind of look at it as a whole, kind of as a whole spring training," Scherzer told reporters after that start. "Obviously today, I had some stressful innings. I had a high pitch count there in the first. That mimics the season. It's never just easy up and down. I wish it was, but it's not."
Can Bauer Repeat Cy Young Performance?
In between deGrom and Scherzer, Trevor Bauer sits as the +600 second choice to win the Cy Young. Bauer won the award last year after going 5-4 with a 1.73 ERA for the Reds, and will look to repeat that career-best performance in 2021 with the Dodgers.
— Barry (@YanksBar) March 24, 2021
There are some worries that Bauer won't be able to live up to the hype and his massive new contract. For starters, Bauer has only posted an ERA below 4.00 twice in his nine-year career. Secondly, he noticeably increased his spin rate on most of his pitches in 2020, something many observers found suspicious, and something MLB officials say they will use as a metric to detect cheating in 2021.
---
NL Cy Young Award Odds (via PointsBet)
Jacob deGrom: +400
Trevor Bauer: +600
Max Scherzer: +850
Walker Buehler: +900
Yu Darvish: +1000
Aaron Nola: +1200
Blake Snell: +1200
Jack Flaherty: +1200
Luis Castillo: +1600
Max Fried: +1600
---
Other top contenders for the NL Cy Young Award in 2021 include Walker Buehler (+900), Yu Darvish (+1000), and Aaron Nola (+1200).