Proving those who can do, can teach, Marshall Gramm, an economics professor at Rhodes College in Tennessee nailed an Authentic-Improbable exacta in the Breeders' Cup Classic. The $170,250 score gave him the 2020 Breeders' Cup Betting Challenge title.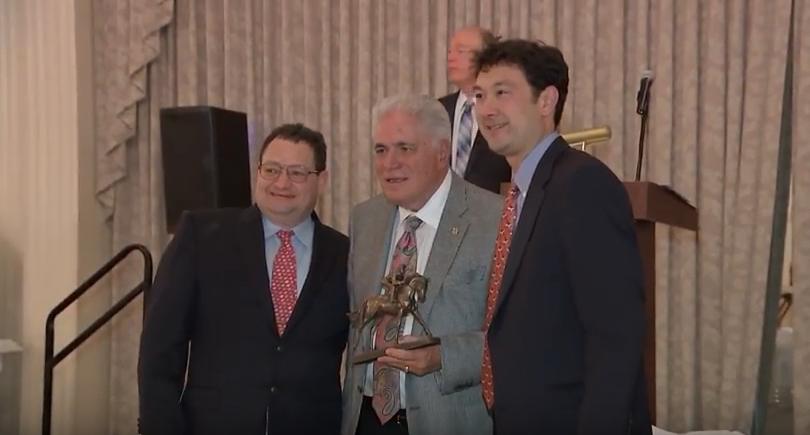 With the late bet, which vaulted Gramm over 429 other top handicappers, Gramm finished with 170,250 points. His total Breeders' Cup Betting Challenge winnings of $492,750 included a first-prize check for $322,500. Jonathan Kinchen, the NYRA/Fox Sports handicapper and analyst, finished second. He racked up 161,025.2 points and $376,025.20. That included a second-prize check for $215,000.
Dylan Donnelly of Rancho Cucamonga, Calif. took third with 136,200 points and $118,250 in prize money, good for a $254,450 total payday.
The Breeders' Cup Betting Challenge is Thoroughbred racing's biggest live-money tournament. Each of the 430 players anted up a $2,500 buy-in, backed up with a $7,500 betting bankroll. The buy-ins created a $1,075,000 prize pool. The players made real wagers on Keeneland's 22-race, two-day Breeders' Cup card: win, place, show, exacta, trifecta, and daily double, keeping all winnings from their wagers.
Bringing the Betting Window to the Classroom
Gramm is well acquainted with the betting window and the stable. Not only does he chair the economics department at Rhodes, he teaches a course called Economics of Racetrack Wagering Markets. That class combines probability, decision-making, and behavioral economics, and takes it all to the track.
Gramm practices what he preaches in the classroom. He's a co-owner of Ten Strike Racing, a stable boasting stakes winners Warrior's Charge, Dot Matrix, and the aptly named Long On Value among its 338 winners. The stable gets its name from the 1884 winner of the Tennessee Stakes.
Gramm's tournament was an economic model of value, starting with nailing a $600 Friday daily-double wager connecting Vequist in the Breeders' Cup Juvenile Fillies to favorite Aunt Pearl in the Juvenile Fillies Turf. That $17,350 bet put him in seventh place after the first day.
Going All-In on Monomoy Girl Proves Clutch
Saturday's highlights featured Gramm putting his entire $18,165 bankroll on favored Monomoy Girl in the Distaff. After she cruised home victorious, Gramm more than doubled his money. He tacked on small winnings with a minimum show bet in the Turf before making a dramatic, come-from-behind score in the Classic.
Gramm needed a stretch drive in the Classic because he went into the final race in 11th place with $36,930. That closing drive included six individual exacta wagers using Authentic, Improbable, and Tom's d'Etat in various combinations. A $7,500 total wager on Authentic and Improbable brought in that $170,250 finish and the title after the Bob Baffert stablemates finished 1-2. The $1 exacta paid $22.70.
"When I hit (the exacta), I was thrilled, my biggest score ever," Gramm said in a release announcing the win. "You know you've had a great day, but it was nerve-racking and a relief, and I will always be able to say that I am a BCBC Champion."