Luuuuuuuuuke! Luke Voit, the New York Yankees' first baseman is leading the Bronx Bombers' recent resurgence, hitting four home runs in three consecutive games this week to take over the MLB lead with 20 HRs. In the last six games, Voit hit six home runs and drove in 15 runs.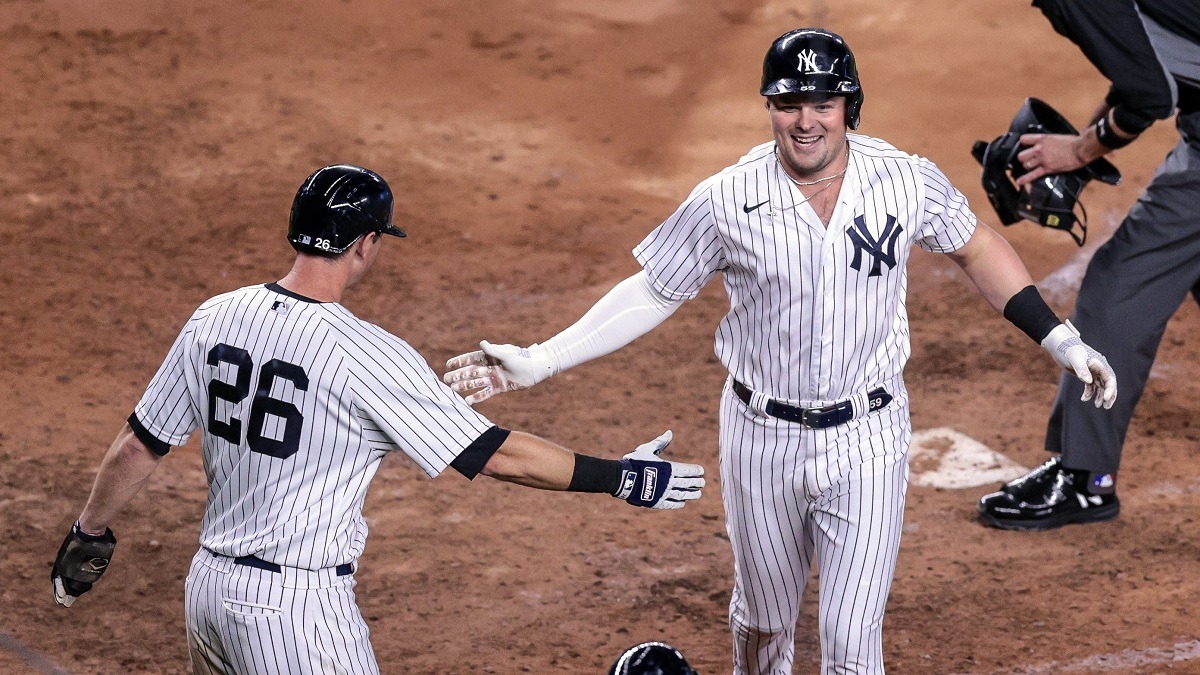 The Yankees (29-21) won eight games in a row during a volcanic eruption of offense and regained second place in the American League East. In the last three games, the Yankees hit at least six home runs per game.
In their most-recent three-game series against the Toronto Blue Jays, the Yankees hit 19 home runs and outscored the Jays 43-15.
The Yankees erupted for 20 runs in the series opener, serviced by six home runs, including two from Voit. In the second game, the Yankees hit seven home runs and cranked out 13 runs. In the third game, the Yankees hit six more home runs, including five in the same inning.
---
| | | | |
| --- | --- | --- | --- |
| DATE | SCORE | NYY HRs | VOIT HRs |
| | | | |
| --- | --- | --- | --- |
| 9/15 | Yankees 20, Blue Jays 6 | 6 | 2 |
| 9/16 | Yankees 13, Blue Jays 2 | 7 | 1 |
| 9/17 | Yankees 10, Blue Jays 7 | 6 | 1 |
---
"We're back to being the Bronx Bombers," said Voit. "I don't think people want to play us in the playoffs."
The Yankees saw their World Series futures increase during a 5-15 skid in which they dipped under .500. The Yankees are currently 13/2 odds to win the World Series.
Luke Dreams. pic.twitter.com/r9MjPFypGZ

— New York Yankees (@Yankees) September 18, 2020
2020 Bombers in Record Books
During the last three games, the Yankees set a couple of MLB records thanks to fat pitching from the Blue Jays.
3 straight games with 6 or more HRs
Most home runs in a 3-game series (19)
The Yankees broke their own record for most homers in a three-game stretch. Last season, the Yankees and Washington Nationals tied for the big-league record with 16 home runs in a three-game series.
On Thursday, the team also set a franchise record with five home runs in a single inning. It's amazing that feat never happened before considering how many stacked teams the Yankees had with sluggers over the years (e.g. 1927, 1939, 1956, 1961, 1977, 1998).
Voit MVP?
When you thought about Yankees who could become the Home Run King in 2020, you probably mentioned Aaron Judge, Giancarlo Stanton, or Gary "Kraken" Sanchez. With so many power hitters in pinstripes, Voit barely gets a mention.
A lean and mean Voit is the consensus MVP of the team right now. But he should be in consideration for the American League MVP. After all, he's hit more home runs than perennial MVP frontrunner Mike Trout. Plus, Voit plays for a winning team that lost several key players to injuries.
"We've had a lot of weird things happening this year," said Voit. "I had to step up and play a bigger role."
Voit had a strong debut with the Yankees in 2018. He joined the team in the second half of the season and smacked 14 home runs in 39 games.
In 2019, Voit battled multiple injuries, including a muscle strain in his core. He still connected on 21 home runs and drove in 62 runs in 118 games.
In the offseason, Voit shed a few pounds. During the quarantine, he slimmed down an additional 13 pounds. Despite the lack of girth, he still displays tremendous power at the plate.
Thru 50 games, Voit is the home run leader with 20 dingers. He's second overall in RBI with 46.
If fans were allowed at Yankee Stadium in the Bronx, then the crowd would be unleashing boisterous "M-V-P! M-V-P!" chants whenever Voit stepped to the plate.