Who will smack the most home runs in this year's 60-game MLB season? Oddsmakers at the Westgate SuperBook in Las Vegas released Home Run King odds and Mike Trout (LA Angels) tops the list at 12/1 odds. NY Mets slugger Pete Alonso and NY Yankees giant Aaron Judge are also at the top of the HR title board at 14/1 odds.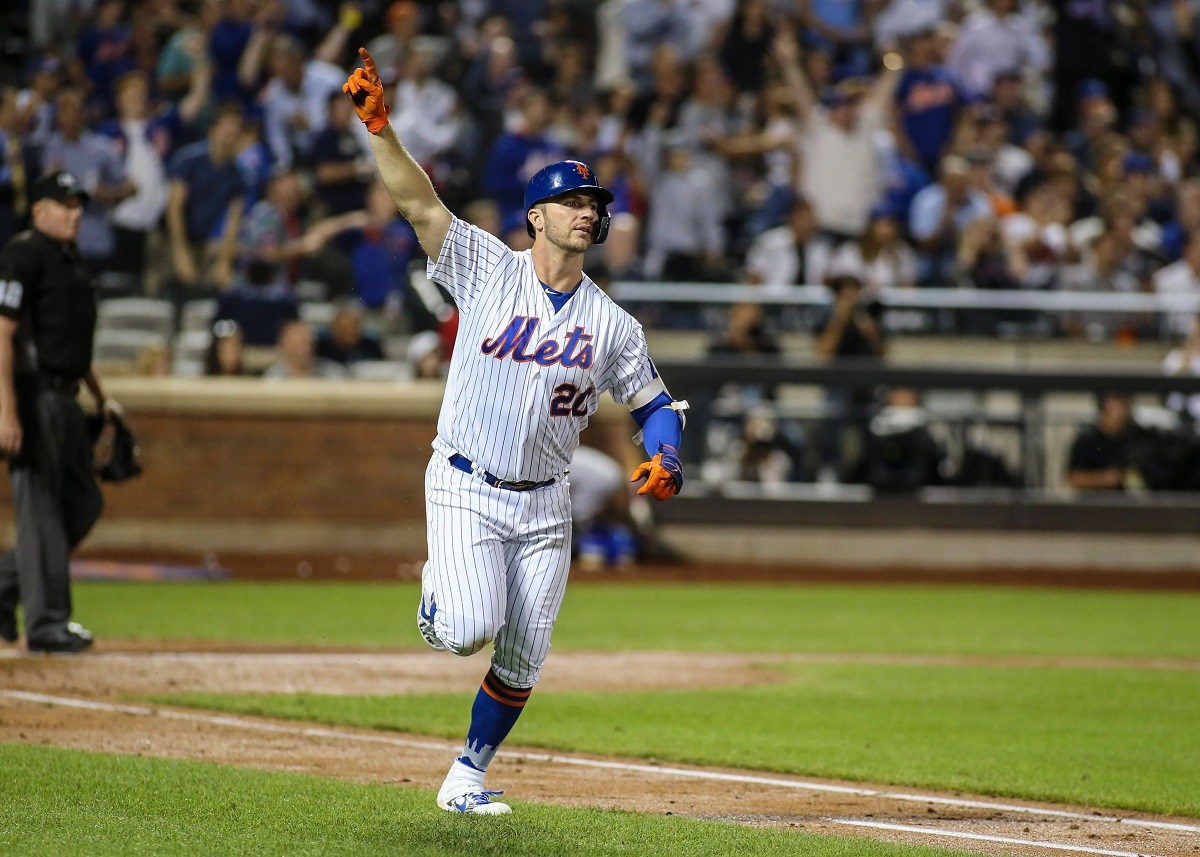 Reigning National League MVP, Cody Bellinger from the LA Dodgers, is listed at 16/1 odds to win the HR title.
Former NL home run champion, Giancarlo Stanton, offers up good value at 18/1 odds if he can avoid the injury bug that plagued the Yankees last season.
In his second season in the big leagues, Ronald Acuna hit 41 home runs for the Atlanta Braves in 2019. Acuna finds himself fairly high on the Home Run King board at 16/1 odds.
MLB HOME RUN KING ODDS
Mike Trout 12/1
Aaron Judge 14/1
Pete Alonso 14/1
Cody Bellinger 16/1
Ronald Acuna 16/1
Giancarlo Stanton 18/1
Joey Gallo 18/1
Christian Yelich 20/1
Nolan Arenado 20/1
Yordan Alvarez 20/1
Juan Soto 20/1
Gleyber Torres 30/1
Bryce Harper 30/1
If 50 home runs in a 162-game season is the benchmark of a power-hitting slugger, then the equivalent in this pandemic-induced, 60-game season is approximately 18.5 home runs.
Considering that it might take hitters longer to hit their stride than pitchers, it could take sluggers some time to adjust their timing at the start of the season.
LA Kings: Trout and Bellinger
Over the previous decade, Mike Trout emerged as one of the best players in baseball while staying under the radar with the LA Angels of Anaheim. Trout smacked 30-plus home runs in six out of the last eight seasons. In 2019, he hit a career-high 45 home runs in 134 games and finished second in the AL in home runs. Trout, the reigning American League MVP, slashed at .291/.438./.645 last season.
Trout currently has 285 career home runs, making him 12th-best among active players. He's 15 dingers away from reaching the 300 HR milestone.
Cody Bellinger won the NL MVP in 2019 during a sensational regular season by the LA Dodgers. In the first half of the season, Bellinger looked like he might win the Triple Crown. He finished the season hitting .305 with 47 home runs (#3 in the NL) and 115 RBI (#7 in NL).
If you want to pick the best player from an LA-based team, Bellinger looks like a better option than Trout, especially at 16/1 odds versus Trout's 12/1.
NYC Big Bats: Alonso and Judge
Pick your big gun from the Bronx or Queens. Pete Alonso, a rookie first baseman, became the big bright spot in an otherwise blemished season for the New York Mets. The Mets were in turmoil the entire season based on the future of manager Mickey Calloway, trade rumors involving their top pitchers (Syndergaard and de Grom), and whether or not the team would finally be sold. But from Opening Day, Alonso did what he does best — crush baseballs.
Alonso set a new MLB record (passing Aaron Judge) with 53 home runs as a rookie and drove in 120 runs. If you want to fire away at one of the favorites, Alonso seems like a fun pick. You can't help but root for the kid.
If Judge can stay healthy, he could easily win the home run title. But that's a big "if" in his case. Judge missed spring training with a fractured rib and the team hopes he healed up during the delay.
Judge won AL Rookie of the Year with 52 blasts in 2017. He missed 40 games in 2018 with a fractured hand and still hit 27 homers. Last season, Judge missed more than two months of the season with an oblique injury and hit 27 homers in 102 games.
Over the last two seasons, Judge hit a home run once every four games. At that rate, he could hit 15 homers in the shortened 60-game season. That is to say, "if" Judge stays healthy.
Bronx Value Picks: Torres, Stanton
If you want to bet on a member of the Yankees to win the HR title, then take a flier on Gleyber Torres. At 30/1 odds, Torres offers tremendous value because oddsmakers and bettors are more focused on his teammates – Judge, Stanton, and Gary "Kraken" Sanchez). Torres has a sweet swing and he makes more contact than the other Bronx Bombers (Stanton, Judge, and Sanchez), all of whom are strikeout prone.
On a team stacked with talent, Torres stood out as one of the Yankees' best players. He hit 24 home runs in 123 games as a rookie in 2018. Even though he was only 21-years old, he played like a big leaguer with several seasons under his belt.
The Yankees love Torres because he has yet to reach his full potential. Last season, he hit 38 home runs and drove in 90 runs in 144 games.
Giancarlo Stanton offers up value at 18/1 odds, so long as he remains healthy. Stanton led the NL in home runs twice (2013 and 2017) when he played for the Miami Marlins. After crushing 59 dingers in 2017, the Yankees acquired Stanton in a trade. He struggled with only 38 in his first season in New York.
Last season, a banged-up Stanton appeared in only 18 games and smacked only three home runs.