The Horseracing Integrity and Safety Act of 2020 officially became law Sunday night when President Donald Trump signed the $2.3 trillion omnibus spending bill. That bill provided $900 billion for COVID-19 relief, along with keeping the US government operating.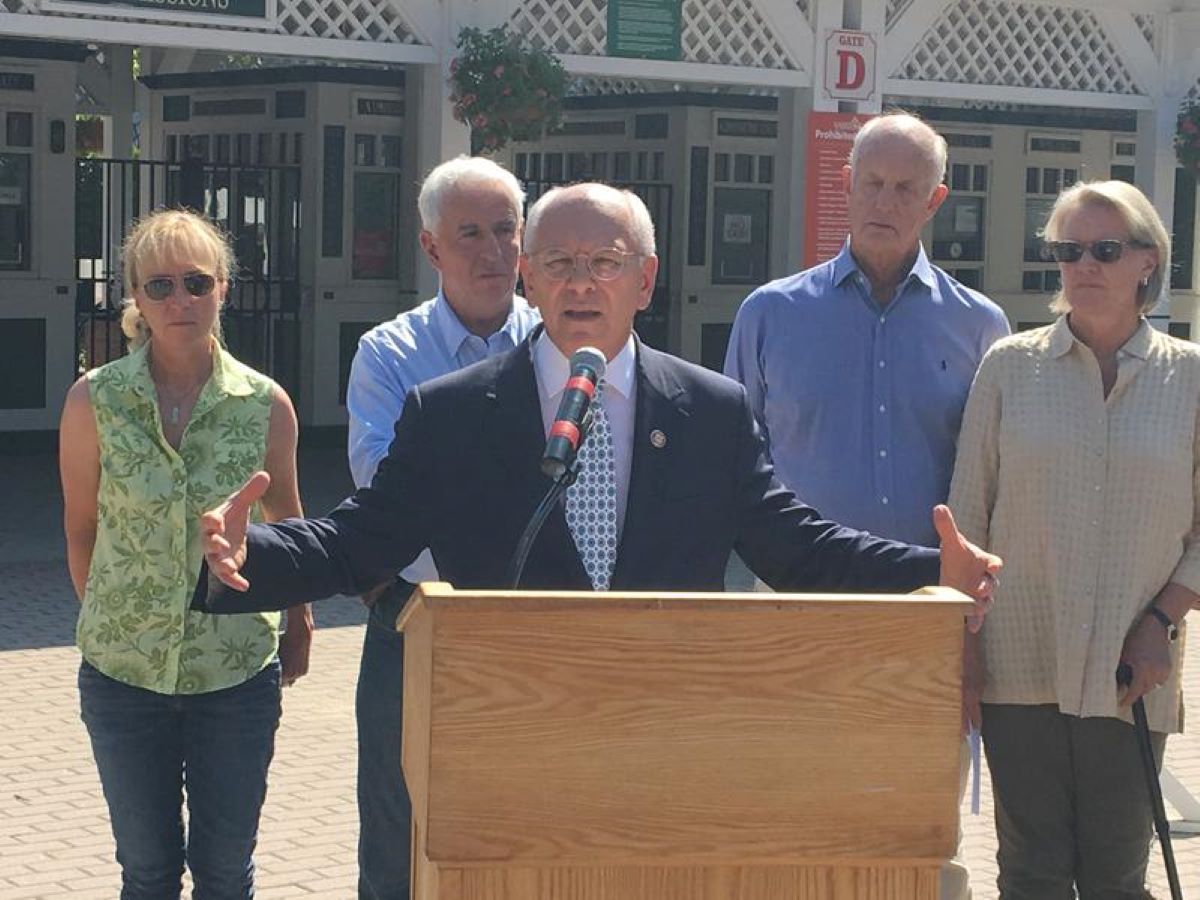 HISA was part of that bill. Representatives Andy Barr (R-KY) and Paul Tonko (D-NY) spearheaded the bipartisan legislation that seeks national standards and regulation for horseracing. Unlike every other professional sport, horseracing lacks a central authority figure or governing body. Instead, individual states regulate the sport under differing bodies and commissions.
This creates a lack of uniformity, especially concerning drug testing and medication regulation. It also opens up conflict-of-interest issues. Those turned up when the California Horse Racing Board dropped the ball after the 2018 Santa Anita Derby champion, Justify, tested positive for scopolamine. That compound is often found in jimson weed, a common plant found on feed yards. Justify's test came up four times the permissible limit.
Bob Baffert, Justify's trainer, said the result came through contaminated feed eaten by Justify and six other horses at Santa Anita. After a CHRB investigation, Baffert was cleared and NBC Sports Writer at Large Tim Layden interviewed four equine medication experts who all suggested environmental contamination was the likely cause.
Conflicts of Interest Abound Across the Sport
However, the CHRB's lack of transparency in the case was magnified when — during this time — Layden reported Baffert was training a horse for then-CHRB Chairman Chuck Winner. Along with that, the CHRB failed to issue a public statement exonerating Baffert, Justify, and the other horses when it handed down its ruling in August 2018. By that time, Justify — Triple Crown in tow — was retired.
Legislators created HISA to eliminate such conflicts. It passed the House of Representatives in September and the Senate on Dec. 21. HISA goes into effect no later than July 1, 2022. By that date, a nine-member Horse Racing Integrity and Safety Authority will take responsibility for regulating medication and enforcing racetrack safety standards.
Along with that, that Authority would eliminate furosemide (Lasix) and other race-day medications, and use the US Anti-Doping Agency for enforcement. The Authority, a private agency, would report to the Federal Trade Commission.
Industry's Power Elite Throws its Weight Behind HISA
HISA earned widespread support across the industry. The National Thoroughbred Racing Association, the Breeders' Cup, the New York Racing Association, The Stronach Group, the Del Mar Thoroughbred Club, Churchill Downs, and Keeneland all supported the bill. The Thoroughbred Owners and Breeders Association and animal-rights groups are also supporters.
The 64-page bill goes beyond just safety and drug issues. It extends the three-year tax depreciation for all racehorses through 2021. It allows horse-owning taxpayers the option to depreciate racehorses that were younger than two when purchased over a three-year schedule, and put that money into training.
HISA also gives eligible racetracks and farms entrée into the second round of the Paycheck Protection Program. That Small Business Administration program extended loans to businesses affected by the COVID-19 pandemic.
Financial, Immigration Matters Tucked into HISA
The new provisions include eligibility for organizations with less than 300 employees, eligibility for horse and farm owners outside of sole proprietors or LLCs, and a second PPP loan up to $2 million for qualifying businesses reporting at least a 25% reduction in gross receipts.
HISA also extends H-2B visa provisions. This non-immigrant program enables industries needing temporary non-agricultural help to import guest workers if domestic workers are unavailable. These provide the vast majority of low-paid industry workers: the hot-walkers, grooms, and stable employees found at every racetrack in the country.
HISA gives the Department of Homeland Security (DHS) and Department of Labor authority to increase the H-2B cap up to 69,000 extra visas if US workers can't meet industry employment demands.
It also extends the maximum employment season for those seasonal workers by a month – from nine months to 10. It continues private wage scales based on prevailing wages in a region.