While 10 trainers can claim Triple Crowns – Jim Fitzsimmons and Bob Baffert have two apiece – no one has ever accomplished what Mark Casse could achieve should Tap It To Win capture the Belmont Stakes. To better understand what Casse can achieve at this Saturday's Grade 1 Belmont Stakes you must look at the unique opportunity awaiting him.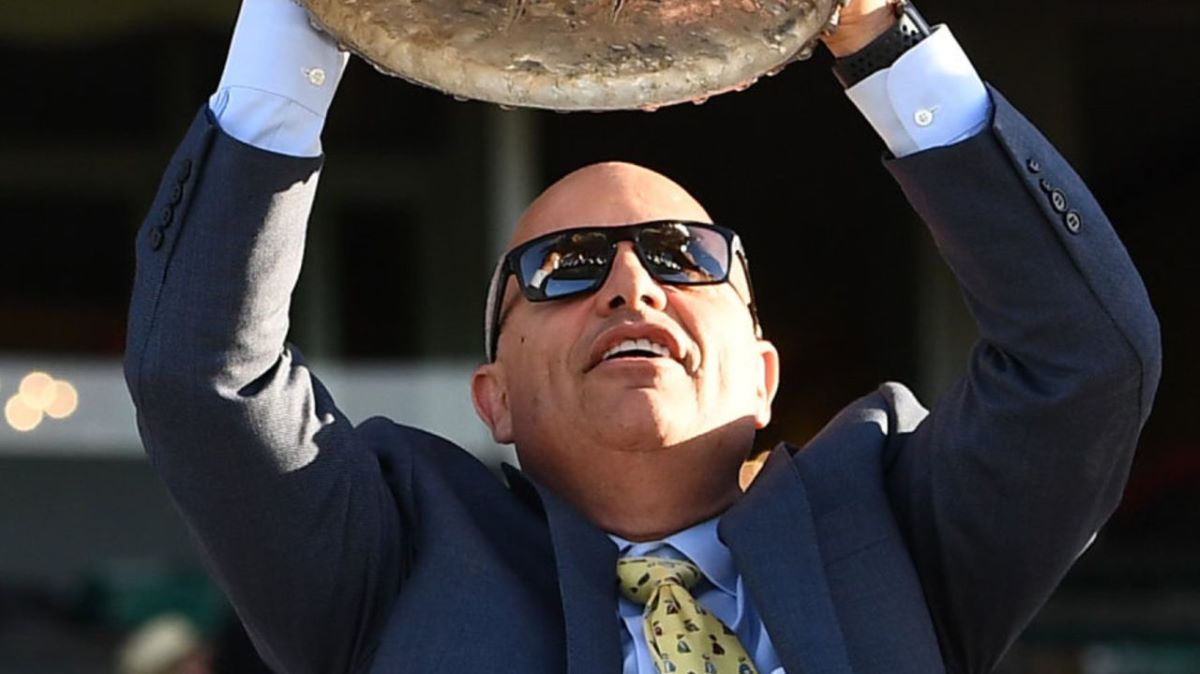 A Preakness-Belmont-Belmont treble. Yes, you can thank the COVID-19 pandemic for moving the Belmont to the front of the Triple Crown line for the first time. But you can only make the history that opportunity presents to you. And Casse has an opportunity to do just that – win his exclusive version of the Triple Crown.
Starting from the rail, Tap It To Win is 6/1 to put Casse in a unique club. Along the way, he can become the first trainer to defend a Belmont title since D. Wayne Lukas took three in a row with Tabasco Cat (1994), Thunder Gulch (1995), and Editor's Note (1996). When you think about Triple Crown success this decade, Baffert's name usually comes to mind. But in the mid-'90s, Lukas won six consecutive Triple Crown races with four different horses.
Casse finally won his Triple Crown races last year with two different horses. He captured the Preakness with War of Will, then watched Sir Winston steal the Belmont. Casse became the first trainer to do that since Baffert's Point Given won the 2001 Preakness and Belmont and War Emblem took the 2002 Kentucky Derby and Preakness.
No More Classic Gaps in Casse's Training Resume
Casse rectifying the Triple Crown oversight on his otherwise glittering resume was likely the deciding factor for borderline Hall of Fame voters. He finally earned induction this year, bookending the international credentials stamped when he was inducted into Canada's Horse Racing Hall of Fame in 2016.
"After we won those two races, I said to my wife (Tina), 'If the voters don't put me in now, I don't' know what else I can do,'" he told Bloodhorse. "I held my breath … In all honesty, it probably made me appreciate the award that much more because when I sat down and looked at it, and saw how hard it is, it's not easy. It's not easy to get in there."
Never mind the elusive Triple Crown. This is what makes winning a single Triple Crown race so special, because it isn't easy. By any credible measuring stick, Casse's resume glitters enough for two trainers. He is ninth among North American trainers in career earnings, with more than $175.3 million. He owns five Breeders' Cup victories and seven Canadian Triple Crown wins. His equine alums include Classic Empire, Shamrock Rose, the iconic Tepin, and World Approval – champions all.
It's Final Exam Week for Tap It To Win
Now, Casse sends an untested, but promising, Tapit progeny into his initial champion test. Like eight other horses in Saturday's 10-horse field, Tap It To Win has to find a way to beat 6/5 favorite Tiz the Law. And he has to do it in only his second graded stakes start – while forgetting his first. Last year, Tap It To Win ran 10th in the Breeders' Futurity at Keeneland.
But Casse knows his horse. He knows his place in history. And he knows the two can meet.
"Any time you can win a classic, it is special," Casse told Thoroughbred Daily News. "I am very proud to have ton two of them. To win three would be almost unthinkable. I think we have a legitimate chance to do that."