The European pair of Nyhrox and Aqua won two of the last three games to come from behind and take first place in the Fortnite World Cup Duos competition, earning the top prize of $3 million.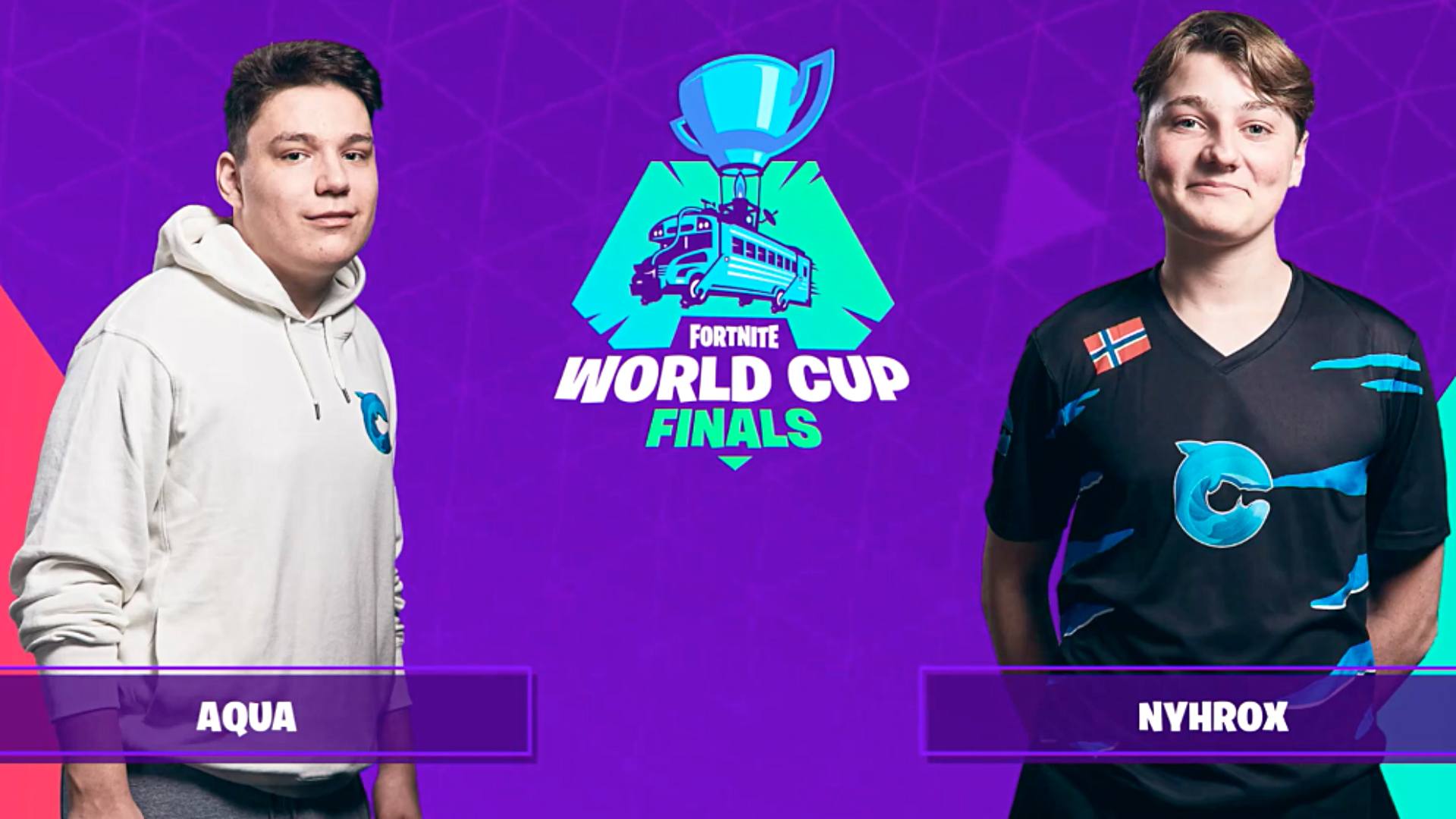 The tournament, which featured 50 teams of players who had battled through 10 weeks of qualification rounds, took place at Arthur Ashe Stadium in Queens – a venue best known for hosting tennis' US Open.
Late Rally Unseats Saf and Zayt
The finals consisted of six games, with teams scoring points based on how well they finished in each game. The last team standing in each contest earned 10 points, with other top finishers also getting some credit for their success, down to three points for teams finishing in between 11th and 15th places. Each elimination was also worth a single point.
Early on, the North American team of Saf and Zayt took the lead by winning Game 1. The pair stayed on top after Game 2 was won by Zexrow and Vinny1x, while MackWood and Calculator took Game 3.
The finals began to turn in Game 4, when Nyhrox and Aqua took their first victory to move into the top 10 for the first time, though Saf and Zayt remained in the lead with 40 points. Incredibly, Nyhrox and Aqua then went on to win Game 5 as well, jumping up to second place, just three points behind Saf and Zayt.
The North American pair still had a chance to hang on to their wire-to-wire lead and walk away with the $3 million top prize. But the two were only able to earn a single point in the final game, a result that saw them fall to fourth place, earning $1.5 million.
Game 6 went to the European duo of Noward and 4zr, who were out of contention for the title but were able to move up into the top 20 and earn $100,000 in prize money. But the biggest winners were Nyhrox and Aqua, who finished in the top 10 in the final game and collected a total of 11 points to take the top spot overall by four points over Rojo and Wolfiez, who earned $2.25 million for second place.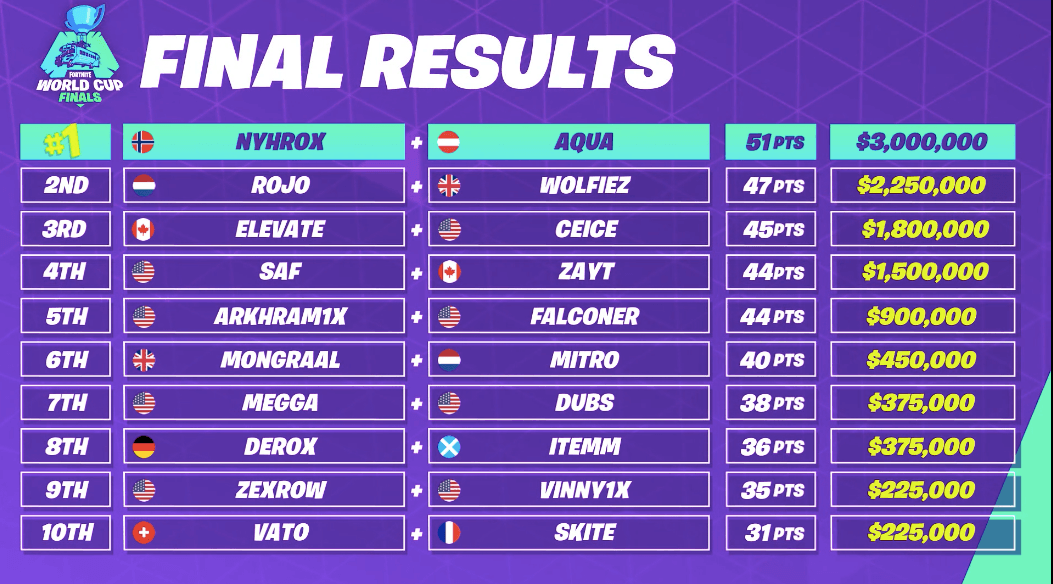 Millions Tune in for Fortnite World Cup
Heading into the Fortnite World Cup, there had been nearly as much speculation about the potential viewership numbers as about who might win the competition. So far, the numbers look impressive, though certainly not unprecedented for major esports events.
According to Esports Charts, viewership peaked at about 1.57 million viewers across multiple platforms, including Twitch and YouTube. The average concurrent viewership across the Duos competition was just over 900,000. That's welcome news, considering that Twitch viewership was down significantly for the 2019 Celebrity Pro-Am event in June compared to the 2018 event, with the peak audience falling from about 1.5 million to about 427,000.
In comparison, the 2018 League of Legends World Championship reported peak viewership of over 205 million – though almost all of that number came from Chinese platforms, where audience numbers are almost impossible to verify. Even excluding China, however, the event peaked at over 2 million viewers.
The Fortnite World Cup still has a chance to set new heights for the game on Sunday, when the Solo finals are held. 100 individual players will fight to become the Fortnite world champion, with popular esports pro Tfue being the best known competitor in the field. One big name that fans won't see is Tyler "Ninja" Blevins, who failed to qualify for the World Cup.