Evan Mobley has not even begun his senior in high school and the 7-footer and #1 ranked basketball recruit in the nation committed to USC.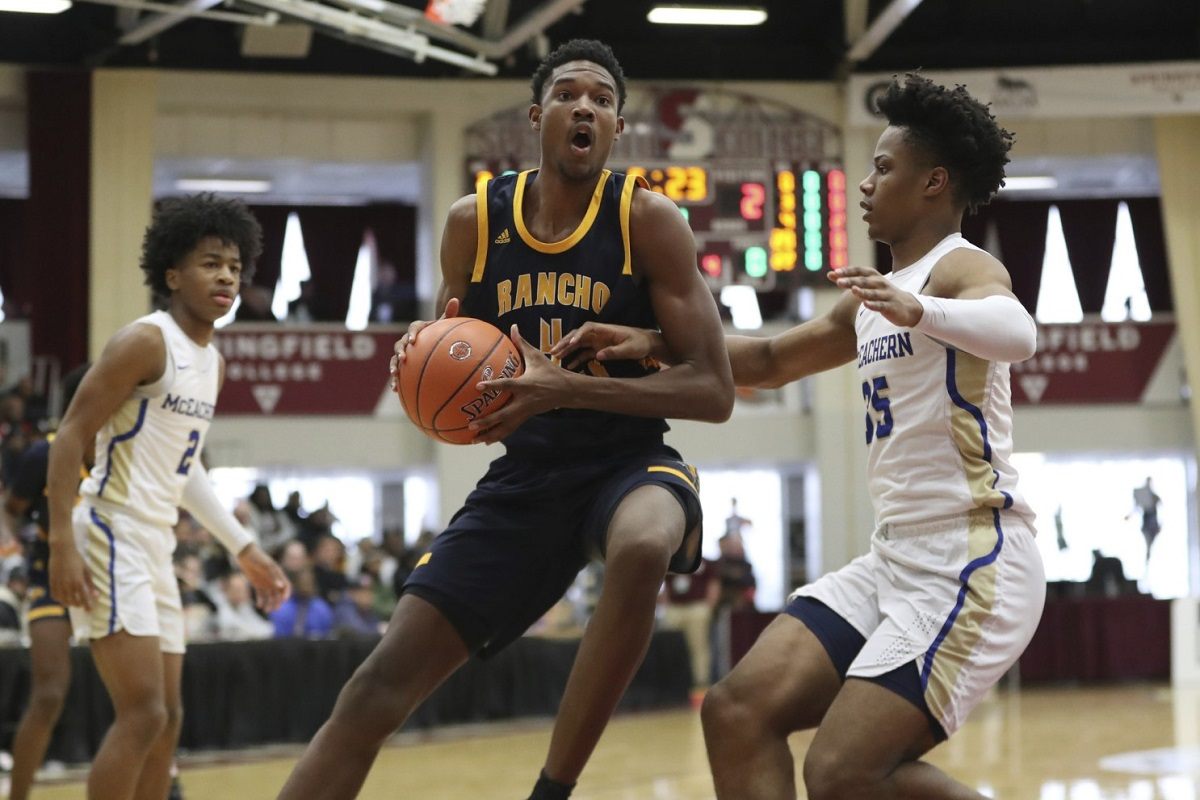 Coming into this upcoming season, Penny Hardaway and Memphis landed the top player in the country with 7-footer James Wiseman. For next season, USC landed another 7-foot blue chip and the top player in the country with Evan Mobley.
Mobley, a five-star recruit, plays ball for Rancho Christian High School in Temecula, California. As a junior last season, he averaged 19.2 points, 10.4 rebounds, and 4.6 blocks per game. Rancho Christian went 26-6 last season and Mobley won the California Gatorade Player of the Year… as a junior.
Mobley plays center in high school, but he's seen more of modern big man and positionless player. Despite being a 7-footer, Mobley has a great outside shot and strong ball handling skills.
WHO IS EVAN MOBLEY?
Twitter: @evan_mobley7
Age: 17
Hometown: Temecula, CA
High School: Rancho Christian Eagles
Height: 7-foot-0
Position: Forward/Center
Awards: Gold Medal FIBA Under 17
If you follow the SoCal AAU circuit, then you've heard about the Mobley kid who's been tearing it up. Mobley played for the Compton Magic.
"Evan is a positionless 7-footer," said Compton head coach Etop Udo-Ema. "He's got a 7-foot-5 wingspan and a 40-inch vertical. You do the math on his measurements."
Mobley played for Team USA in the FIBA Under 17 Cup. He won a Gold Medal on the squad that went 7-0 en route to the Gold Medal. He averaged 9.3 points per game for Team USA.
Eric Mobley, Evan's father, played collegiate played for Cal Poly and Portland. Eric never made it to the NBA, but he played pro ball overseas in Turkey, China, Portugal, and Indonesia. After his international pro career ended, Eric Mobley pivoted to coaching and excelled at the AAU level before joining the collegiate ranks.
Trojan Lock
Several top programs recruit Mobley including UCLA, Stanford, Miami, Alabama, and Texas. Mobley narrowed down his choices to California schools, but the Pac-12 schools in California did not really have a chance. USC out-recruited crosstown rival UCLA once again. UCLA hired Mick Cronin to restore the Bruins to their old glory days, but in the meantime, USC is the big dog in town.
USC had the inside track to Mobley because USC is in his blood. Evan's father Eric, is an assistant coach on the team to head coach Andy Enfield.
"I want to get it out of the way before I start my senior year," said Evan Mobley in a statement. "And I know where I want to go. As a freshman and sophomore, I wasn't sure exactly where I was going to go. I was looking for the best fit. But after my junior season, I know that being at USC is the right fit for me."
Evan's older brother, Isaiah, is an incoming freshman to USC, which helped in the recruiting process. Isiah is also a big man at 6-foot-10.
Twin Mobley Towers
Isaiah and Evan played a couple of seasons together at Rancho Christian, where the Mobley brothers were RC's version of the Twin Towers.
"Honestly, I think he's like Kevin Durant, Greek Freakish," Isaiah said about his little brother. "He's a freak athlete. We train athletically, but he kind of woke up one day and was a totally different cat. He was just growing and growing, and now here he is."
Nevada and San Diego State heavily recruited Isiah, but he settled on USC. Last season, Eric Mobley accepted a job as an assistant coach under Andy Enfield, so it seemed natural that Isiah would join his father.
USC is a huge football school, but hoops fans hope the addition of the Mobley brothers will help put the program back on track. Under Enfield, the Trojans advanced to the March Madness tournament only twice since 2013.
Pundits pegged USC with the sixth best recruiting class coming into this season with the addition of Onyeka Okongwu and Isiah Mobley. USC also welcomes Top 100 recruits Max Agbonkpolo, Kyle Sturdivant and Ethan Anderson.
The problem will be keeping Evan for more than a season. He's projected to be a Top 5 pick in the 2021 NBA Draft is he choses the one-and-done route.
"Evan's upside is endless with no ceiling," remarked his AAU coach Etop Udo-Ema.