England and Hungary played to a 1-1 tie in their World Cup qualifier at Wembley, but that wasn't the only action in the stadium. There was trouble in the crowd during the first half of the match when police fought the Hungarian fans in the away end while trying to arrest a supporter. The man was finally detained on accusations of racially abusing a steward.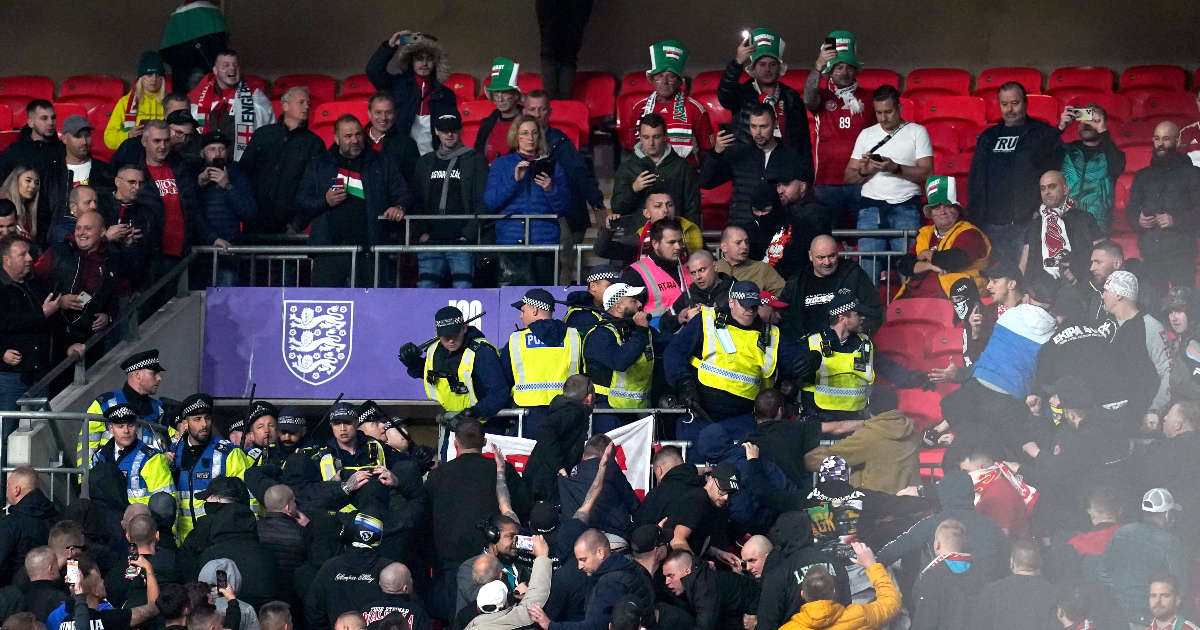 The incident occurred in the opening minutes of the game.
"Shortly after the start of tonight's match at Wembley, officers entered the stand to arrest a spectator for a racially aggravated public order offense following comments made towards a steward," a statement from the Metropolitan Police read.
The English Football Association also released comments, saying they were "aware of an incident in the away section during tonight's FIFA 2022 World Cup Qualifier at Wembley Stadium," adding that an internal investigation will follow. FIFA will also be kept informed.
In September, Hungary was ordered to play two home games with no access for the public following accusations of racism in the match against England in Budapest. At the Puskas Arena, a game that England won 4-0, Raheem Sterling and Jude Bellingham were targeted by monkey chants, with other players hit by objects thrown from the stands.
One of the two games under sanction from FIFA had a suspended execution of two years.
In London, England's players were booed as they took the knee before kick-off. Confrontations broke out immediately after the start of the game, with police making use of batons in the clash with Hungary's supporters.
England lead Group I of the qualifiers, despite the home draw with Hungary. The Euro 2020 finalists have a three-point advantage in front of second-placed Poland, with two games left. Hungary sits fourth, with 11 points in eight games — six points behind Poland and four behind Albania. The chances for Hungary to finish second and grab a playoff spot are hypothetical.
The final group standings will be available in November, after the last two rounds of the qualifiers. Only the first seat in the group means automatic qualification to the World Cup in Qatar.