Illustrating once again the fragile nature of modern Thoroughbred horses, defending Pegasus World Cup champion Mucho Gusto was suddenly retired Tuesday after suffering a soft tissue injury.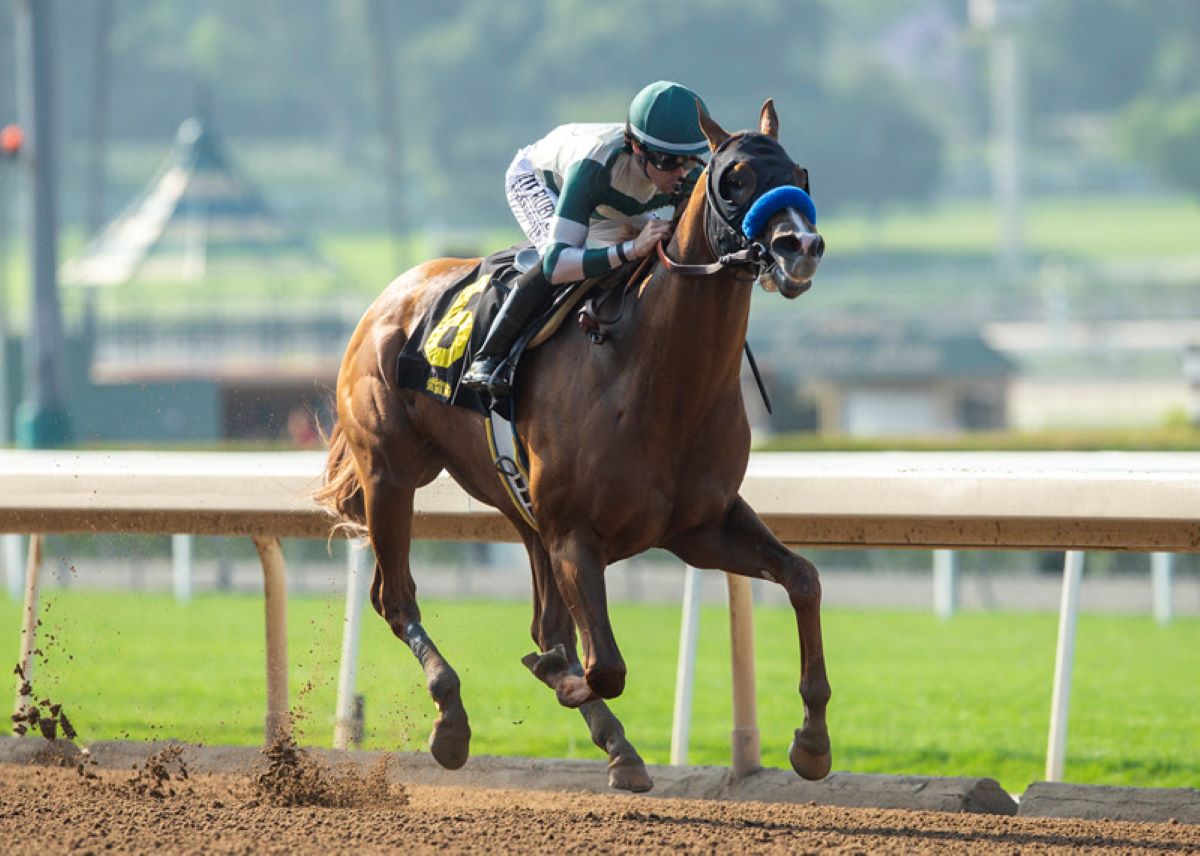 Bob Baffert, Mucho Gusto's trainer, said the injury happened Tuesday. He told Horse Racing Nation that due to the nature of the injury – which is non-life threatening – it would require significant recovery time.
So his connections decided to retire a horse who earned nearly $4 million over his career. And as of now, Mucho Gusto does not have stallion plans.
What the 5-year-old Mucho Macho Man progeny does have – along with those nearly $4 million in career earnings – are graded stakes victories at ages 2, 3 and 4. Chief among those was his defining victory in the Grade 1 Pegasus last year.
Nothing Wrong With Mucho Gusto's Gutsy Fourth Here
That vaulted him into the $20 million Saudi Cup, where Mucho Gusto finished a strong fourth amid an all-star field. He checked in only 2 ¼ lengths behind winner Maximum Security.
Along with more than $3.1 million coming out of those two races, this looked like the beginning of a breakout season. But after that late February race, Baffert shut Mucho Gusto down for most of 2020. He did this after seeing how much the Mideast excursion took out of not only his charge, but the other horses making the trek for the Saudi Cup and/or the Dubai World Cup.
That latter race became a casualty of the COVID-19 pandemic. Baffert gave Mucho Gusto the next four months off from training. He returned Mucho Gusto to the track in the summer and his workouts got faster and faster as the year progressed.
Tune-Up Became Mucho Gusto's Retirement Swan Song
Baffert finally turned him loose again Dec. 27 in the Grade 2 San Antonio Stakes at Santa Anita Park. The Hall of Fame conditioner intended that race as a tune-up for Mucho Gusto's Pegasus defense. Considering Mucho Gusto's owner is Saudi Prince Faisal Bin Khaled, the Saudi Cup and/or the Dubai World Cup loomed large on the horizon.
Mucho Gusto, however, showed plenty of rust in the San Antonio. Going 1 1/16 miles as the 1/2 favorite, he ran second behind Take The One O One until the 3/16ths mark. There, Mucho Gusto's lack of conditioning caught up to him, along with race winner Kiss Today Goodbye and runner-up Idol. He faded and wound up fourth.
Mucho Gusto won six times in 13 starts, including the Grade 3 Bob Hope at Del Mar as a juvenile. As a sophomore, he tacked on wins in three Grade 3s: the Robert B. Lewis, Laz Barrera and Affirmed stakes.
Two In-The-Money Grade 1 Finishes Mark 3-Year-Old Season
Mucho Gusto finished second to Maximum Security in the 2019 Haskell and third to Code of Honor in the 2019 Travers.
Along with those six wins, Mucho Gusto retires with two seconds and two thirds. He was truly a horse for California courses. Five of his six career wins came at either Santa Anita, Del Mar or – in his debut maiden-breaker – Los Alamitos.