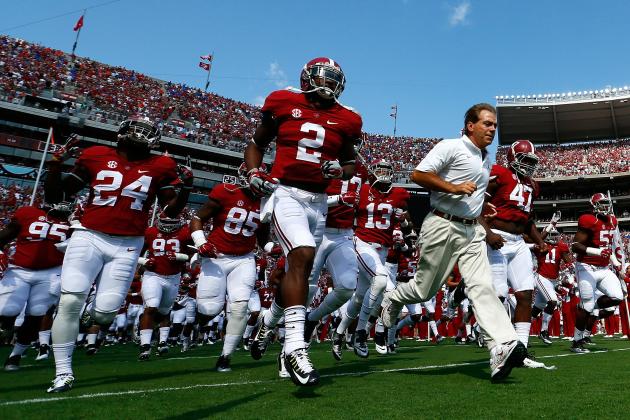 Daily fantasy sports (DFS) bigwigs DraftKings and FanDuel are licking their respective chops heading into the 2016-2017 NCAA and NFL football seasons.
After the slow summer, DFS is ready to regain its most popular sport and kickoff another season of incessant advertising that ideally leads to strong revenues.
The NFL commences on September 8 with a Super Bowl 50 rematch between the defending champion Denver Broncos and Carolina Panthers. It will mark 214 days since the two teams ended the previous NFL calendar.
But before the NFL starts, the college game is first to throw the pigskin. And in fact, NCAA football is already underway.
California and Hawaii officially began the college season on August 26 with a game down under in Sydney. Cal won 51-31, but the marquee action really gets going on Saturday with several ranked teams going head-to-head.
DraftKings and FanDuel have over a hundred college and pro football contests lined up for week one. And both are fighting for your business.
Deals and Handouts
The revamped FanDuel is offering $10 in free entries to players who register as commissioners and start a league in the new friends mode. FanDuel is also giving beginners five free entries to newbie contests if they also make a deposit.
Over on DraftKings, the daily fantasy sports leader is running a "10 Days of Giveaways Kickoff Countdown" through September 10.
In addition, DraftKings is providing new players free entry into its NFL $5 million purse guarantee fantasy football contest. Returning DraftKings players must pay the regular $3 fee.
Nevada and online sportsbooks are also eagerly awaiting the football season. With MLB the only major professional sports league playing in July and August, oddsmakers are ready to line up the lines on their books.
Best CFB Week 1 Ever
That's what ESPN is calling the first weekend of the college football calendar in 2016. And who's to argue?
There's no preseason in college football, which is why historically so many teams from major conferences tend to play inferior opponents. That's still happening as Michigan State is playing Furman, Virginia Tech is playing Liberty, and Ohio State is playing Bowling Green.

But there are some great matchups, too.
#1 Alabama and #20 USC will faceoff at AT&T Stadium in Arlington, Texas, on Saturday night. Nick Saban's defending champion Crimson Tide are 11.5-point favorites in Vegas over the Trojans.
Another marquee game is #2 Clemson traveling next door to Alabama to take on unranked Auburn. The battle to be recognized as the supreme "Tiger" renews an old rivalry that should bring out Auburn's best.
Vegas is giving 7.5 points to Auburn, not a lot for a team that went 7-6 last year going up against Clemson who finished 14-1 and second in the national polls.
Other notable games:
#4 Florida State will meet #11 Ole Miss in Orlando. Though the game is being labeled as a "neutral site," it's anything but. The Seminoles are favored by four.
In another quasi-neutral game, #22 UNC travels to Atlanta to "host" #18 Georgia. UGA is giving the Tar Heels 2.5.
The final game with both teams ranked is #3 Oklahoma traveling to Houston to play the #15 Cougars. Houston is the heavy underdog and is being spotted 11.5.