Terence Crawford has put together an undefeated career, owns the WBO welterweight title, and tops many lists of the best pound-for-pound fighters in the world. Yet he's still searching for a bit more respect, something he could earn with a win over Shawn Porter on Saturday night at the Mandalay Bay in Las Vegas.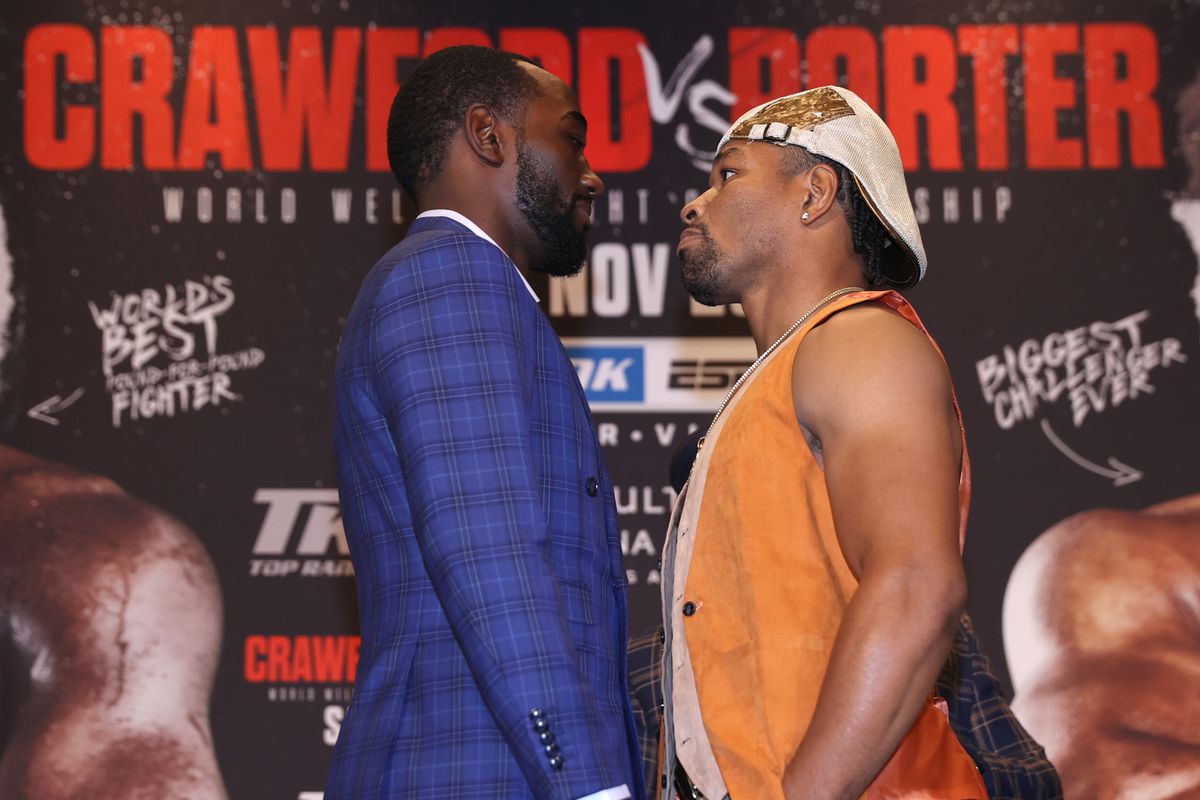 Crawford (37-0, 28 KOs) will enter the bout as a significant favorite, but that isn't because he's fighting a weak opponent.
Crawford looks for respect by fighting experienced Porter
The one criticism that has dogged Crawford throughout his career is an accusation that he hasn't actually fought any other elite boxers. Crawford says that's because some of the other top welterweights, including big names like Errol Spence Jr., Manny Pacquiao, and Keith Thurman, won't fight him.
"This fight is really going to show the caliber of fighter that I am and the skill set that I [have]," Crawford said during the Jamel Herring-Shakur Stevenson fight on Saturday. "They're going to look at me and say, 'Oh, this is the reason why certain fights haven't manifested or come to fruition, because he's that good."
Porter (31-3-1, 17 KOs) actually has more experience against elite competition than Crawford. He's dropped a split decision to Spence back in 2019, beat Danny Garcia, and lost to Thurman in another close decision. So while Porter has those three losses on his record, he's clearly one of the top welterweights in the world.
Yet Porter comes into the bout as a significant underdog. FanDuel Sportsbook lists him as a +520 pick to beat Crawford (-750), a sign of respect for the champion more than any slight to Porter. The challenger says fans will understand that he belongs in the ring once they see him fight.
"If you've seen me fight, you wouldn't consider me an underdog, you would just consider this a great fight and let the best man win," Porter said, via USA Today. "But, in this case, as always, I am the underdog. I'm used to it."
Friends share mutual admiration in press conference
One interesting angle to the fight is the fact that these two men are longtime friends. That means they haven't engaged in the traditional verbal sparring often used to hype up a major fight. Instead, the two men have shown nothing but respect to each other in the leadup to Saturday night.
"I respect everything that Shawn does," Crawford said during the pre-fight press conference. "Shawn is athletic, he can box, he can bang, he can move around in the right, he can cut corners and take angles. I'm not going to sit here and say that I don't respect anything that he does. I'm just going to say that I do a lot of things better than Shawn."
Porter shared that sentiment—down to his belief that he'd come out on top.
"I don't think there's too much I can say to [Crawford] that's going to change the way he thinks about himself and the outcome of this fight," Porter said. "I could say the exact same thing he said, and I believe it."