It's been a rat-a-tat day in sports and sports betting, with sporting event cancellations spreading like, well, a virus. Fears over coronavirus have reached epidemic proportions. Or maybe pandemic to be more precise. The day started with the World Health Organization declaring COVID-19 a pandemic, and from there it's been one announcement after another — Juventus player has coronavirus, no fans for the NCAA Tournament, NBA postpones Utah/Oklahoma City game, Trump bans travel from Europe, Tom Hanks has coronavirus, NBA season postponed. Wow.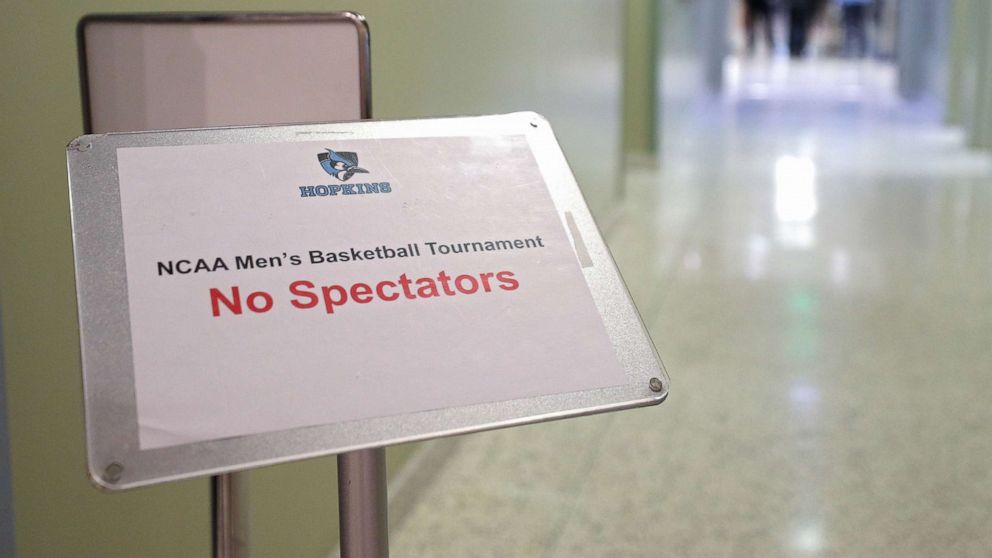 Weeding through the fake news and hyperbole at a time like this can be tough … but we're gonna try to keep OnlineGambling.com's readers abreast of what's happening.
We make no promises, and because OG's news writers might have to run to Costco, we can't tell you how long we'll keep updating this post. But ultimately it should chronicle at least part of a day when the sporting world began to self-quarantine.
<<— check back for updates —>>
9:15 pm PT
USC bans fans from all home games until end of month.
It's starting to seem like an inevitability. [ESPN]
Big East goes fan-less for conference tournament. 
This came after the Big East was saying they were still gonna let fans in to Madison Square Garden. All the conference tournaments seem headed this way. [New York Post]
Atlantic 10 tournament to finish in vacant Barclay's Center
Hmm, is it not the right time to start looking at the odds in these tourneys? OK, for now just the news. [New York Post]
But odds still matter. Especially if we can't go to work and live in a state with legal mobile betting!
8:40 pm PT
Phoenix Suns' Devin Booker learns NBA season paused while playing Call of Duty.
It was hardcore, and captured live on Twitch. Warning: lots of F-bombs in this fight.
(Book ended his stream shortly after this)

— Kellan Olson (@KellanOlson) March 12, 2020
Could esports get even a bigger boost when all is said and done?
8:36 pm PT
Mark Cuban speaking more on the NBA's dramatic season change.
"This is much bigger than basketball."

Mark Cuban speaks on the NBA shutdown. pic.twitter.com/RWwoJl8VTq

— ClutchPoints (@ClutchPointsApp) March 12, 2020
8:25 pm PT
Nebraska Cornhuskers basketall team quarantined in locker room, coach Fred Hoiberg hospitalized.
Yikes. There's no way March Madness won't be canceled now, right?
7:45 pm PT
Pelicans vs. Kings game in Sacramento called off.
Supposedly it was because one of the referees had worked a game in Utah earlier in the week. [WDSU]
6:30ish pm PT
Oklahoma City Thunder / Utah Jazz game was postponed.
Tough job for the announcers. Fans sounded like travelers learning their flight was no longer just delayed, but canceled.
Breaking: The Thunder-Jazz game has been postponed to a later date, per the NBA. pic.twitter.com/4z8liN5Kra

— SportsCenter (@SportsCenter) March 12, 2020
What was behind it? Utah Jazz center Rudy Gobert tested positive for COVID-19. Emannuel Mudiay is awaiting test results, too. [OnlineGambling.com]
That led to a broader declaration:
NBA Suspends Season Until Further Notice
So far, 1,258 Americans have been diagnosed with coronavirus, and 38 have died.
Here's Mark Cuban's reaction to news that the NBA is suspending the entire season.
Mark Cuban reacts to the news pic.twitter.com/AJaqPLdvqg

— Rob Perez (@WorldWideWob) March 12, 2020
Statement from the NCAA about closing tournament to public
NCAA President Mark Emmert statement on limiting attendance at NCAA events: https://t.co/TIHHJjdse5 pic.twitter.com/8I1HdceDfN

— NCAA (@NCAA) March 11, 2020
Read Ed's story from earlier today when the NCAA made the decision to turn March Madness into a less-mad, fanless experience. [OnlineGambling.com]
Before that, coronavirus and related scares seemed more of an over-there problem.
Daniele Rugani, Juventus defender, tests positive for coronavirus. [BBC]
Almost seems quaint now, at this point, no? We of course wish Rugani a healthy recovery