Alabama, Clemson, Ohio State, and Ohio State are the four teams that will play in the College Football Playoff for a shot at the national championship. Texas A&M, Oklahoma, and Cincinnati were left out by the CFP committee when the teams were announced on Sunday.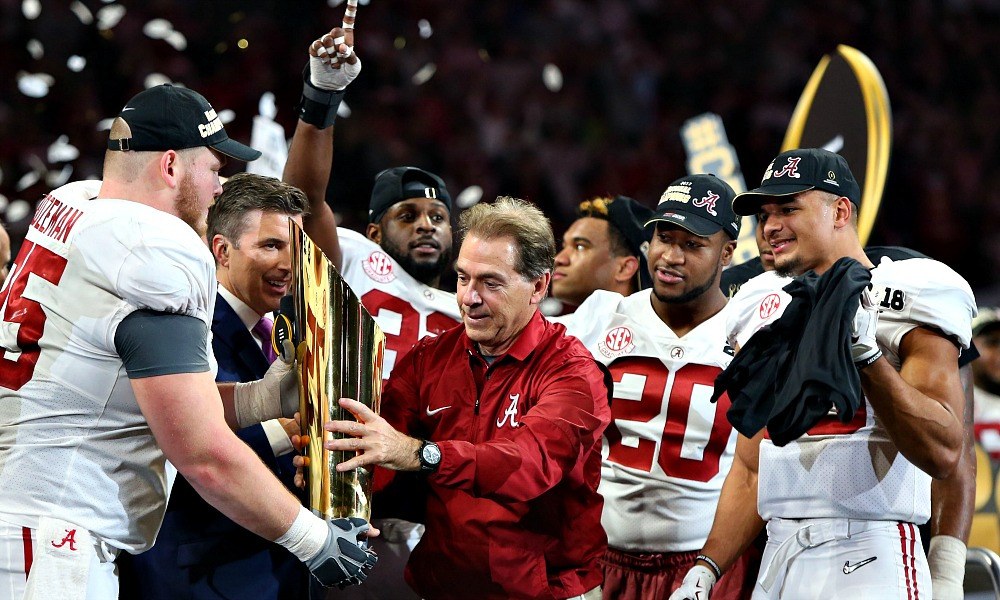 Alabama will face Notre Dame in the Rose Bowl on Jan. 1. The game was moved from Southern California to AT&T Stadium in Arlington, Texas, home of the Dallas Cowboys, because of California's COVID-19 restrictions.
Clemson, ranked No. 2, takes on No. 3 Ohio State in the Sugar Bowl at the SuperDome in New Orleans after the conclusion of the Rose Bowl.
Odds Moving for College Football Playoff
William Hill set the lines for the two semifinal games, and there was immediate movement in one of them. Alabama opened as a 17.5-point favorite, but was quickly bet up to 19. Wynn sportsbook had the line at 20. According to Bet Labs, there has never been a favorite of 20 or more points in the College Football Playoff. Surprisingly there hasn't been a favorite in a regular bowl game of 20 or more points since 2005 when FAU was a 23-point pick at the 2017 Boca Raton Bowl over Akron.
The Crimson Tide, the best team in the country, faces a Notre Dame squad that was embarrassed on Saturday in the ACC title game. Clemson clobbered the Fighting Irish, 34-10. There was criticism by some that Notre Dame got the fourth CFP spot.
The last time Alabama and Notre Dame met was in the 2012 National Championship game. The Crimson Tide dominated Notre Dame, 42-14. Fighting Irish head coach Brian Kelly defended his team getting into the CFP.
"I think we have the ability to move the football, certainly," Kelly said. "We've been humbled about the way we play, and this team has always come back with a resilience and an edge about them, and they will against Alabama."
Clemson began as a seven-point pick over Ohio State, but that line quickly moved to 7.5.
Did Ohio State Play Enough Games?
The Buckeyes got some blowback about their inclusion into the College Football Playoff. At 6-0, some think they haven't played enough games. One of those critics is Alabama head coach Nick Saban.
"That was the big thing about this season: The people who played 10 and 11 games had to survive the grind," Saban said. "And the grind of this season was a whole lot different than any other season. That's why I thought those teams should be rewarded."
OSU head coach Ryan Day defended his team, telling reporters on Saturday he knows they can compete with anyone.
"All I'm going to say is this — people can say whatever they want," Day said. "They have their opinions. I'm not going to talk about other teams because I think we have enough to talk about positively about our program, but I'll say this; If we have an opportunity to play anybody in the country in one game, I'm going to take the Ohio State Buckeyes."
Texas A&M's Exclusion Unprecedented
The team that many thought should be the fourth team playing on New Year's Day was Texas A&M, but they finished fifth in the rankings. It was the first time a one-loss SEC team didn't make the College Football Playoff.
After the Aggies won their final-season game on Saturday, beating Tennessee, 34-13, head coach Jimbo Fisher told reporters he thought his team should be in the CFP.
"Seven straight SEC wins. Some schools ain't even playing seven games," Fisher said. "I don't care what league you're in. If you're going to pick the best four teams, we're one of them."
CFP chairman Gary Barta disagreed.
"Very similar resumes," Barta said on ESPN. "But in the end, the committee felt like Notre Dame had earned its way there based on the complete analysis of the resume, and that probably came down to having an additional win against a ranked team."