Chase Elliott got a measure of revenge and a $100,000 bounty when he snapped Kurt Busch's Truck series victory streak at Charlotte Motor Speedway on Tuesday. Elliott, who went off as the second choice at 7/1, won the Gander RV & Outdoors Truck Series North Carolina Education Lottery 200.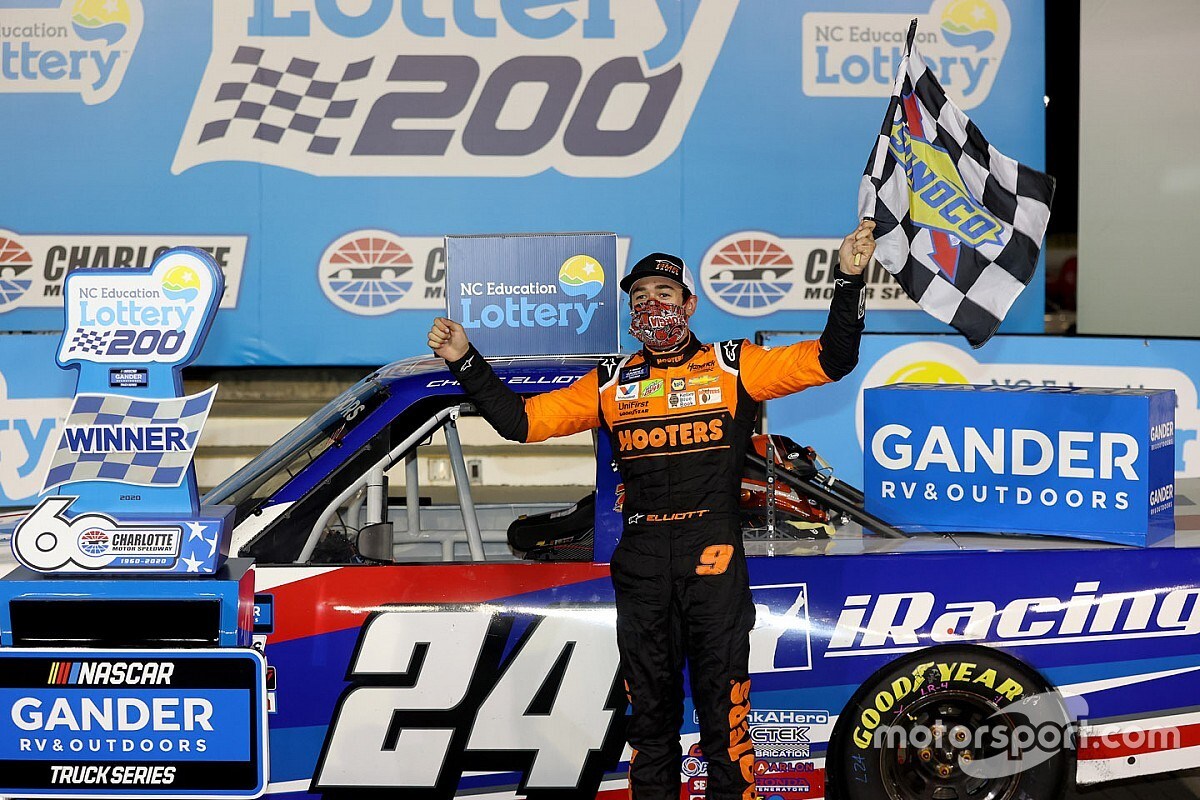 Elliott's victory broke a run of seven consecutive Truck Series wins by Busch, who is considered the sport's most successful driver in that category. Elliott told reporters after the race that it wasn't an easy victory, but definitely satisfying.
"He is good at anything he does," Elliott said of Busch. "I was glad I had a chance to race him for the win. For us to go head-to-head for the win, and it felt good to come out on top. It doesn't make up for Sunday, but it was fun."
Elliott Mimics Busch After Truck Victory
When Elliott got the Truck Series victory at Charlotte Motor Speedway, he decided to get a little dig in at Busch. Elliott copied Busch's signature move of bowing to the crowd, even though there weren't any spectators.
NC Education Lottery 200 Results/Odds
Chase Elliott 7/1
Kyle Busch 10/13
Zane Smith 100/1
Brett Moffitt 12/1
Sheldon Creed 28/1
John H. Nemechek 40/1
Johnny Sauter 12/1
Ty Majeski 100/1
Austin Hill 17/1
Ben Rhodes 25/1
Source: William Hill
When asked about it, Elliott denied he was mocking Busch.
"It was a spur-of-the-moment thing. It's not a dig at anybody," Elliott said of the bow. "Just having fun. It was about beating him, and it was fun, and we did it, so why not? Hopefully, no one gets their feelings hurt over it, but if they do, they do. Whatever."
Busch was unaware of the bow until after the race. He told reporters in a post-race news conference it didn't bother him.
"It's the first I'm hearing about it," Busch said. "Imitation is the strongest form of flattery, or something. I don't know what it is. That's cute."
Elliott's win comes six days after Busch wrecked Elliott in a Cup Series race at Darlington Raceway. It cost Elliott a potential victory, but the 24-year-old said he didn't think it was intentional.
"Like I told him, I don't think he wrecked me on purpose," Elliott told reporters. "I think that he was trying to make a spot that wasn't there. And, much like I told him, I get that mistakes happen, that's part of life and I get it. He's just not a guy that makes many mistakes, so for me to be on the poor end of a rare mistake on his end is, at the end of the day, unfortunate for me and my team."
Bounty Measure of Satisfaction
Fellow NASCAR driver Kevin Harvick put a $50,000 bounty on Busch back in March. It was quickly matched by Gander RV & Outdoors CEO Marcus Lemonis.
Initially, the money was to go to the driver who could upset Busch. Then the COVID-19 global pandemic hit, and Harvick and Lemonis decided to donate the money to charity. Tuesday's race was the first Truck Series contest since Feb. 21.
Elliott's Truck Series victory was his first win since Martinsville in 2017. He said it was satisfying to beat one of the best in this racing classification.
"It was about beating Kyle and we did that so I guess I can quit now," Elliott said.