Kyle Busch is a marked man in NASCAR's Gander RV & Outdoors Truck series. NASCAR Cup driver Erik Jones joins Chase Elliott and Kyle Larson in the hunt to collect a $100,000 bounty on Bush, who has scored seven consecutive victories in trucks dating back to 2018.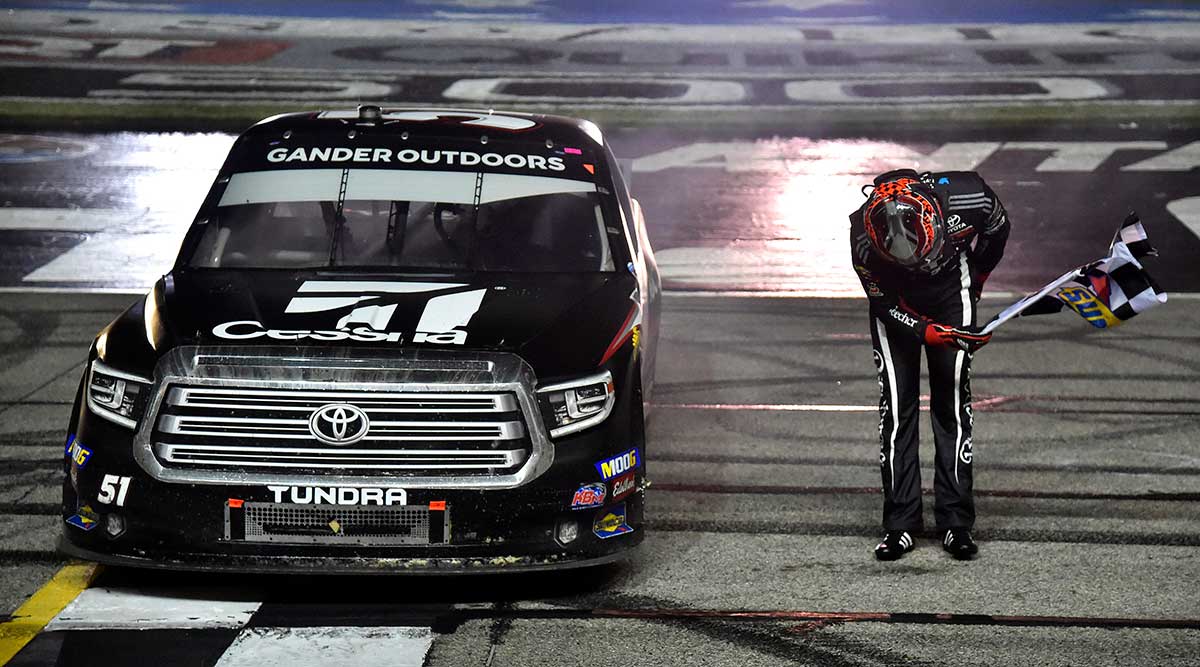 The idea began a couple of weeks ago when some drivers were complaining after Busch's victory at Las Vegas Motor Speedway — his seventh consecutive Truck Series victory. Fellow Cup driver Kevin Harvick offered a $50,000 bounty if any full-time Cup Series driver could defeat Busch. Soon after Harvick posted the challenge, Marcus Lemonis, CEO of Truck Series title sponsor Gander RV & Outdoors, added another $50,000.
There are a couple of stipulations on the bounty, however. The first is that a driver doesn't actually have to win the race — they just have to place higher than Busch. If multiple drivers finish ahead of Busch, the one who places highest will win the bounty. The second rule is that a driver cannot purposely wreck Busch to collect the $100,000.
Elliott, Larson Hunting Busch's Bounty
Chase Elliott and Kyle Larson immediately took the challenge. Elliott told reporters that he will try and take down Busch at Atlanta this Saturday.
"Once the word got out about the challenge, we were able to put this together with Mike Beam at GMS in just a couple of days," Elliott said. "Atlanta is one of my favorite tracks, so I'm really looking forward to getting back into a GMS truck there with Hooters on the truck and make a run for a win."
But if Elliott doesn't get the job done in Atlanta and the bounty moves to Homestead in Miami, then Kyle Larson will take a shot with the GMS team.
"When I heard about the $100,000 bounty I wanted in," said Larson. "I'm thankful for GMS and Chevy giving me this opportunity. Homestead is one of my favorite tracks, so looking forward to the challenge."
Jones is the latecomer to the bounty hunt. He wrote on Twitter that he is excited to be a part of the Busch bounty.
"This will be pretty fun, these guys are racers to the core, can't wait for it!" Jones wrote.
Busch not Fazed by Challengers
Busch won the Atlanta Truck Series race last year. He didn't enter the events at Kansas, Texas, or Homestead. He told reporters that he isn't worried about the extra competition.
"It's all good. It's going to be interesting, exciting, whatever you want to term it," Busch said. "I guess Cup drivers in Truck Series do sell tickets, so take that for what it's worth. I think it's a unique opportunity for more attention on the series, which is good. Maybe if more drivers had more teams then had rides then there would be something else there than just myself. I don't remember who I told, but once (Kevin) Harvick kind of put the idea out there, I thought the guy that really has a shot is (Kyle) Larson at Homestead. Bring it on."