The day after Charlatan finished a game, but beaten, second to England's Mishriff in the $20 million Saudi Cup, his trainer Bob Baffert gushed about what transpired on the other end of the world.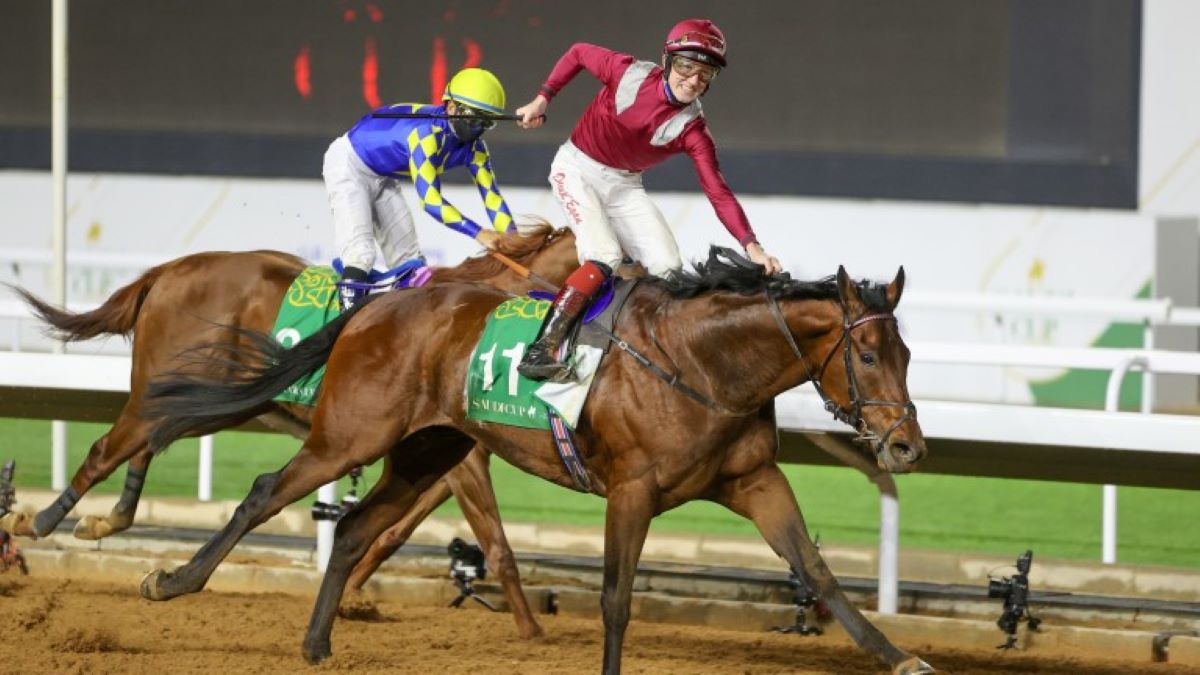 "He ran a big race," Baffert told Santa Anita Park's Ed Golden on Sunday morning. "He put away Knicks Go, just ran him down, turned in a gallant effort, and it's too bad he got beat. That's a demanding track. The stretch is so long and he ran hard."
Somehow, Mishriff did what no other horse has done: catch and pass Charlatan in deep stretch. The John Gosden-trained winner of last year's Group 1 Prix du Jockey Club in France tracked down and passed Charlatan less than 100 yards from the wire.
No horse – not last year's Derby hopefuls in the Arkansas Derby, not star sprinter Nashville in December's Malibu Stakes – came close to pulling off what Mishriff accomplished. Going off at 19/1, Mishriff ran a perfect stalking trip, letting Knicks Go and Charlatan hit the far turn 1-2.
When pushed, Knicks Go failed to go
Coming out of that turn, Knicks Go checked out as Charlatan sling-shotted ahead. Then, jockey David Egan asked for more and Mishriff delivered. He rapidly closed ground on the outside until Mishriff smashed and grabbed his length victory.
"It was an exciting race and I would have loved to have won it, but I was afraid of a speed duel between him and Knicks Go," Baffert said. "They locked horns after a half-mile and really picked it up the second quarter. But the way he ran, it shows what a brilliant horse he is. He put away a really good horse (Knicks Go)."
In putting away Charlatan, Mishriff paid $41.60, $12.80, and $6.40 in the US. He paid nothing at the track because gambling is forbidden in Saudi Arabia. Along with his $10 million payday, Mishriff displayed a versatility that could bring him to Del Mar for this fall's Breeders' Cup Classic. The Saudi Cup was only his second race on dirt, following his runner-up finish to Full Flat in last year's Saudi Derby on this track.
Europeans go 1-3 in Saudi Cup
Great Scot finished an improbable third at 99/1, taking advantage of Knicks Go's top-of-the-stretch fade that left him fourth. Sleepy Eyes Todd, who finished a distant fifth by 9-¼ lengths to Knicks Go in the Pegasus, was a distant fifth here. Tacitus, who finished fifth here last year, was a nondescript seventh. The other American horse, Max Player, finished a non-threatening 11th.
Looking forward, what this shows for both Charlatan and Knicks Go is that, perhaps, 1-1/8 miles is a bridge too far. Both thrive at seven furlongs to a mile, where you'll probably see both going forward in 2021. Expect one or both in the Metropolitan Mile on June 5 on the Belmont Stakes undercard.
And expect both to turn up in more high-profile mile races in 2021, once they get back and get freshened.
Knicks Go, Charlatan both hit their walls
Knicks Go showed in the Pegasus he can handle nine furlongs, if he's unmolested. He showed in the Saudi Cup he can't if he's pushed by comparable talent.
As for Charlatan, he showed he's unbeatable over a mile or shorter. But even one of the best dirt horses in the world has his limits. That extra furlong may be that limit.
"He came out of the race really well. We'll get him back to the United States, play it by ear and see how he's doing," Baffert said.