One trip abroad nearly cost Sir Winston his career. Another trip abroad saved it.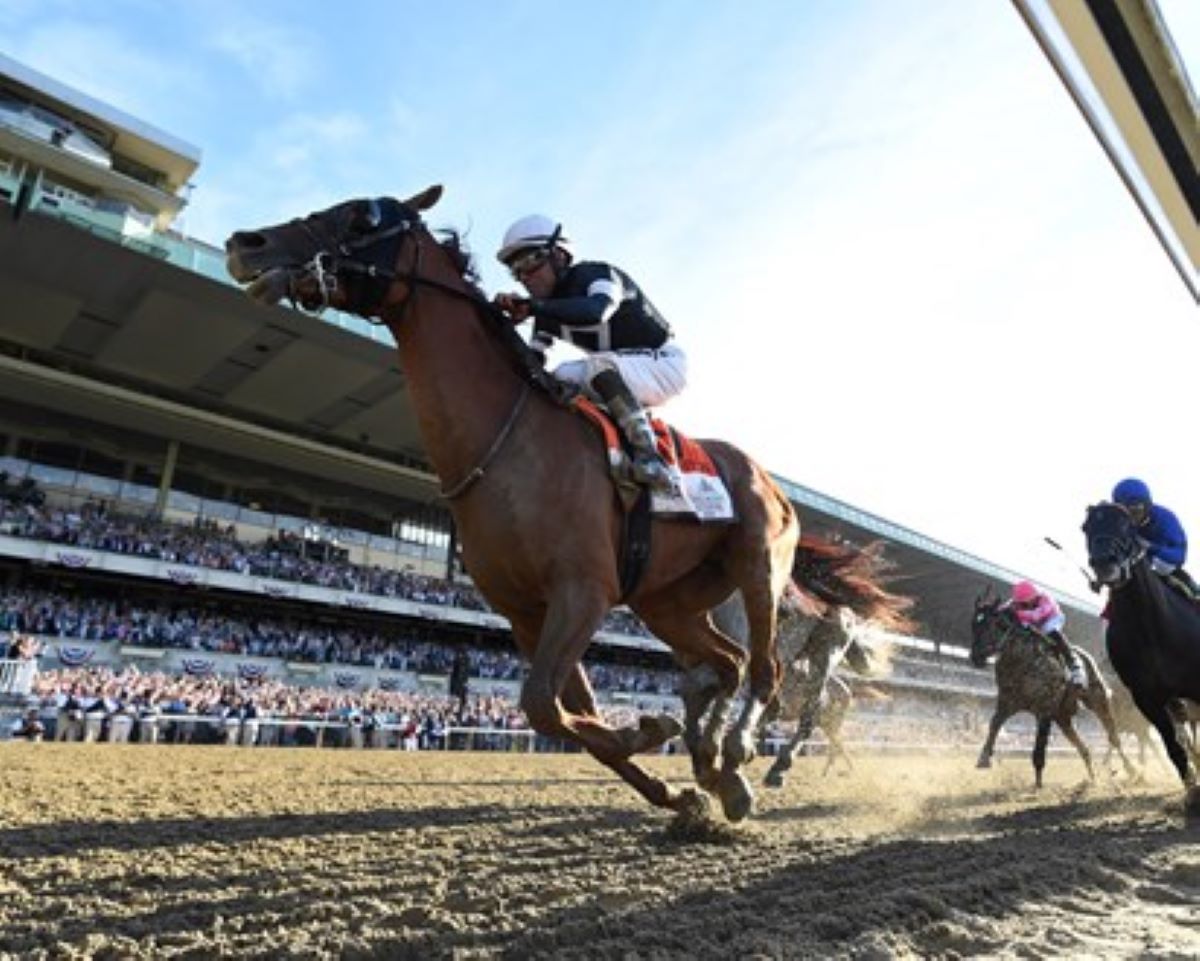 And now, the 2019 Belmont Stakes winner comes into Saturday's $3 million Grade 1 Pegasus World Cup Invitational as a mature, fresh 6-year-old. His trainer, Mark Casse, thinks the son of Awesome Again could be awesome again Saturday.
It's a tough ask and Casse knows it. There's the looming, Eclipse-Award-in-waiting shadow of Knicks Go and the feisty, frighteningly fast presence of Life Is Good. The 1 1/8-mile Pegasus World Cup is right in the distance wheelhouse for two of North America's most dominant horses. They accounted for two Breeders' Cup victories last fall: Knicks Go in the Classic and Life Is Good in the Dirt Mile. And Knicks Go won this race last year.
"It's funny, but I think he enjoys his job now more than before," Casse told Gulfstream Park about Sir Winston. "He's very professional. He always has been, but he trains better, acts better. This is going to be a heck of a race. Hopefully, we can get a piece of the pie. … It looks like there will be some serious pace. Obviously, he needs a lot of things to go his way. He's feeling really well and we believe he deserves a chance."
Sir Winston has been here before
Casse exudes a sense of calm. Almost like he did in June 2019, when Sir Winston came into Belmont Park as a 14/1 afterthought. He was a bigger afterthought in his own stable, because stablemate War of Will just captured the Preakness Stakes three weeks earlier.
Sir Winston's Triple Crown trail escapades led nobody to believe he deserved a second thought. He finished off-the-board in three Kentucky Derby stops: the Grade 3 Withers (fourth), the Grade 2 Tampa Bay Derby (fifth) and the Grade 2 Blue Grass (seventh).
That kept him out of the Derby, but a second in the Grade 2 Peter Pan at Belmont Park put him in the Belmont Stakes a month later. He not only handled War of Will (who finished ninth), but Sir Winston ran down favored Tacitus in the stretch to win the third leg of the Triple Crown.
'You're missing someone'
"I told people before the Belmont,' I think you're missing somebody.' I said, 'It wouldn't shock me if he won.' He was doing really well," Casse said. "I kind of feel the same way now."
Casse didn't feel that way in 2020. He took Sir Winston to Dubai for the Dubai World Cup. Less than a week before the race, organizers canceled the race due to the COVID-19 pandemic, then blowing up worldwide.
"We brought him back and it really knocked him on his rear," Casse said. "He just didn't come back the same horse. We ran him a few times and he didn't run great. We just sent him home to (owner/breeder) Tracy's (Farmer) farm and gave him a long time off. He's come back and has gotten better and better."
Take the rest of the year off … and most of next year too
Casse and Farmer ran Sir Winston three times after his Middle East sojourn. His best finish was a second in the Listed Flat Out Stakes at Belmont Park in June 2020. Two starts later, after a fourth in the Black-Type Overnight Stakes at Churchill Downs, Casse shut Sir Winston down for nearly a year.
He brought him back last August — in Canada. Casse took Sir Winston to his Woodbine barn and turned him loose for four races. Sir Winston responded by winning an Aug. 19 allowance and the Grade 3 Valedictory Stakes Dec. 5. In between, he finished second in the Grade 3 Durham Cup and the Grade 2 Autumn.
Four races and not a finish out of the exacta. The two losses came by three-quarters of a length (to Special Forces in the Durham) and a half-length (to Mighty Heart in the Autumn).
Sir Winston has something not even Knicks Go has
No wonder Casse thinks Sir Winston enjoys his job more. Again, it's a tough ask to run down Knicks Go and Life Is Good, who went a combined 9-for-12 last year. But Sir Winston has something both superhorses lack. Something Casse remembers from that June week in 2019:
A Triple Crown race victory. If Sir Winston can channel that race from 2 1/2 years ago, who knows what could happen. After all, the longer the race, the more he likes it.
"I think he's really back to himself and doing really well," Casse said.