The New York Yankees (15-6) sit on top of the standings, even though three of their top hitters are on the IL with various injuries. Aaron Judge (calf), DJ LeMahieu (thumb injury), and Giancarlo Stanton (hamstring) are all currently sidelined on the IL, which is a huge loss because Judge led the AL in home runs and LeMahieu led the AL in hitting before both were injured.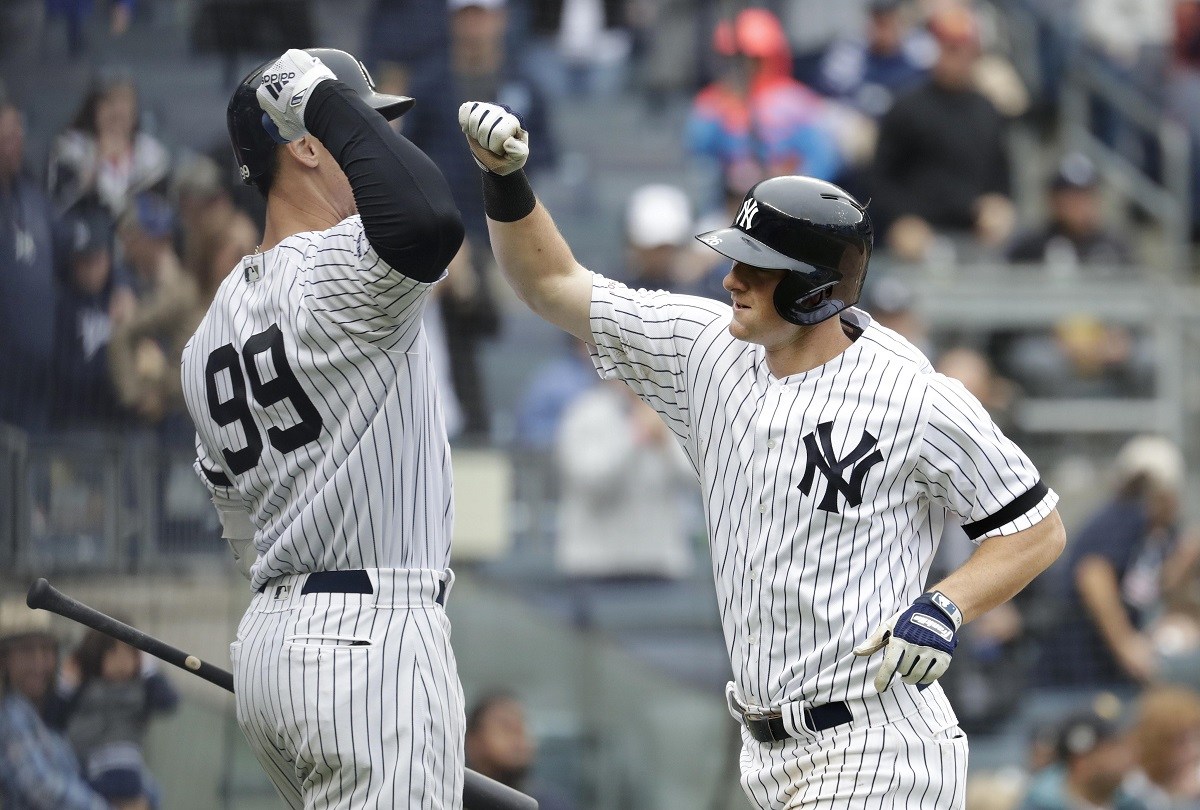 The Yankees had so many injuries last season that most of the AAA team logged playing time in the Bronx at some point during a season jinxed with maladies.
The bad mojo continued for the Yankees this season. They lost reliever Tommy Kahnle to Tommy John surgery. Masahiro Tanaka began the season on the IL after he suffered a line drive to the head. The Yankees and Tanaka were fortunate he came away with only a mild concussion, but the last thing they needed was losing their #2 pitcher for any significant time.
TOP BOMBERS
Aaron Judge .290, 9 HR, 20 RBI
DJ LeMahieu .411, 2 HR, 8 RBI
Giancarlo Stanton .293, 3 HR, 7 RBI
In the last week, the Yankees lost LeMahieu and Judge, in addition to Stanton who went on the IL two weeks ago.
"We've lost two MVP-caliber players, so that is a blow," said Yankees skipper Aaron Boone. "Especially two guys who are playing as well as they are right now. We have the people who can withstand this."
The Yankees are 7/2 odds to win the World Series according to a recent update from William Hill.
Judge Down, Frazier Up
Judge is one of the few players who benefited from the delayed season. He entered spring training with a nagging shoulder injury that turned out to be a broken rib. The time off allowed Judge to properly heal without surgery that would require removing a rib.
A healthy Judge is a dangerous Judge. He smacked nine home runs in 17 games this season, including five in a six-game span. Judge said he's okay and can't wait to get back to the lineup, but the Yankees put him on the 10-day IL as a precaution.
"We feel that we have a group of guys, and a depth of guys, that the expectations don't change," said Boone.
Clint Frazier is the perfect example of the next-man-up mentality. Frazier looked excellent in the four games since he was called up to fill in for Judge. Frazier is hitting .533 with two HR and eight RBI. He got knocks for his fielding last season, but he's looked strong in the outfield since his return to the big leagues.
In 14 games this season, Stanton hit .293 as the DH. A slimmed-down Stanton still hit with power and jacked three home runs. The Yanks expect Stanton to miss at least four weeks with his hamstring injury.
La Machine
The Yankees suffered their biggest blow when they lost their most consistent player over the last two seasons. DJ LeMahieu's teammates nicknamed him "La Machine" because he plays baseball like a flawless robot. He's a Gold Glove infielder with a steady bat that's good enough to win a batting title. He joined the Yankees two seasons ago in a modest free-agent deal. LeMahieu was the team's MVP last season, hitting .327 with 26 HR and 102 RBI as a lead-off hitter.
At the start of the MLB season, we wondered if anyone could hit .400 during the pandemic-shortened 60-game season. I mentioned that LeMahieu had a good shot, and he made me look much smarter than I am after a torrid start. Before his injury, LeMahieu led the AL with a .411 batting average.
When he played with the Colorado Rockies, LeMahieu suffered a broken thumb injury. That time, he missed several weeks while his thumb healed.
With LeMahieu down, the Yankees will look to Tyler Wade to come off the bench and provide a spark. They also called up Miguel Andujar. In the meantime, the Yanks pray that LeMahieu is out only 10 days, and not for anything longer.