Bradley Beal tied a Washington Wizards franchise record with 60 points while also setting a new career-high in a 141-136 loss against the Philadelphia 76ers. In true Beal fashion, he was more irked that the Wiz lost than he was pleased by setting a career milestone.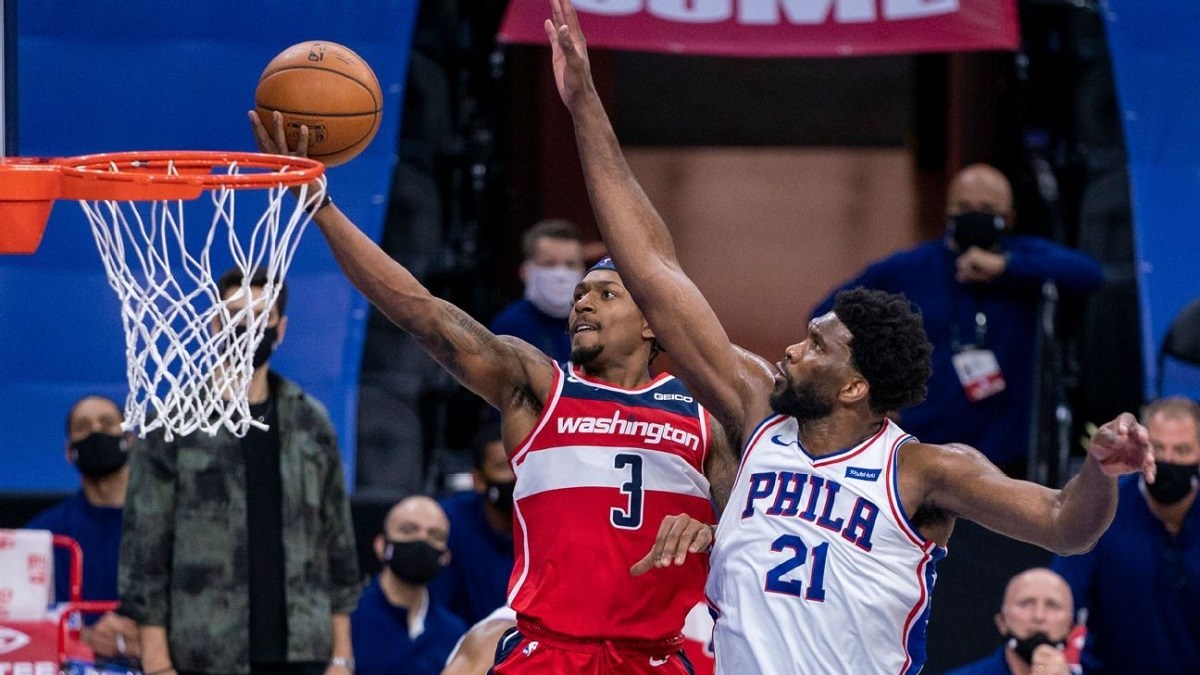 Beal looked unstoppable for the first three quarters against the Sixers. He exploded for 57 points through the end of the third quarter. At that point, he eclipsed his former career-high of 55 points, which he set last February against the Milwaukee Bucks.
"Sometimes you might be able to score 40, 50, 60, whatever the case may be, but I just want to win, whatever that looks like," said Beal. "We came up a little bit short tonight."
The Wizards lost a tough road game on an emotional night after Trump supporters stormed the Capitol Building in Washington, DC during a failed coup attempt.
---
Points: 60
Minutes: 38
FG: 20/35
3-PT FG: 7/10
FT: 13/15
---
Beal shot 20-for-35 from the field, including a 7-for-10 from 3-point range. He also knocked down 13-of-15 free throws en route to 60 points. He added seven rebounds, five assists, and one steal.
Beal scored just three points in the fourth quarter, and the Wizards' comeback fell short. The Wiz lost a high-scoring shootout and lost Russell Westbrook for an undetermined amount of time. Westbrook left the game prematurely when he suffered a dislocated finger. Westbrook finished the game with 20 points, 12 assists, and eight rebounds.
Beal Scores 60, Not So Happy
With 60 points against the Sixers, Beal tied a Washington Wizards record for most points in a game with scoring-machine Gilbert Arenas. Beal passed Arenas' record with the fourth, 50-plus game of his career. Arenas notched 50-plus three times.
"Knowing Bradley, he's pissed," said Washington head coach Scott Brooks. "He scored 60 points, and we lost. He's all about winning."
"I'm pissed off. I'm mad. I don't count them," Beal confirmed. "Any of my career highs, they've been in losses. So, I don't give a damn. You can throw it right out the window with the other two or three I've had. Just want to win."
The Sixers built up a 15-point lead heading into halftime. The Wizards lit up the second quarter with 43 points, but the Sixers were a step ahead of them. Philly exploded for 49 points in the third quarter to pad their lead.
All five Philly starters scored at least 15 or more points. Shake Milton added 19 points off the bench. Joel Embiid had another monstrous game with 38 points, eight rebounds, five assists, three steals, and three blocks.
"They shot 60% from the field and 62% from three," said Beal. "You can't win a game like that."
The Sixers are the top team in the NBA to start the season, and improved to 7-1.