The NASCAR Cup Series doesn't start until Sunday's Daytona 500, but driver Brad Keselowski has already started complaining about another driver — and this one's on his own team. Keselowski got knocked out of Sunday's Busch Clash, an exhibition race at Daytona International Speedway a week before the Daytona 500, and he blamed Joey Logano.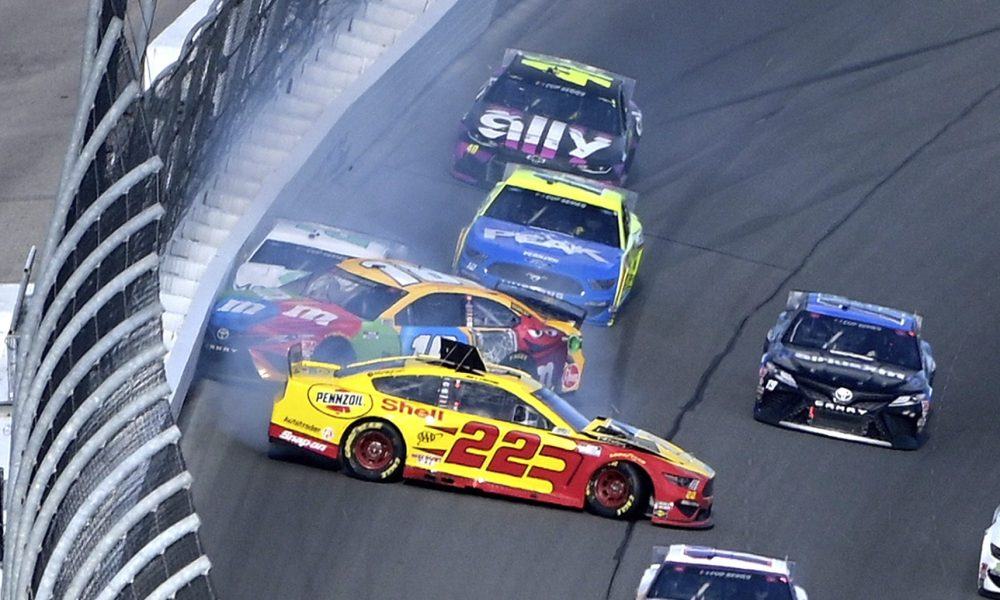 Though he didn't name teammate Logano, it was easy to see who Keselowski's post-race comments were targeted toward. Keselowski got caught up in a collision between Kyle Busch and Logano on Lap 66. Both Busch and Keselowski were knocked out of the 75-lap race. Both Logano and Keselowski were 8/1 co-favorites to win the race.
Keselowski criticized a block that Logano instituted against Busch. He told reporters afterward that it was not smart driving.
"Just got wrecked for no reason; just dumb, dumb racing, just dumb moves being thrown out there," Keselowski said after emerging from the medical center. "Guys that don't know what they're doing throw crazy blocks, and it's just ridiculous. We shouldn't be wrecking all these cars. This is just dumb. We had a good car, my Ford was capable of winning the race, led a lot of the race. We were in good position to finish it off and got destroyed for no reason."
Keselowski Laps Leader at Busch Clash
Keselowski led 33 of the 66 laps, and was the front-runner at the time of the crash. Erik Jones, who had 20/1 odds, ended up winning the race.
Busch, who was 10/1, said that he believed he was in position to make a pass on Logano.
"We were better than those guys I feel like, and we had better handling," Busch said. "Looked low on the 22 [Logano] and he came down to block me there. And I went high and he drove all the way up the hill in front of me. So I was like, OK now I'm going back down. I didn't know Denny was already alongside of me, so when I did that, didn't know how much room I had. The 22 and I touched and the wreck was on."
After the race, Logano justified his tactics.
"Kyle had a run, I blocked it to the bottom," Logano said. "I blocked him back at the top. Thought I did a good job blocking and he just got to the inside of me and there really wasn't a hole, and it just hooked me around. So that was the first crash."
Sniping Between Teammates Could Continue
Though Keselowski and Logano are teammates, there has been offseason turmoil between them at Team Penske. Ownership made changes to the three teams, shifting around crew chiefs in January. Paul Wolfe, who had been with Keslowski, went to Logano, while Jeremy Bullins, who was with Ryan Blaney, joined Keseloswki. Blaney got Logano's former crew chief, Todd Gordon.
Some questioned the move since the three drivers combined for six victories, and all finished in the top-10 in points. None of the three, however, made it to the final four for the Cup Series Championship.
The new teams made their debuts at the Busch Clash, and there could be further turmoil between them throughout the season. After Sunday's incident, Keselowski tried to downplay the crash saying, "I'm going to Disney World tomorrow."
Logano, asked if would be talking to Keselowski about the contact, was equally glib.
"I'm going to Disney World too, so I'll see him there," Logano said. "I'm sure he's alright. We get along fine."