Bettors were looking at a four-way payday on who would be the leader after the US Open's first round on Thursday. That is until Justin Rose ruined those gamblers hopes.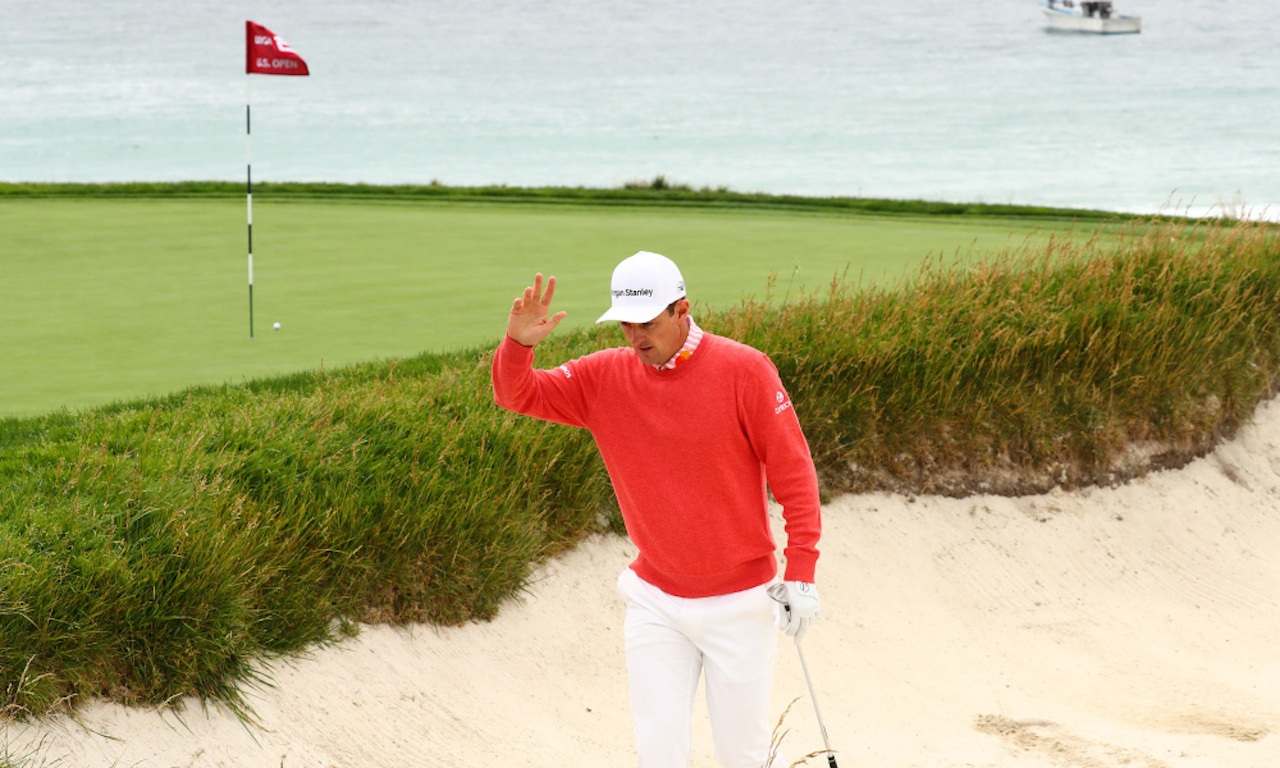 The morning rounds at the major championship were going low. Rickie Fowler, Xander Schauffele, and Louis Oosthuizen all posted 5-under 66. Aaron Wise joined the trio later in the day. Fowler and Schauffele had the lowest odds of being the leader at 35/1. Oosthuizen was next at 66/1, and Wise was a whopping 125/1.
Then the former No. 1 player in the world had to come along and spoil everything. Rose was one of the last groups to tee off, and was plodding along at 3-under, until the final three holes. He made birdie on every one of them to take the lead at 6-under 65.
Rose wasn't exactly a favorite to shoot the lowest first round. He was clumped with Fowler and Shauffele at 35/1.
Fowler Thrives
Fowler has been tagged Best Player to Never Win a Major, but he is certainly trying to shed himself of that dubious honor. The 30-year-old took a positive step on Thursday, blistering Pebble Beach for a 5-under 66.
Missing just one fairway and three greens in his round, Fowler called it "probably one of my better rounds I've played in a major."
The key said Fowler was to adjust his thinking when it came to big events, especially majors.
"It's been a long road to get to the point where majors felt like another week, because they are bigger. They're majors," Fowler said. "But it's time to soak it all up and have some fun."
Mickelson Struggles
Phil Mickelson, who was at 30/1 to win the tournament, flailed around a fairly benign Pebble Beach, finishing with a 1-over 72. The lefty put himself in a hole, where the lead was 6-under.
Mickelson knows his chances to win the US Open, and complete the career Grand Slam, are slipping away. The soon-to-be 49-year-old felt like he let one get by him in the first round.
"There was a good opportunity to score, and I played better than I shot," Mickelson said. "I thought it was a great opportunity to get a few shots, and I just didn't do it."
It was confounding to Mickelson, who has won the AT&T Pro-Am here, and played in both previous Opens in 2000 and 2010.
"I've played this course for so many years, and I know how to shoot under par on it," Mickelson said. "I just need to shoot something in the 60s, and I'll be fine for the weekend. But today I was playing well enough to do that, and I hit a lot of good putts that I didn't make."
Ace for Sabbatini
Another exotic prop came in courtesy of Rory Sabbatini. He made a hole-in-one on No. 12 from 202 yards out. Taking that prop bet of an ace in the first round paid off at 4/1 at Bovada.
Spieth Scorched After Shots
Jordan Spieth had a rough time of it on No. 8, and decided to take it out on his caddie, Michael Greller.
His tee shot ran off the side and fell over the cliff. His recovery shot went over the green and into the rough. Spieth decided that it was not his fault.
"Two perfect shots, Michael," Spieth said. "You got me one in the water and one over the green."
Social media was quick to blast Spieth after the comment, that was picked up by television. Spieth had no comment after the round.