Chicago Bears coach Matt Nagy quickly dispelled rumors that quarterback Mitchell Trubisky was benched for his play on Sunday. Nagy sat Trubisky with 3:31 remaining in their 17-7 road loss to the Los Angeles Rams.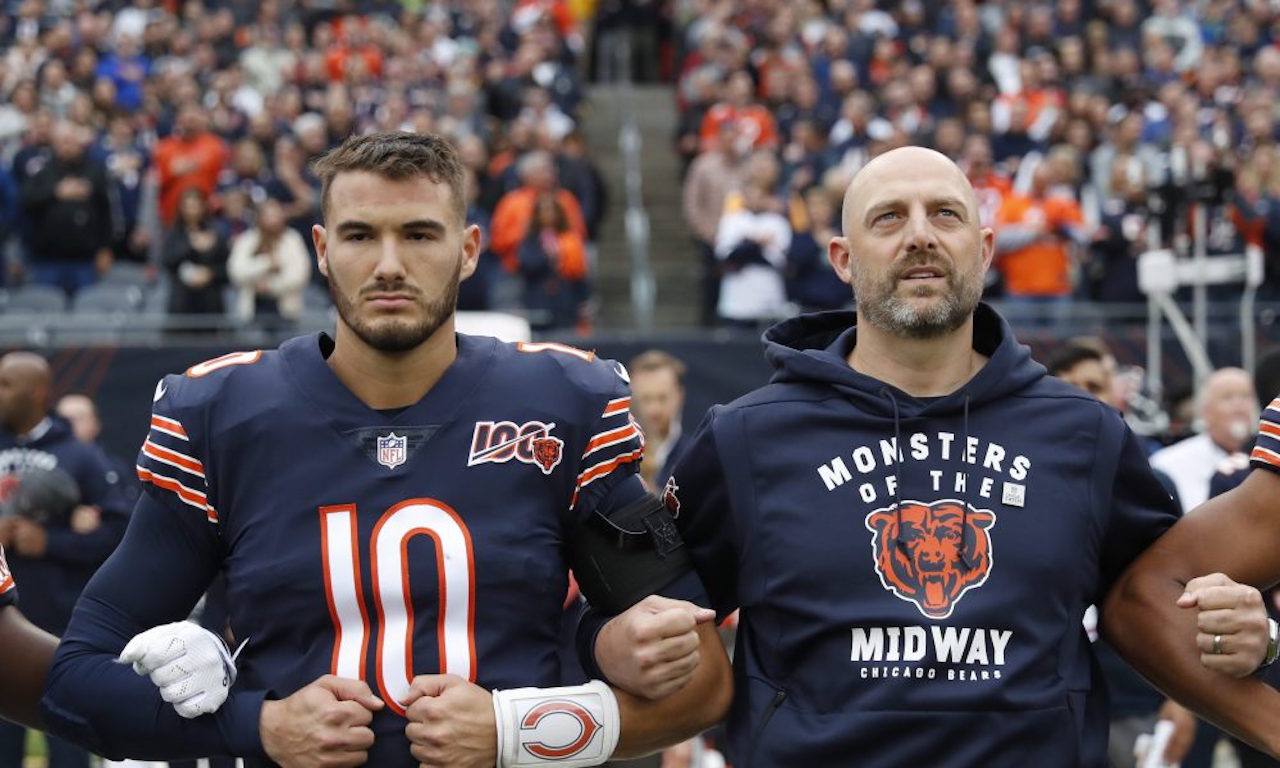 Conspiracy theorists can go find something else to fixate on. Nagy insists his starting quarterback was held out of the team's last offensive series because of an injury, not poor play. Nagy told reporters after the game he made the decision based on watching his quarterback.
"It was all based off he wasn't feeling right. His hip was hurting him," Nagy said. "We knew a few series earlier that something wasn't right. We watched him to keep an eye on him and see how it was. I had to go on the side and talk to him."
Trubisky said he wanted to keep playing, but ultimately agreed with Nagy to stay on the sidelines.
"They made a call that they felt was best for the team," Trubisky said. "You've got to support that, and you've just got to be 100 percent to be out there with your team, and I just couldn't do that."
Nagy Doubles Down on Trubisky
On Monday, Nagy was again trying to convince skeptics that the only reason Trubisky was benched on Sunday was because of an injury.
More specifically, a hip pointer. Nagy said if you can't use your legs, and are throwing in obvious discomfort, that has to be communicated to him and the coaching staff.
"I wanted him to know, coming from me, that he needs to be brutally honest with me in regards to his pain and where he's at," Nagy said. "I sat there and I told him, 'Listen, man we appreciate your toughness, we appreciate you being as tough as you can possibly can be and wanting to stay in the game, but I need to be able to make a decision.'"
Trubisky told reporters it is not in his mindset to come off the field if he believes he can play.
"You just want to be out there with your team," Trubisky said. "But if you're not 100 percent, you can't help the team. I'm not doing the team any favors if I'm not able to run around or throw the ball with accuracy because I'm throwing with all arm. Just, you got to be smart from that factor, but I'm going to fight as long as I can to try to be out there with my guys."
Not All is Well with Trubisky
Even before Sunday, Nagy was having to defend Trubisky to the media and fans, both of whom were calling for his benching. The second pick in the 2017 draft has been a disappointment this season. In 10 games, he has passed for just 1,580 yards and nine touchdowns against four interceptions this season.
The Bears are 4-6, and in third place in the NFC North. They are just one game out of last place.
Despite the criticism, Nagy is sticking with Trubisky. When asked if Trubisky would be the starting quarterback when the Bears host the Giants on Sunday, Nagy said, "Absolutely." Chicago is currently a six-point favorite.