Ansu Fati agreed to an extension to his contract with FC Barcelona in a new deal that will run until 2027.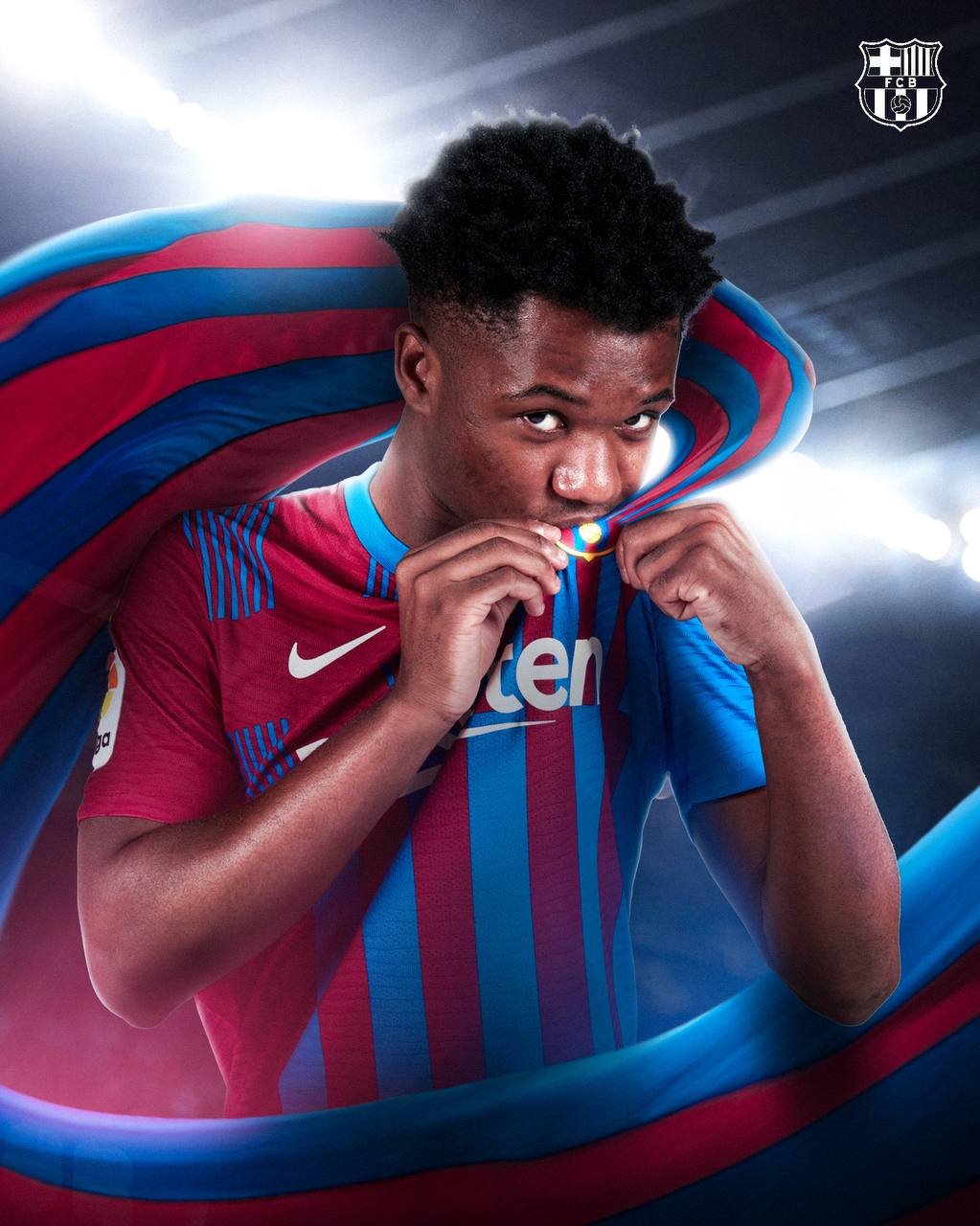 Fati, 18, follows in the footsteps of teammate Pedri, who also signed a new contract at Camp Nou last week. Pedri, also 18, has performed at the highest level in his year in Blaugrana, becoming a national team regular for Spain as well. Both Fati and Pedri have release clauses set at $1.16 billion by financially troubled FC Barcelona. The club aims to focus on its teenage power after facing a financial crisis that saw them lose Leo Messi over the summer.
The announcement of Fati's contract renewal came after the team's 1-0 win against Dynamo Kyiv in the Champions League.
Fati was given the honor of wearing the iconic Barcelona number 10 shirt this season. It was worn in the past by the likes of Messi, Ronaldinho, Rivaldo, and Maradona.
Fati, Barcelona's young record-breaker
The attacker was born in Guinea Bissau and joined La Masia in 2012 when he was nine years old. Fati made his first-team debut in 2019, at the age of 16 years and 298 days, being the second-youngest player to ever do it. A week after his debut on Aug. 25, 2019, Fati became the youngest player to score a goal in Barcelona's history after he netted in the Spanish La Liga against Osasuna.
Records continued to come. Fati became Barcelona's youngest player to start a match before also breaking La Liga's record as the youngest to score and assist a goal in the same game. At 16 years and 321 days, he became the youngest player to wear the Barcelona shirt in a Champions League match. His first goal in the most important football club competition came at San Siro against Inter Milan, also setting a Champions League premiere. Fati broke a record in place since 1997 when he netted at 17 years and 40 days at Inter's ground.
Fati: 'I feel no pressure because of the number on my back'
Fati spent 10 months on the sidelines after picking up a serious injury in November 2020. Despite the setback, he is currently on 48 games for Barcelona's first team, scoring 15 goals and assisting another three. He scored 13 goals in La Liga while the other two came in the Champions League.
Since his return to the pitch in September, Fati netted twice for Barcelona in the league. He's had numerous offers from clubs in England, but chose to stay at Barcelona, even under the current financial circumstances.
"The number 10 jersey has indeed been worn by Leo Messi and many great players but I'm calm," Fati, said in the news conference to mark his renewal. "I know what I can bring to this team. For me, this is no pressure. No one is going to be like Leo, no one is going to be like Puyol or Xavi. No one is going to equal what Leo has done. I'm going to follow my own journey. I still haven't done anything. I hope I can have a career as they have had," Fati added.
"Any player could have worn the number 10. I'm grateful that the captains offered me the number and luckily, I got it. It's an extra motivation for me. I don't look at the number but focus on what I can do on the pitch to help the team," Fati said proudly.