Bob Baffert and Amr Zedan, the trainer and owner of Kentucky Derby champion Medina Spirit, went on the legal offensive Tuesday, filing a lawsuit against the Kentucky Horse Racing Commission.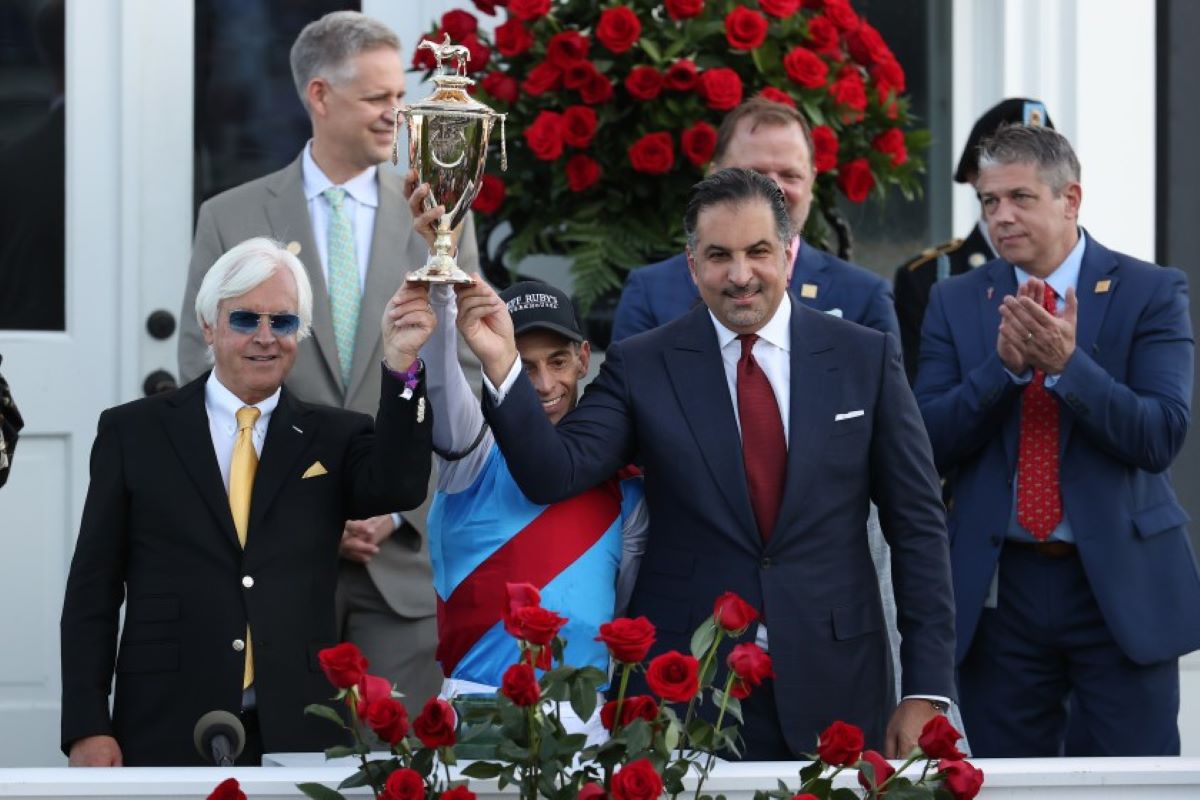 The suit, filed in Franklin Circuit Court in Kentucky, claims the KHRC's ban on betamethasone applies only to injections and not applications of a topical ointment containing the medication. It also asks for additional testing on one of Medina Spirit's urine samples.
Medina Spirit tested positive for 21 picograms of betamethasone, a medication typically injected into a horse's joints for inflammation. Under KHRC rules, betamethasone is legal, but must be out of a horse's system on race day. On May 9, eight days after Medina Spirit won the Kentucky Derby by a half-length over Mandaloun, Baffert told reporters outside his Churchill Downs barn the colt tested positive for the anti-inflammatory. Initially, he told reporters he had no idea how the medication got into Medina Spirit's system.
Two days later, Baffert said he thought it came from a topical cream called Otomax. Baffert said an unnamed vet in his stable gave the colt the ointment for a rash on his hindquarters.
Medina Spirit remains Derby champion — for now
That sent attention to the split sample, which came back positive for 25 picograms of betamethasone last week. Churchill Downs initially said it would disqualify Medina Spirit if that happened, then pushed the onus on the KHRC to make that call. The track, meanwhile, suspended Baffert for two years.
The KHRC has not made that call yet, but Baffert's and Zedan's 11-page suit seeks to prevent it from doing so. The suit seeks "a temporary injunction, and thereafter a permanent injunction enjoining the KHRC from violating their due process rights with regard to the testing of Medina Spirit's urine split sample." It also seeks court and attorney costs and "any and all other relief to which they may appear entitled."
The crux of the suit seeks additional testing, at Baffert's and Zedan's expense, of that split sample. The suit claims remnants of that original split sample sent to a third-party lab for testing were "damaged/contaminated" en route to the lab. Baffert and Zedan maintain the KHRC has a clean, untested sample of Medina Spirit's urine in its freezer.
Suit pushes for expanded testing
Baffert and Zedan want that sample shipped to a third-party lab to test for clotrimizole, gentamicin, and betamethasone valerate. Otomax contains substantial amounts of those three substances.
Baffert, Zedan, and their attorneys maintain that Medina Spirit's urine would have substantial amounts of those medications. Conversely, the suit claims that would prove Medina Spirit did not receive the injectable form, which goes by the name BetaVet.
"The manner in which the betamethasone found its way into Medina Spirit is critical," the suit states. "There is a huge difference in a betamethasone finding due to an interarticular joint injection versus one from a topical ointment – from both a regulatory and public relations standpoint. The testing the plaintiffs seek would provide empirical and scientific reasonable certainty that the miniscule and materially irrelevant reported sample was innocuously sourced from the topical Otomax."
No comment yet from KHRC
According to the suit, the KHRC refuses to send that clean sample to a third-party lab different from the one that received the original split sample. The KHRC hasn't commented on the suit yet, but commission regulations don't differentiate between injectable betamethasone vs. topical betamethasone.
Medina Spirit hasn't run since finishing third in the Preakness Stakes on May 15. That followed a media and public-opinion firestorm that kept Baffert out of Baltimore during Preakness week. It also led to an agreement between Baffert, his attorneys, and the Maryland Jockey Club mandating extra testing for Medina Spirit and two other Baffert charges. All came up clean and all ran that week.