Circa Sports in Las Vegas unveiled its Preakness Stakes futures odds this weekend and, not surprisingly, Kentucky Derby winner Authentic finds himself the opening favorite at +225.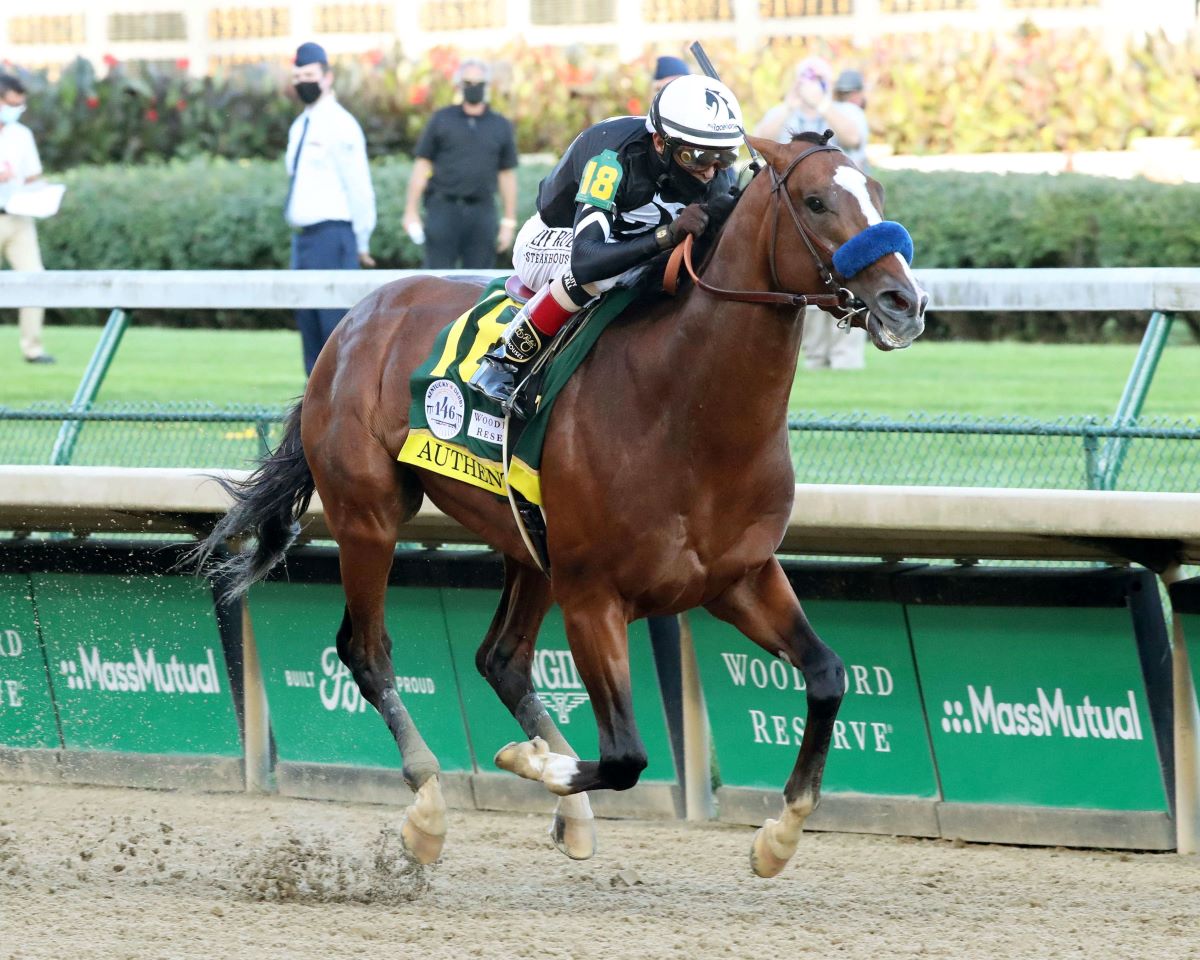 This is better than what the foreign books offer. The best odds offered overseas are 3/2.
Meanwhile, Authentic celebrated his futures board-topping debut with a 59.20-second, five-furlong workout at Churchill Downs Saturday morning. With jockey Martin Garcia aboard, Authentic galloped out into a six-furlong time of 1:12.20 and a seven-furlong gallop in 1:25.20. The five-furlong romp was the fastest of 38 horses running that distance.
The second-fastest time came from the second choice on Circa's board – Art Collector. Circa Sports Risk Supervisor Paul Zilm opened him at +425. Art Collector turned in respectable fractions of 12.20 seconds for a furlong, 24.20 seconds for two furlongs, and 36 seconds for three en route to 1:11.60 for five furlongs.
"He's in a great spot right now with his fitness," trainer Tommy Drury told Kevin Kerstein of Churchill Downs. "We wanted a bit more of a serious work today and he went well within himself."
---
2020 Preakness Stakes Future Odds
Authentic, +225
Art Collector, +425
Tiz the Law, +475
Thousand Words, +740
Ny Traffic, +850
Swiss Skydiver, +1100
Mr Big News, +1400
Dr Post, +1400
Pneumatic + 2000
Mystic Guide, +3000
Happy Saver, +3000
Liveyourbeastlife, +4000
Source: Circa Sports
---
Art Collector, who missed the Kentucky Derby with a minor foot injury, is +450 on the overseas boards.
Will He or Won't He Run? You Get Action Either Way
Circa's third choice is the wild card of the proceedings: Tiz the Law. The Belmont Stakes winner and Derby favorite before finishing second to Authentic hits the board at +475. This provides an interesting offering for bettors because Tiz the Law is no better than a maybe to be in the Pimlico starting gate Oct. 3.
Should you think Tiz the Law won't run the Preakness, Circa has you covered with one of its "no" bets. Lay $725 to win $100 by fading the standout 3-year-old and, if he doesn't run, you win your bet.
---
Will This Horse Win the 2020 Preakness
| | | |
| --- | --- | --- |
| | Yes | No |
| Authentic | +225 | -290 |
| Art Collector | +425 | -625 |
| Tiz the Law | +475 | 725 |
| Thousand Words | +740 | -1265 |
| Ny Traffic | +850 | -1475 |
Source: Circa Sports
---
Under Circa's rules, all bets before the post draw count as action. That means fading a horse who doesn't run is an automatic win.
Fading Authentic costs you $290.
Authentic's Stablemate Thousand Words also in Single Digits
Two other horses open in single digits: Thousand Words hits the board at +740 and Ny Traffic +850. Thousand Words was a late Derby scratch when he reared up and flipped over in the paddock. Ny Traffic finished eighth in the Derby.
The other intriguing wild card is Swiss Skydiver, who opens at +1,100. Trainer Kenny McPeek said last week the Preakness was one of three potential races his star filly could run.
On the other end of the board, you find long shots such as Happy Saver (30/1), Mystic Guide (30/1), and Liveyourbeastlife (40/1). Mr Big News, who somehow finished third in the Derby at 46/1, opened at 14/1.
Good Takeout Numbers for Bettors
Circa offers two other "no" bets. Fade Authentic's stablemate Thousand Words at -1,265 or Ny Traffic at -1,465.
The yes/no bets are only one element making Circa's future bets attractive. The other calling card is a 20% takeout, lower than most of its contemporaries.