The ATP and WTA are considering extending the 2020 tennis season as a way to deal with the complications caused by post-pandemic rescheduling concerns.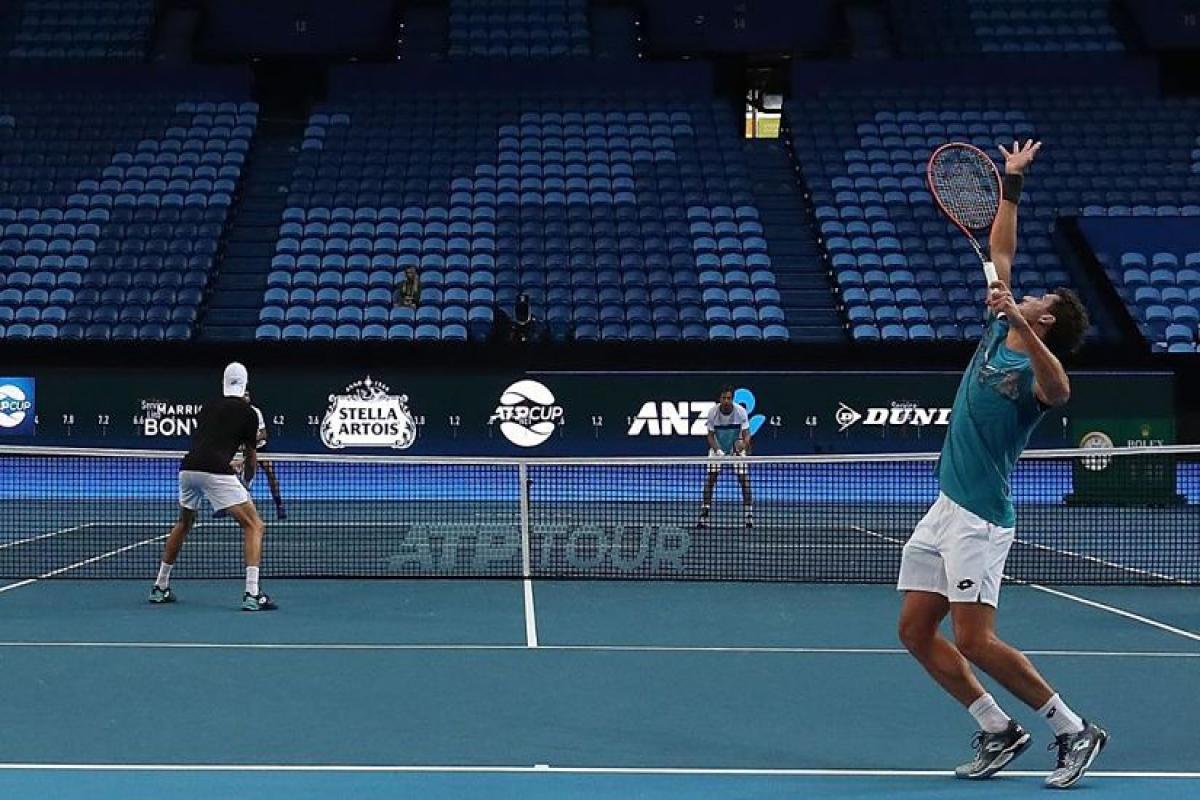 On Monday, the heads of both tours said that they are working together to assemble a new calendar that would extend beyond November and see more events sharing weeks on the schedule.
Tour Chairs: Goal is Maximizing Number of Tournaments
Both the ATP and WTA have suspended all play until at least July 13. That date is just after Wimbledon, which the All England Club canceled last week.
"We are currently assessing a number of revised calendars based on different return dates for the Tour, with the aim of rescheduling as many tournaments as possible," ATP chairman Andrea Gaudenzi said in a statement. "We are liaising closely with the other governing bodies with the common goal of trying to salvage as much of the season as possible once it is safe for the Tour to resume."
WTA chairman Steve Simon made a similar statement, telling the Associated Press that the women's tour is "diligently working with our tournaments to maximize earning possibilities when the professional tennis circuit is able to resume, and is considering an extension to the current 44-week season to enable more tournaments to take place."
ATP, WTA Stars to Play in Virtual Madrid Open
One of those earning possibilities will come in late April when 16 top players – including both men and women – will take part in a virtual version of the Madrid Open. The clay-court tournament will follow the lead of many other events and move online, with professionals competing in the game Tennis World Tour.
The tournament will take place from April 27-30, while the real Madrid Open would have started on May 1. Players will compete for about $325,000 in prize money. Winners will be able to donate some, or all, of their winnings to other players who need financial help, while another $55,000 will be donated to causes dealing with the social impact of the COVID-19 pandemic. That's a far cry from the Madrid Open's normal $14 million prize pool, however.
Meanwhile, the USTA has asked all tennis enthusiasts in America to take a "collective pause" from playing, saying there may be a danger that playing the game and handling equipment could aid the spread of the coronavirus.
USTA Statement on Safety of Playing Tennis during the COVID-19 Virus Pandemic

Read more: https://t.co/osmvJaI8GT pic.twitter.com/MIWWrkjDne

— USTA (@usta) April 3, 2020
"Although there are no specific studies on tennis and COVID-19, medical advisors believe there is the possibility that the virus responsible for COVID-19 could be transmitted through common sharing and handling of tennis balls, gate handles, benches, net posts, and even court surfaces," the USTA said in a statement.
For those stuck at home who want to work on their games, 20-time Grand Slam champion Roger Federer shared a video with a solo drill that fans can try on their own while at home.
Here's a helpful solo drill. Let's see what you got! Reply back with a video and I'll provide some tips. Choose your hat wisely 🎩😉👊 #tennisathome pic.twitter.com/05lliIqh1h

— Roger Federer (@rogerfederer) April 7, 2020
The 38-year-old Federer asked fans to submit their own videos of them attempting the drill, and even replied with tips for a few of the respondents.