Aqueduct Racetrack once played host to a Pope and the only triple dead heat in a stakes race. Now, the New York track plays host to a state-run COVID-19 vaccination distribution center.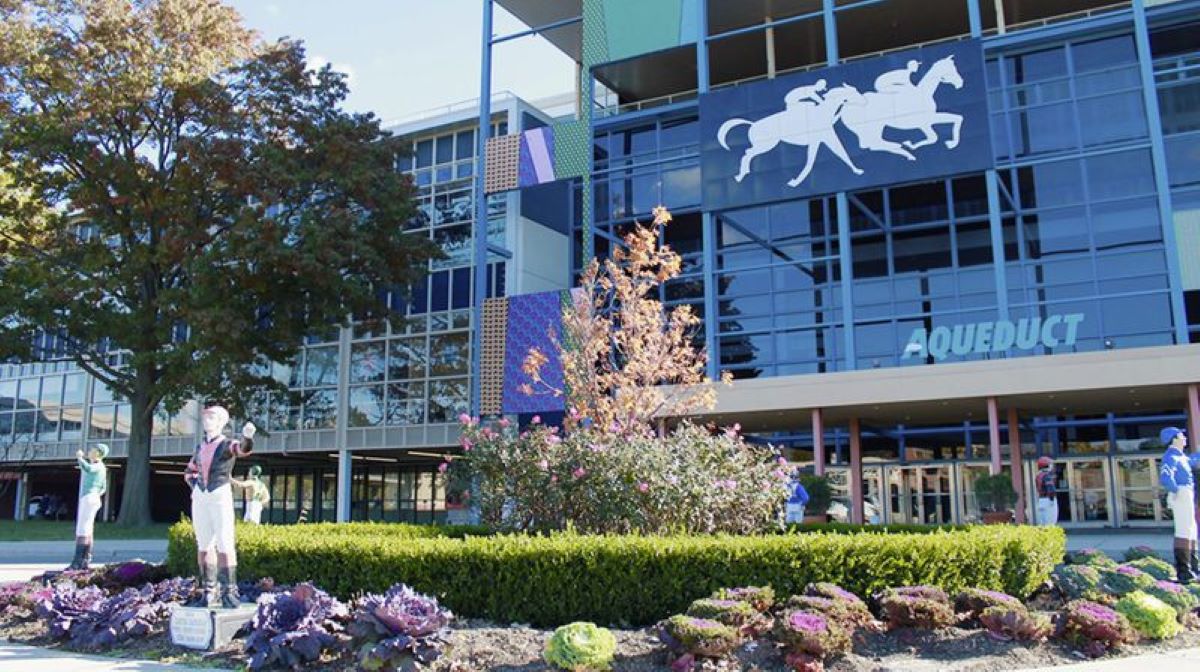 The New York Racing Association (NYRA) opened Aqueduct's first floor to state health officials, who began distributing the COVID vaccine on Monday. The Ozone Park track tag-teamed with its sister track, Belmont Park, to facilitate vaccinations for state residents atop its priority list. Belmont Park opened a vaccination distribution center operated by Northwell Health earlier this month.
Aqueduct remains open seven days a week for vaccinations. More than seven million New York residents are eligible for the COVID vaccine. Those include doctors, nurses, and other health-care workers, those 65 or older, first responders, teachers, public transit workers, public safety workers, and grocery store employees.
While this goes on, Aqueduct's winter meet continues spectator-free through March 21.
'Big A' Nearly Turned Into a Big Hospital
"New York State selected a perfect location for this COVID-19 vaccination site, and I applaud them for moving so quickly to transform a racetrack into a vaccination center," New York State Senator Joseph Addabbo Jr. told NYRA's Pat McKenna. "This is not the first time the men and women of the New York Racing Association have stepped up to support the community, and I also thank them for their efforts to protect and support New Yorkers throughout the pandemic."
Addabbo's Queens district includes Aqueduct. During the height of the initial COVID-19 outbreak last spring, he and other state officials targeted Aqueduct as a possible overflow hospital site. As it happened, it wasn't required for the borough's residents.
Last April, the Aqueduct parking lot found another use as a drive-through COVID-19 testing location. It continues in that function today.
War Relief Racing Brought a First and Only Stakes Event
The 126-year-old track, which opened in September 1894, regularly serves as more than a racetrack. In June 1944, during the height of World War II, Aqueduct capped a three-day War Relief Day series. The series, which donated all net profits to the American Red Cross, the National War Fund, and three Long Island hospitals, began at Jamaica Race Course.
It moved to Belmont Park before concluding at Aqueduct on June 10, 1944 – four days after the D-Day landings began at Normandy.
Aqueduct's featured race that day was the Carter Handicap. It brought more than 25,000 rain-soaked spectators the unicorn-like sight of a triple dead heat. Brownie, Bossuet, and Wait A Bit all crossed the finish line simultaneously.
Papal Pomp Brings 75,000 to Aqueduct
On Oct. 6, 1995, Pope John Paul II delivered a mass to 75,000 spectators – the largest crowd in the Big A's history. Flanked by 10 cardinals, three archbishops, and 23 bishops, the pontiff spoke from a 300-foot wide platform constructed in Aqueduct's infield.
In 2012, after Superstorm Sandy ravaged the Eastern Seaboard, the NYRA donated the Aqueduct parking lot to the American Red Cross. The relief organization used the lot for a mobile feeding kitchen and staging area for relief supplies to stricken areas.