Alabama kept its tight grip on the No. 1 ranking in the AP Top 25 football poll for the sixth consecutive week, but there was more than enough movement below the Crimson Tide to keep college football bettors on their toes.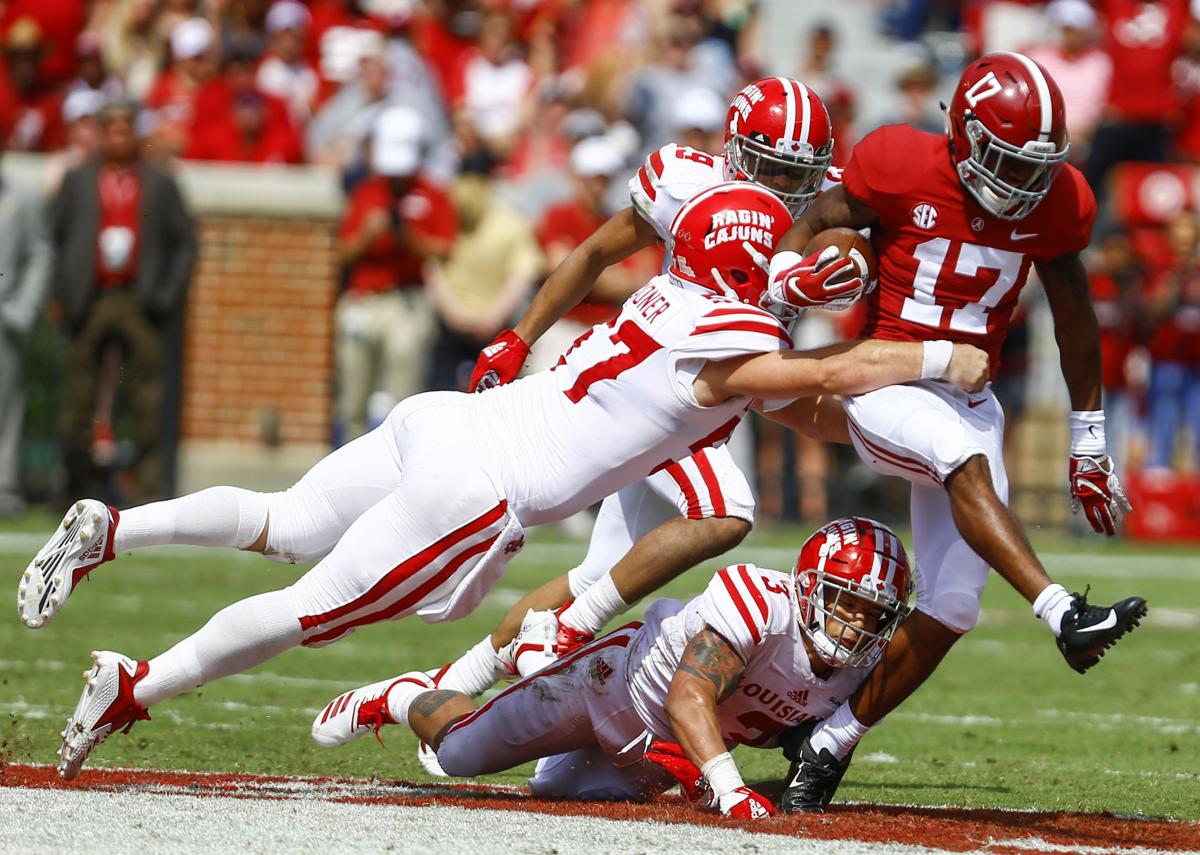 Nick Saban's team stayed at the top spot for the fifth consecutive weeks, earning 58 of the 60 first-place votes. They have 1,497 points, with Georgia trailing by 92 points. Ironically the Bulldogs didn't receive one of the other first-place votes.
One went to No. 3 Ohio State, who jumped over Clemson. The Tigers slipped to No. 4, but still managed to get the other first-place vote, despite nearly getting beaten by Syracuse. Clemson, who watched as their freshman quarterback sensation Trevor Lawrence was knocked out of the game with a neck injury, squeaked by the Orange, 27-23, though they were 25-point favorites at home.
Clemson coach Dabo Swinney didn't see the close victory as a failure, but instead told reporters that it showed how tough his team was, especially after Lawrence got injured.
"I've had a bunch of unbelievable great wins as a head coach, been a part of great ones as a player and as an assistant coach, but I'll never forget this one," Swinney said after the game.
Ohio State Muscle with Moxie
The Buckeyes victory over Penn State was also a nailbiter, but was expected. OSU was just a 3.5-point favorite over the then No. 9 Nittany Lions. The survived with an impressive road victory, defeating PSU, 27-26.
Coach Urban Meyer, however, wasn't that impressed with his team's performance, telling reporters after the game that the Buckeyes have a long way to go if they are going to challenge for a national title.
"We're 5-0 and we haven't played close to our best game," Meyer said.
Though the Nittany Lions didn't win, they weren't penalized too badly in the poll. They fell two spots to No. 11.
Irish Eyes Smiling?
Notre Dame was rewarded with their dismantling of previously No. 7 Stanford, 38-17. They moved up two spots to No. 6, and are suddenly in the conversation as a team with a chance to make the College Football Playoffs.
The Fighting Irish dominated the Cardinal in every aspect of the game, though they were just 4.5-favorites at home. Quarterback Ian Book led the offense with 278 yards and four touchdowns, and earned the praise of Stanford coach David Shaw.
"They have a quarterback right now that's outstanding," Shaw said. "He's athletic enough to get himself out of trouble. Quarterbacks like this, if you don't get them down on the ground, it's gonna hurt you."
Stanford plummeted down the poll, falling seven spots to No. 14.
Kentucky Rumbling Upward
The Wildcats had the biggest jump in the poll, moving up four spots to No. 13. The team hosted the Gamecocks, and oddmakers had the game a pick 'em. Kentucky made sure there was no doubt who the better team was, winning 24-10. They have now have three impressive victories, with the other two coming against Florida and Mississippi State.
KU coach Mark Stoops said he liked how his team played, but they can definitely improve on the effort.
"We could have finished that a little better," Stoops said. "We shot ourselves in the foot and got a little reckless with some penalties and just a little bit of sloppy play, or we'd really have a chance to put that away much earlier than we did."