Get ready for some #12 vs #5 drama. One of the most fun things to do during the NCAA men's college basketball tournament is to figure out which #12 seed will upset a #5 seed in your March Madness bracket. The #12 seeds in 2022 March Madness include Richmond, UAB, New Mexico State, and the winner of the Wyoming and Indiana play-in game.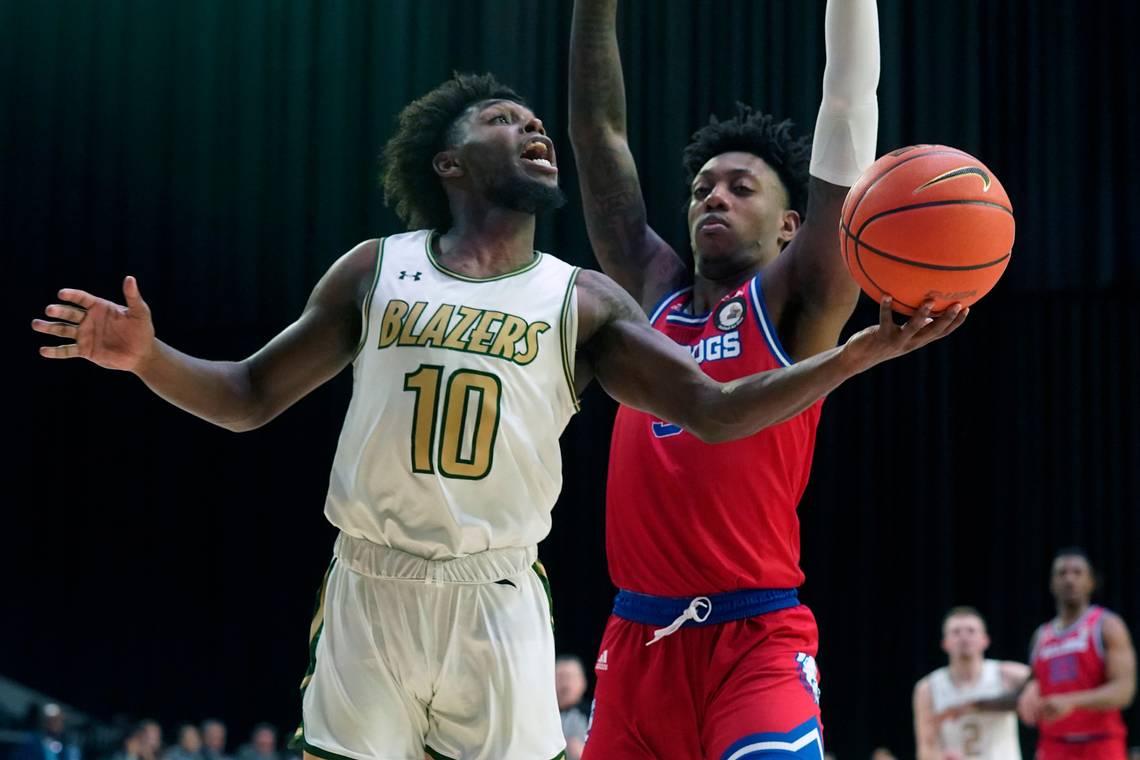 Historically speaking a #12 seed wins approximately 35% of the time with a 51-93 record since the expansion of the bracket in 1985. Approximately one #12 seed every March Madness pulls off an upset against a #5 seed.
If you pick a #12 seed to pull off a first-round upset, keep in mind that a #12 seed won their second game 21 times to secure a spot in the Sweet 16.
2022 MARCH MADNESS #12 vs #5 SEED
MIDWEST: #12 Richmond vs #5 Iowa
SOUTH: #12 UAB vs #5 Houston
WEST: #12 New Mexico State vs #5 UConn
EAST: #12 Wyoming/Indiana vs #5 Saint Mary's
---
Heading into this year's March Madness tournament, there are not any soft spots among the #5 seeds with Iowa, Houston, UCONN, and Saint Mary's representing all strong teams. With a solid batch of #5 teams this year, perhaps you should investigate #13 seeds this year for any potential Cinderella stories.
#12 Richmond vs #5 Iowa
The Richmond Spiders (23-12) were not even supposed to be in March Madness this year, but Richmond pulled off an upset on Sunday to win the Atlantic 10 championship. Richmond edged out Davidson to secure the automatic bid. Betting wise, Richmond struggled to cover the spread with an 16-18-1 clip. Tyler Burton, a junior forward, leads Richmond with 16.3 points and 7.7 rebounds per game.
The Iowa Hawkeyes (26-9) boast one of the most-potent offenses in the NCAA averaging 83.8 ppg, which is ranked #5 overall. KenPom ranked Iowa #13 overall. Iowa beats the spread more often than not with a 22-13 ATS record, but they'll have to win by double digits to cover against Richmond at +10.5. Keep an eye on sophomore forward Keegan Murray, who averages 23.6 ppg and he's ranked #4 in the nation in scoring.
#12 UAB vs #5 Houston
UAB Blazers (27-7 SU, 18-13-1 ATS), the top team from Conference USA, have the seventh-highest scoring team in the country averaging 80.7 ppg. They knock down 37.9% of their 3-point shots, which is ranked #19. The Blazers are led by Jordan "Jelly" Walker (20.4 ppg), a 5-foot-11 guard from Long Island, who's fun to watch. Jelly Walker reminds a lot of people of NY Knicks guard Kemba Walker (no relation). Out of all the #12 seeds, UAB feels like the strongest team, but they drew the toughest #5 seed. UAB enters this #12 vs #5 battle as a +8.5 underdog.
Meanwhile, the Houston Cougars (29-5 SU, 22-12 ATS) won the American (AAC) this season with hard-nosed defense, despite being banged-up this season. They allow less than 59 ppg, but they'll have a tough task slowing down UAB.
#12 New Mexico State vs #5 UConn
The New Mexico State Aggies (26-6 SU, 17-12 ATS) were the top team in the WAC this season and denied Abilene Christian a chance to return to the Big Dance. New Mexico State got tough break with UConn as an opponent. Teddy Allen, a 6-foot-6 junior swingman, leads the Aggies with 19.3 ppg this season and he has the potential to go off. Allen logged four games with 30-plus points including erupting for 41 points against Abilene Christian earlier this season.
UConn (23-9) ended the season ranked #21 overall. The Huskies struggled to cover the spread with a 13-18-1 ATS record, so this could be a spot where you pick UConn on your brackets but bet New Mexico State with the points at +7.
#12 Wyoming/Indiana vs #5 Saint Mary's
Saint Mary's (25-7 SU, 18-11-2 ATS) had a tough job playing second fiddle to top-ranked Gonzaga the last decade, but it's great to see the selection committee finally give them some props, who enter March Madness ranked #18 in the nation. Saint Mary's is known for their stifling defense, but they have a well-balanced scoring attack in their triple-guard offense. Matthias Tass, a 6-foot-10 senior forward from Estonia, leads Saint Mary's with 12.6 ppg.
Wyoming (25-8) and Indiana (20-13) meet in the play-in game with the winner getting a crack at Saint Mary's. Last year, UCLA almost missed the tournament but made it as one of the play-in teams competing for the #11 seed. UCLA got hot and made it to the Final Four before losing to Gonzaga in an overtime thriller.