The key to a successful fantasy football team is avoiding a perennial superstar during their bust year. It's difficult to project a down cycle, but this year several quarterbacks look like top fantasy football QB busts including Drew Brees (New Orleans), Dak Prescott (Dallas), Russell Wilson (Seattle), and Ben Roethisberger (Pittsburgh).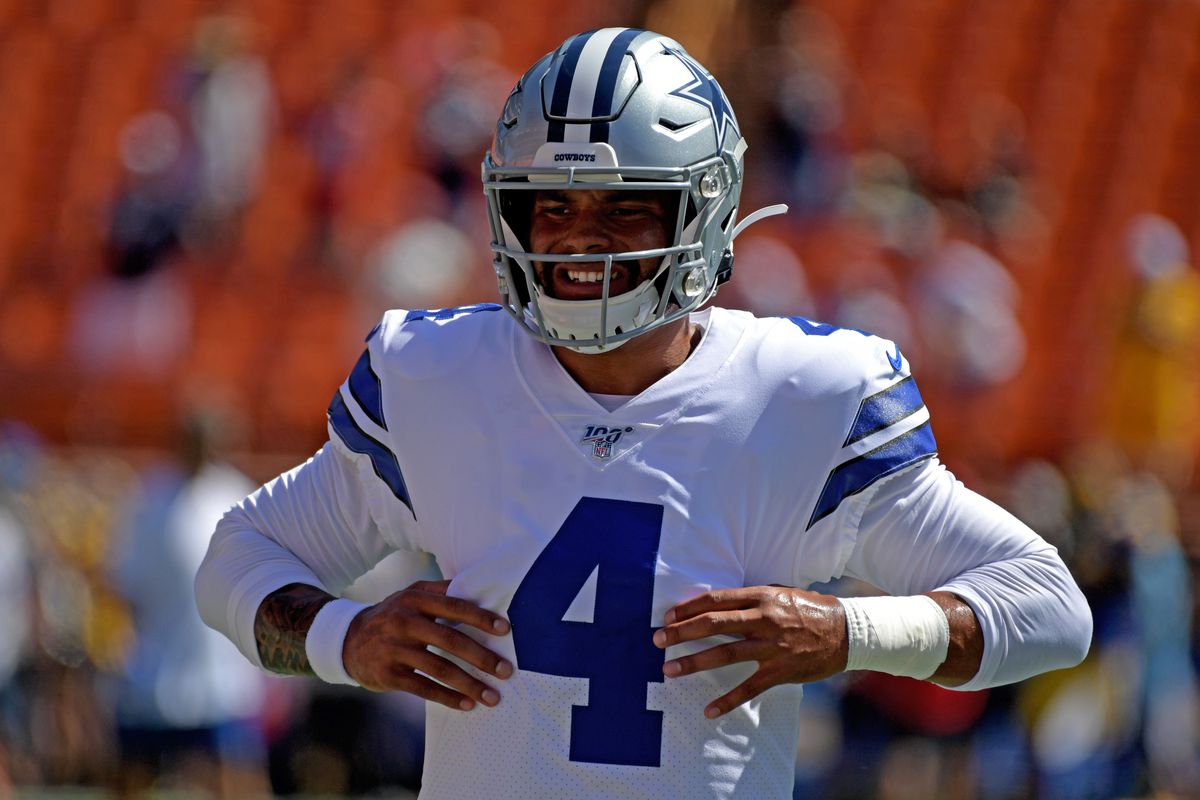 Drew Brees is now 40-years old and he hopes he can keep playing well into his mis-40s like Tom Brady. But will this be the year that old age finally catches up to the legendary Brees?
Russell Wilson puts up big numbers without much help. How much longer can he keep pulling out sick stats without big weapons?
Dak Prescott looked great in the second half of last season. However, can he fade getting trampled in Jerry Jones' circus?
TOP 5 FANTASY QB BUSTS:
Drew Brees (Saints)
Russell Wilson (Seahawks)
Dak Prescott (Cowboys)
Ben Roethisberger (Steelers)
Cam Newton (Panthers)
Big Ben is giving it one more shot before he hangs it up and retires. He'll be playing this season without any headaches, but he'll also not have two huge offensive weapons with the departure of Antonio Brown and Le'Veon Bell.
Cam Newton has surgery in the offseason that corrected a shoulder injury. He looked totally off last season, but even a healthy Newton cannot overcome internal issues in Carolina.
Old Guys
Drew Brees turned 40. His passing attempts steadily decreased the last few seasons from 673 to 536 to 489. Is Sean Payton using Brees less because he has an awesome running back with Alvin Kamara? Or is Brees getting fewer attempts because he's been banged up and on the back nine of his career?
Brees insists he's fine and ready to roll this year. He ran out of gas in the last quarter of the season. Many signs point to a low-key injury in which he played through the pain. If Brees is still banged up, it's going to be a tough year in the Big Easy.
Ben Roethisberger took a licking the last few seasons. If he could take off 4 games, then he'd be sharp in the postseason. But are the Steelers even a playoff team anymore? Are the Steelers best days behind them? If so, will Big Ben go out with a bang or a bust? Ju-Ju Schuster is a heck of a WR, but he's not in the same class as Antonio Brown. Sam goes for James Conner and Le'veon Bell. It might be a long winter of discontent in Pittsburgh.
Dak and Zeke Drama
Dak Prescott is poised to be among this year's fantasy QB busts. The Dallas Cowboys are known as America's team, but what's more American than good old fashioned drama. The Cowboys reality show is on 24/7 in Texas. Even if there's a slow week, someone will dig up a minor issue to blow out of proportion. The Cowboys are big business, win or lose, which is difficult to fathom if you're a fan, but makes total sense if you're an accountant.
Jerry Jones hates negotiating with players, especially disgruntled ones. Dak Prescott (22 TD, 8 INT) is not making as big of a deal with his contract extension that Zeke Elliot is making, but it is still a distraction. If any of this drama spills over into the regular season, it will have adverse effects on the whole team. Especially since Jones has been trying to create division between Zeke vs. Dak in the media.
WR Amari Cooper had a sensational season once he got traded to the Dallas Cowboys (6 TD). He's having plantar fasciitis issues in the preseason. Cooper insisted its nothing serious, bit plantar issues can quickly escalate into a serious issue. It takes months away from the grind to fully heal plantar fasciitis. He might not be as bad off as Antonio Brown's frozen feet, but it's still a major red flag.
Mahomes, Really?
Everyone has Patrick Mahomes on their Top 5 Fantasy Football QB list. A couple of sharp folks also placed Mahomes on their bust list. So, what exactly quantifies a bust? Anything seriously below expectations. Mahomes set such a high bar last season, will he be able to do it again?
Mahomes threw 50 touchdowns last season. Fantasy football geeks are hoping he can do even better. But 50 was an insane number to begin with! Perhaps 45 scores would seem more reasonable this year. Five touchdowns shy is not exactly bust material. But what if Kansas City is not as good as last season? Everyone will be gunning for them. And every defense will be doing what it can to shut down Mahomes.
It's also difficult to replicate back-to-back TD-heavy seasons. The best of the best had sensational years followed by disappointing ones in comparison. It happened to Matty Ice in 2017, Cam Newton in 2016, Drew Brees in 2017, Matt Stafford in 2016, Andy Dalton in 2016, and Eli Manning in 2016.
By the way, take a peek at out 2019 Fantasy Football QB Sleepers.