Four members of the Yankees hit home runs in a 4-3 victory over the Toronto Blue Jays and the Yankees set a new MLB record with at least one home run in 28 consecutive games.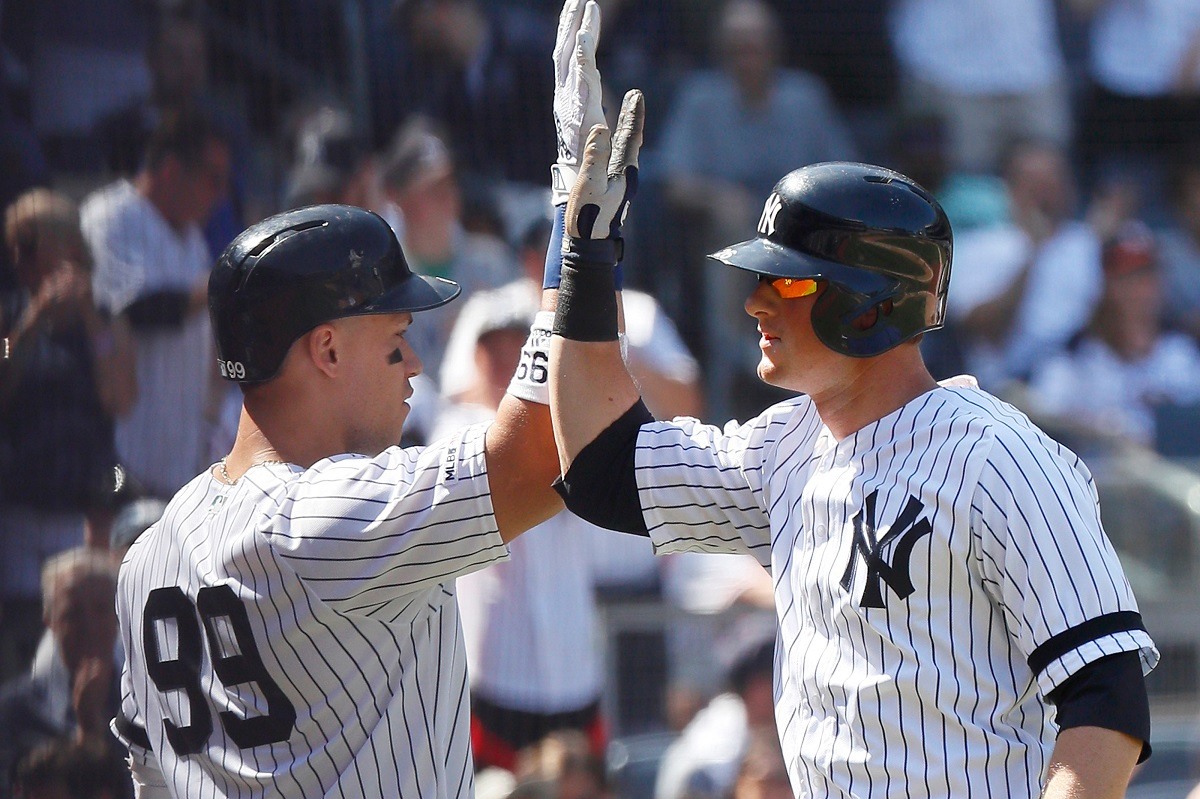 The first place Yankees (51-28) broke the previous record of 27 games held by the 2002 Texas Rangers. That 2002 squad featured ex-Yankee Alex Rodriguez.
DJ LeMahieu hit a lead-off home run in the bottom of the first inning to secure the new record. Aaron Judge, Gleyber Torres, and Edwin Encarnacion all connected on solo home runs.
Judge became the 14th Yankee to hit a home run during this 28-game streak. Judge hit his first home run since returning to the lineup after missing six weeks with an oblique injury.
"We have a lot of guys capable of hitting the ball out of the ballpark," said manager Aaron Boone. "I think they help strengthen each other because collectively they're able to wear down pitchers. That eventually leads to more and more mistakes at different points in the night."
Over the weekend during a series against the slumping Houston Astros, the team set the franchise mark with home runs in 26-straight games. The 1941 Yankees, led by Jolting Joe DiMaggio, held the previous record with 25 dingers in June of 1941. The '41 Yanks crushed their homer streak during DiMaggio's 56-game hitting streak.
Bronx (Replacement) Bombers
The Yankees set a new MLB home run record with Aaron Judge and Giancarlo Stanton spending significant time on the IL with injuries.
Catcher Gary Sanchez and infielder Gleyber Torres carried the bulk of the load. However, they also had big contributions from Clint Frazier, DJ LeMahieu, Luke Voit, and Cameron Maybin.
LONGEST HR STREAKS
2019 NY Yankees – 28
2002 Texas Rangers – 27
1941 NY Yankees – 25
1994 Detroit Tigers – 25
1998 Atlanta Braves – 25
2016 San Diego Padres – 25
2016 St. Louis Cards – 25
During the streak, the Yankees added slugger Edwin Encarnacion to the lineup. GM Brian Cashman got guff from the Bronx Boo Birds for not signing a pitcher like Dallas Keuchel, but instead he pulled off a trade with the Seattle Mariners for the AL home run leader.
Since joining his new team, Encarnacion and his pet invisible parrot circled the bases three times.
The 2019 Yankees smashed 132 homers in only 79 games. They are on pace to match last season's record. The 2018 Yankees set the MLB record for most home runs in a season with 267.
28. pic.twitter.com/B6gx7gN1vA

— New York Yankees (@Yankees) June 25, 2019