Unlike many of his contemporaries, trainer Wesley Ward has no problem turning his charges loose against each other. This explains why you'll see three of his standout 2-year-olds tangle in the Skidmore Stakes at Saratoga Friday afternoon.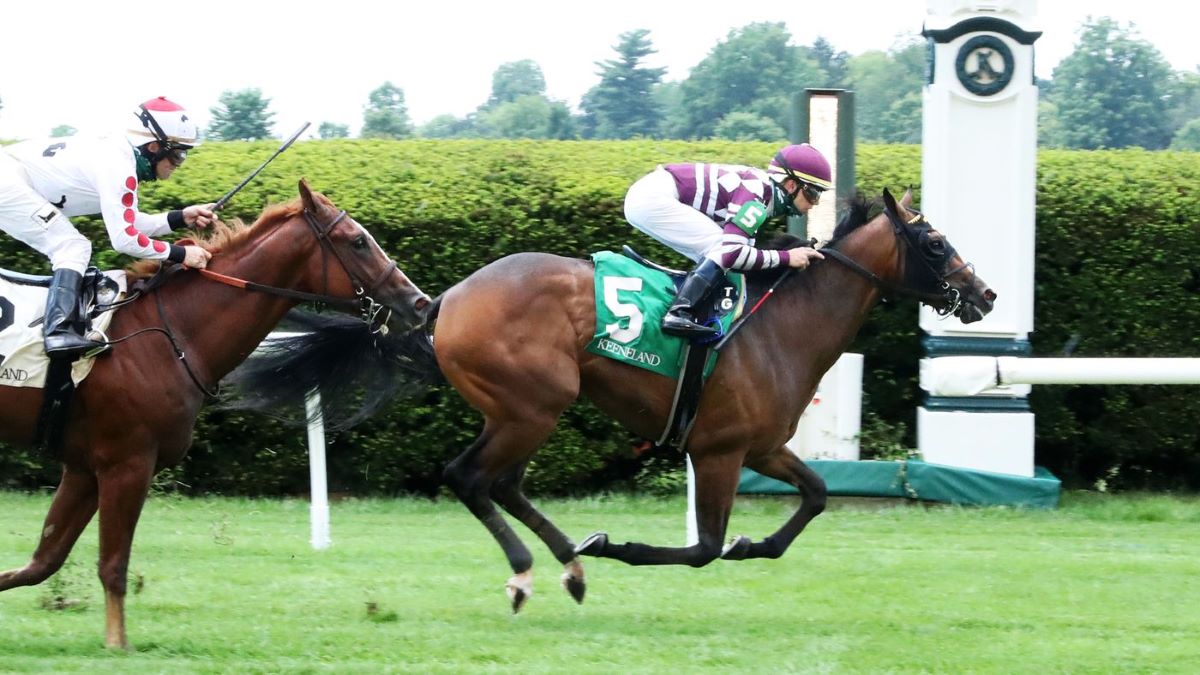 The 5 ½-furlong turf sprint features Fauci, Golden Pal, and Sunny Isle Beach — three of Ward's top juveniles. Known as the country's pre-eminent 2-year-old maestro, Ward is to training juveniles as Bob Baffert is to training 3-year-old Kentucky Derby contenders. He's the one you play word-association with whenever the subject of "great 2-year-old trainers" comes up.
But unlike Baffert, who uses the entire country as a playbook in an effort to keep his Derby hopefuls away from each other as much as possible, Ward sends them out whenever – and wherever – he thinks they're ready.
That's why you're seeing Fauci and Golden Pal – perhaps Ward's top two juveniles – in the Skidmore. Ward pondered sending Golden Pal to England for the Group 1 Nunthorpe Stakes at York, where Europe's top sprinter – Battaash – is the defending champion. But because rain and soft turf was forecast, he kept the son of Uncle Mo and Lady Shipman home.
"He is a very, very special colt. He is really an amazing horse and if he keeps moving on up, I think he could really be something," Ward told the New York Racing Association. "He's done everything right and he's just extremely, extremely gifted."
Golden Pal Seeks First Trip to the Winner's Circle
Coming into the Skidmore, Golden Pal has done everything right but win. This is his third try at breaking his maiden. In April, Golden Pal ran in one of the first 2-year-old races of the season at Gulfstream Park. Despite turning in a 21.58-second opening quarter-mile, he finished second to Gatsby.
In June, Ward sent him to England and turned him loose at Royal Ascot's Norfolk Stakes, where The Lir Jet beat him by a neck. Regardless, Ward sees Golden Pal as one of the country's next great sprinters.
"He's pure speed," Ward said about Golden Pal. "He's got a real great personality. He's like the high school quarterback, just thinks he's a real cat daddy."
Fauci's Last Trip Provides a Real Shot in the Arm
The bettors think the same about Fauci, last seen winning a 5 ½-furlong maiden turf race at Keeneland on July 9. That race spawned two next-out winners, illustrating Fauci's talent and that race's depth.
"Fauci is very good and he showed it. I'd be talking him like he's the second coming of Jesus if I didn't train this other horse," Ward told the Daily Racing Form.
A month earlier, in his five-furlong debut at Belmont Park, Fauci finished second by nearly five lengths to Prisoner. The horse, named after Dr. Anthony Fauci – one of the world's preeminent infectious disease experts and a mainstay on the White House Coronavirus Task Force – went off as the 4/5 favorite that day.
A Romp on the Beach
Lost in that Skidmore/Ward shuffle is Sunny Isle Beach. She hasn't raced since capturing a maiden claimer at Churchill Downs June 6. In that race, Sunny Isle Beach showed more than just speed when she was caught seven-wide at the top of the stretch. She deftly cut inside her rivals and pulled out a narrow victory.
"This race may be a little tough for her, but we're giving it a shot," Ward said.