Heading into NFL Week 10, potential waiver wire pickups for your fantasy football pool include WR Zach Pascal (Indianapolis Colts), WR Mohamed Sanu (New England Patriots), WR Bisi Johnson (Minnesota Vikings), and TE Kyle Rudolph (Minnesota Vikings).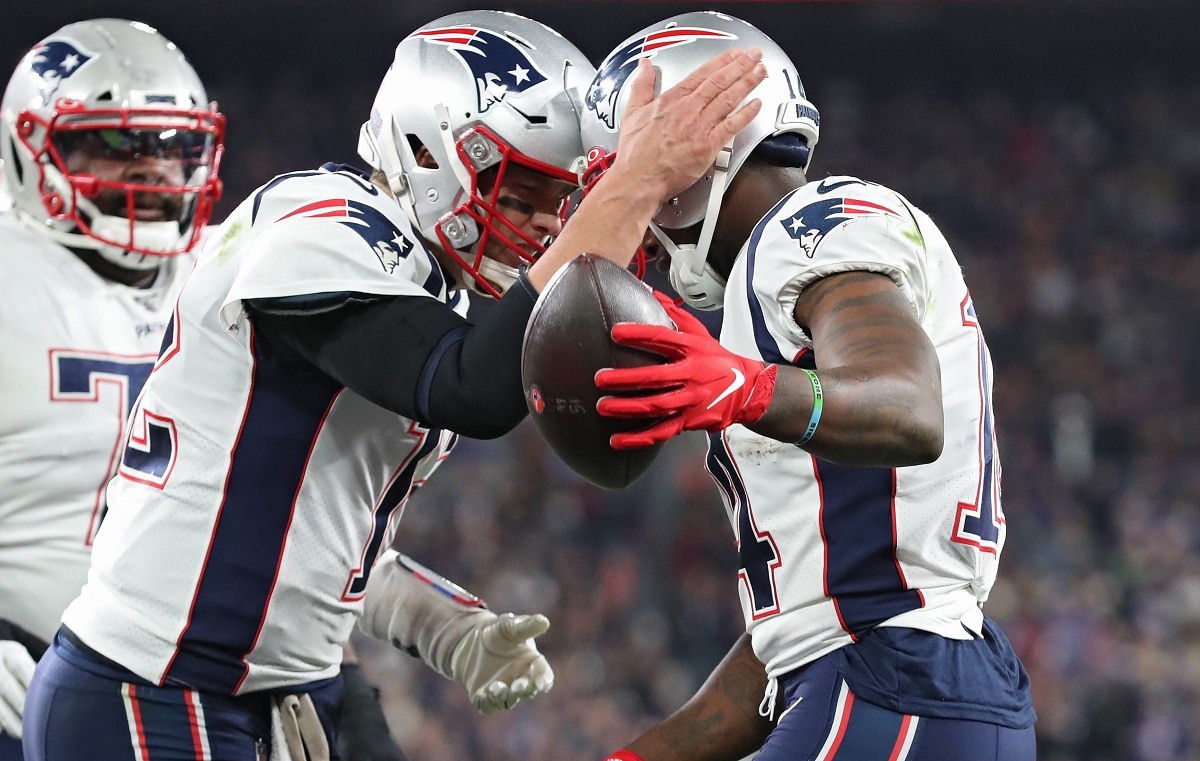 Zach Pascal, a second year WR out of Old Dominion, has become a viable option in Indianapolis. He's moved up the depth chart behind TY Hilton. However, while Hilton is out with a calf injury, he's become the #1 target.
The New England Patriots gave up on 420-friendly WR Josh Gordon, who recently signed with the Seattle Seahawks after the Pats waived him. Without Gordon in the lineup, newly acquire Mohamed Sanu should see an increased role in the offense.
WAIVER WIRE PICKUPS – NFL WEEK 10:
Zach Pascal (WR, Colts)
Mohamed Sanu (WR, Patriots)
Kyle Rudolph (TE, Vikings)
Bisi Johnson (WR, Vikings)
With Adam Thielen nursing a hamstring injury, Kirk Cousins will be spreading the ball around to Stefon Diggs, his tight end Kyle Rudolph, and other wideouts, like rookie Bisi Johnson.
Zach Pascal
With TY Hilton expected to miss up to a month of action, Pascal is the logical pickup.
"We're obviously losing a great player, but I'm really excited for our guys," said Colts head coach Frank Reich. "We've seen it, and we've seen Zach step up."
So far this season, Pascal has 19 receptions and four touchdowns, with a 16.9 average yards per catch. In Week 7's victory over the Houston Texans, Pascal scored twice, and caught a season-high seven catches for 106 yards.
When Jacoby Brissett went down with a sprained knee against the Pittsburgh Steelers, backup Brian Hoyer stepped up and filled in admirably. The Colts fell short of a comeback, but Hoyer threw three touchdowns in relief. Hoyer hooked up with Pascal for a touchdown.
Woah, @ZachPascal6.@BudLight | #BudLightCelly pic.twitter.com/BxVTBaYD7L

— Indianapolis Colts (@Colts) November 3, 2019
Last week, Pascal finished with five receptions for 76 yards and a score. He averaged 15.2 yards per catch against the Steelers.
Brissett had an MRI which confirmed no ligament damage. He wants to play this weekend. If Hoyer starts or has to come off the bench again, it's good to know he has an established rapport with Pascal.
Kyle Rudolph and Bisi Johnson
With Adam Thielen's hamstring limiting his availability and production in Week 9 against the Kansas City Chiefs, a lot of his targets were redistributed to other receivers, including TE Kyle Rudolph, who contributed three receptions and a touchdown.
In the revamped offense under "Good" Kirk Cousins, Rudolph saw an uptick in receptions. He posted no less than three catches in each of his last four games. Rudolph caught five passes and a touchdown in a big divisional win on the road against the Detroit Lions in Week 7.
Olabisi 'Bisi' Johnson moved up on the depth chart when Thielen went down in Week 9. The rookie from Colorado State has been making small steps as the season progresses, filling in for both Stefon Diggs and Thielen.
Overall, Bisi Johnson caught 16 passes for two scores while averaging 10.3 yards per catch. Bisi is a valuable red zone receiver with two touchdowns in the last three games.
Mohamed Sanu
Mohamed Sanu spent his entire career playing in the shadow of top receivers including All-Pros AJ Green and Julio Jones. Now, he has a second chance in life going from one of the worst teams in the NFL to the best after the Atlanta Falcons traded Sanu to the New England Patriots.
Sanu initially made a name for himself with the Cincinnati Bengals after they drafted him out of Rutgers in the third round of the 2012 NFL Draft. Sanu developed into second option for Andy Dalton in Cincy behind AJ Green.
When Sanu headed south to Atlanta, he became the #2 option once again behind Julio Jones. During his time with the Falcons, Matty Ice hooked up with Sanu for 14 touchdowns in 53 games.
Sanu is no longer on the Falcons, which is a blessing because he's now playing for the New England Patriots with a shot at a Super Bowl berth. The Patriots acquired Sanu from the Falcons for a pricey second-round pick. With Josh Gordon no longer with the team, and Julian Edelman one hit away from another serious concussion, the Patriots were super thin at wide receiver, with limited options that includes Phillip Dorsett.
In a loss to the Baltimore Ravens, Brady completed 10 passes to Sanu for 81 yards and a touchdown. Sanu earned Tom Terrific's trust in less than two games.
.@Mo_12_Sanu's first #Patriots touchdown gets us on the board.#NEvsBAL | #GoPats pic.twitter.com/gPalA0xcb1

— New England Patriots (@Patriots) November 4, 2019