After missing a potential bowl game with a disappointing 5-7 season, USC named Kliff Kingsbury their new offensive coordinator to work under head coach Clay Shelton.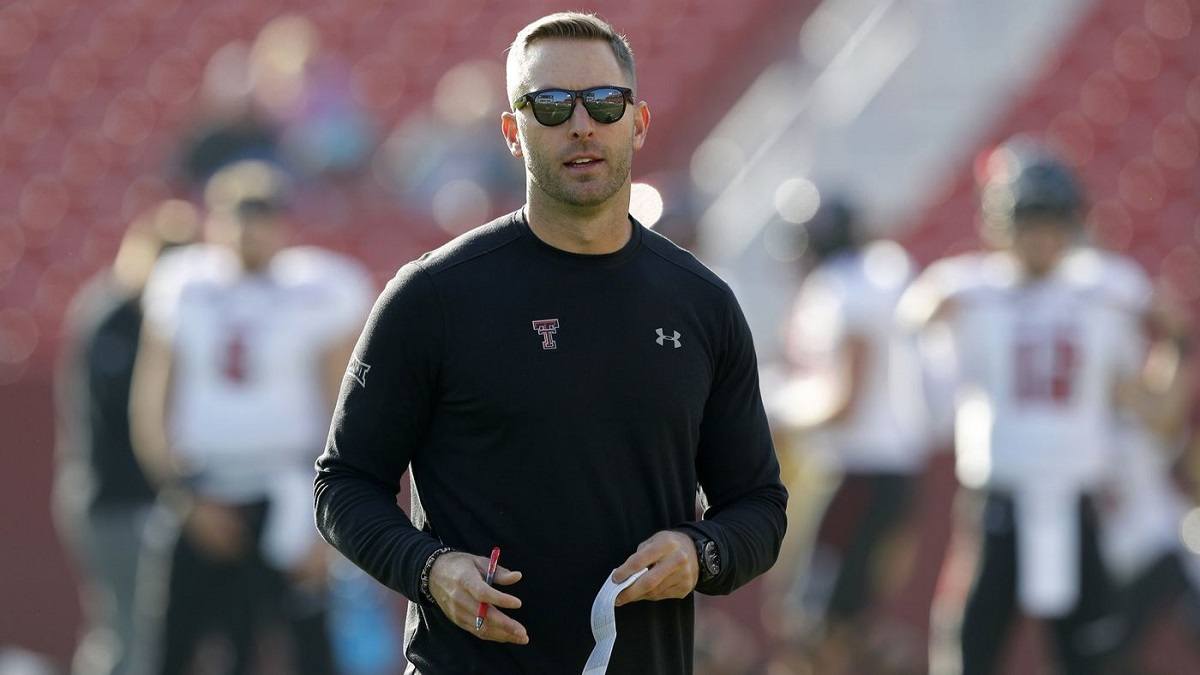 USC has not won a national title since 2004 and made a bold maneuver to secure of the most sought-after coaches in football.
West Coast Downswing
Last season, USC finished 11-3 and tried to be in the national championship conversation. This season, Clay Helton's squad finished a disappointing 5-7. Helton has a 35-17 overall record at USC.
USC's sputtering offense averaged only 19.3 points per game over their final three losses of the season that occurred against Cal, crosstown rival UCLA, and #3 Notre Dame. USC was held to 17 or fewer in four games this season. All of those were losses.
After being on the hot seat for most of the season, USC retained Helton. However, USC relieved Tee Martin of his duties earlier this week.
The Pac-12 is struggling with their own overall decline. They had officiating scandals and fans even booed the commissioner during the Pac-12 Championship game. Most importantly, a team from the Pac-12 has not been involved in the college football playoffs in three out of the last four seasons.
Despite the downswing in the Pac-12, USC is on a mission to bring their name back into the national championship conversation. Timing is everything. Things didn't work out at Texas Tech for Kliff Kingsbury at a vital time in the history of football. With offense on everyone's mind, especially in the NFL, coaches specializing in offense are a premium right now. USC interviewed Kingsbury and the Trojans did not waste any more time searching for other candidates.
Kingsbury Second Chance
Kingsbury, 39, played under Mike Leach, the architect of the modern Air Raid. As a QB, Kingsbury ran the offense to perfection at Tech from 1999 to 2002. He broke numerous school and NCAA records for the Red Raiders.
At Texas Tech, Kingsbury continued the Air Raid tradition. Two seasons ago, with Patrick Mahomes at quarterback, the Red Raiders led the nation in scoring.
Despite the offensive success, Texas Tech had a bad defense and could not win games. Kingsbury suffered three losing seasons in a row. After failing to secure a bowl game this year, Texas Tech fired Kingsbury. He finished with an overall record of 35-40 in six seasons.
USC jumped at a chance to grab Kingsbury before another school or the NFL made him an offer he couldn't refuse.
"We are very excited to welcome Kliff to the Trojan Family," said head coach Clay Helton. "He is a brilliant offensive mind and is on the cutting edge of the game today. His offenses have consistently been at the top of the college football statistical rankings. With the talent on our team, along with his leadership and coaching, I truly believe that we can take our offense to new heights."
With numerous schools like Colorado seeking a new head coach, Texas Tech did not waste valuable time before they hired Utah State's head coach Matt Wells.
The Green Bay Packers canned Mike McCarthy on Sunday. Although New England Patriots offensive coordinator Josh McDaniels is rumored to get the job, Kliff Kingsbury also made the short list of potential candidates to coach Aaron Rodgers.
Kingsbury could have landed an OC job in the NFL or another head coaching job in the NCAA, but he settled on an OC job for one of the most prestigious programs in college football.
Tinsel Town Sports
USC used to be the big name in town with regard to football, but like an aging star in the twilight on their career, there's a slew of other more attractive starlets to compete with. Even when Los Angeles did not have an NFL team, USC drew significant coverage and attention similar to a professional team.
When Helton accepted the job at USC, the Trojans were the only game in town. Today, USC has to compete with not one, but two NFL teams with the Rams and Chargers calling LA their home. Toss in LeBron James and the Lakers to the mix and it's hard to make waves in a short-attention-span town with very few loyalties.
Across town, UCLA made headlines last year at this time when they hired Chip Kelly. After a rough stint as an NFL coach with the Eagles and Niners, Kelly returned to the college ranks. Kelly created an offensive juggernaut at Oregon during his years as an offensive coordinator and head coach.
Kelly started out a rough 0-5 and many disappointed fans were ready to write him off. UCLA finished the season 3-9 overall during a rebuilding year.
Kingsbury will be tasked with a Herculean effort to jump start USC with not-so-patient fans. The OC job at USC is a high-risk and high-reward situation, but the hyper-competitive Kingsbury cannot wait for the opportunity.
USC made a great hedge with Kingsbury. They are giving Helton another season to prove his worth, while seeing what kind of magic Kingsbury can conjure up with his Air Raid principles.