Martin Truex Jr. overcame an early flat tire to win the Coca-Cola 600 at Charlotte Motor Speedway on Sunday.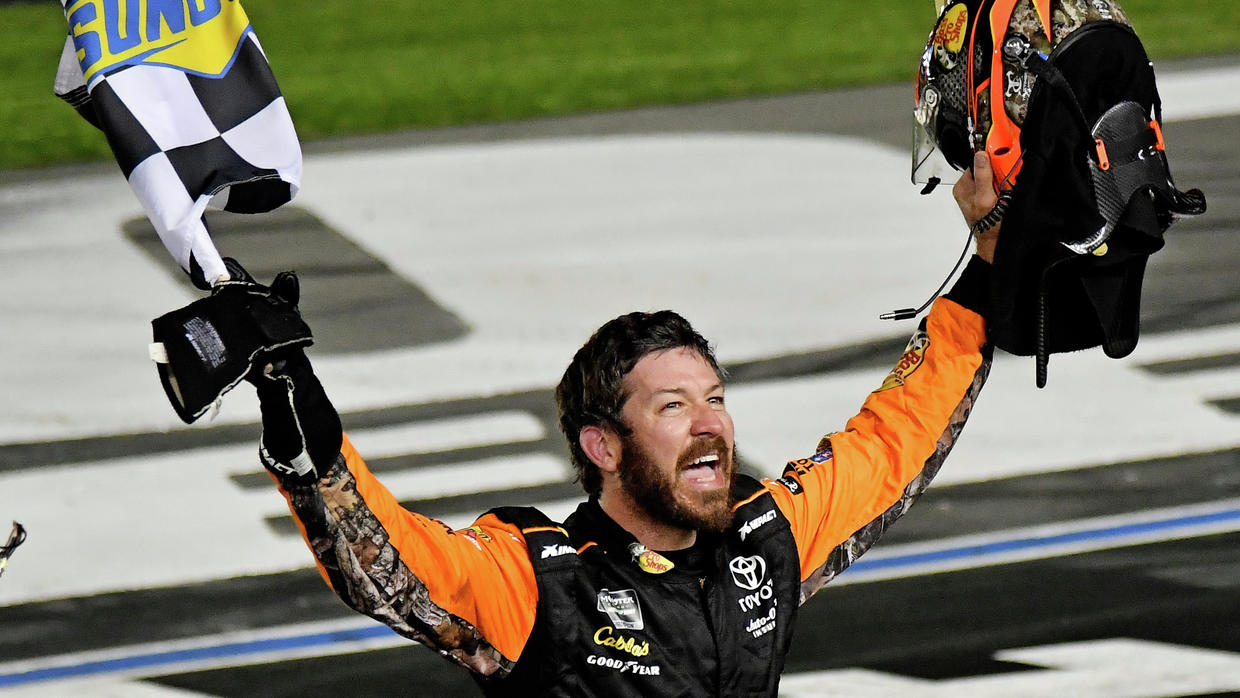 The win was the second in four years for Truex at the Coca-Cola 600, and marked his third victory of the 2019 NASCAR Cup Series season.
Damage Slows Truex, But Not For Long
The race got off to an inauspicious start for Truex, who hit the wall during the first stage. That caused damage including a flat tire that almost took him out of the race.
But it turned out that the car was still in good shape, and crew chief Cole Pearn told Truex to focus on racing rather than worrying about the car.
"I thought, 'We're done. How are we going to fix this thing?"' Truex told reporters after the race. "I didn't know how bad it was, the guys worked hard, fixed it up."
After making some repairs, Truex jumped back into the race in 32nd place. It took him just over 20 laps to get back into the top ten, after which he stayed among the leaders for the remainder of the night.
Four-Wide Pass Leads to Victory
The race would ultimately come down to a restart with just five laps remaining. Truex made a four-wide pass on the inside of Turn 2 to pass Kyle Busch, Ryan Newman, and David Ragan to take the lead.
Later on that lap, Logano nearly pushed past Truex on Turn 4.
"It seemed like the second half of the race, for sure, the bottom was really where you wanted to be," Truex said after the race. "I had a hole in the bottom to get into [Turn] 3, and I knew that was my only shot. Just barely cleared [Logano] off [Turn] 4 sideways. He was on my bumper and had me sideways, and I hung onto it and luckily finished it from there."
Truex would eventually pull away slightly as the leaders reached Turn 1 on the next lap, and would ultimately finish .330 seconds ahead of Logano.
"For us, it's the wildest race we've ever won," Pearn said afterwards.
Kyle Busch ended up in third place ahead of Chase Elliot, with Ricky Stenhouse Jr. rounding out the top five.
Truex's win also prevented a bit of history. Had Logano won, Roger Penske would have become the first team owner to win both the Indianapolis 500 and Coca-Cola 600 on the same day, as Team Penske's Simon Pagenaud won at Indy earlier in the day.
Busch remains the NASCAR Cup Series leader, six points ahead of Logano in the driver standings. Busch, Truex, and Brad Keselowski are the only drivers to record three wins so far on the season.
Busch is also the consensus favorite to win the 2019 NASCAR championship. SportPesa has Busch at 3/1 to win the title this year, ahead of Truex (6/1), Kevin Harvick (6/1), and Logano (7/1).