The end of the year offers us the ideal time for reflection. CBS News just released its Top Photos of 2019: The Year in Pictures. Of the 53 photos selected, nearly a dozen relate to sports. Accordingly, this seems like the perfect occasion to ponder and marvel at these 11 photographs, with discussion as to what makes them so special.
Picture Perfect
Taking the perfect photograph requires a lot of skill, extraordinary patience, and even a little luck. Indeed, the greatest photos have the power to move us. To make us laugh, cry, inspire celebration, empathize with pain and defeat, and even can change our perceptions of people, things, and the world around us.
Sports provide an extraordinary canvass for the lens and laboratory of lucidity for the mind. A few years ago, I examined a famous photo of a late heavyweight boxing champion that gave me new perspective on both picture's subject, and the artist behind the lens. This genuine appreciation for photographers and the art of photography inspired me to compose a retrospective on the top photos of 2019, with particular focus on the images relating to sports.
So, let's now take a look back at the year in sports photography.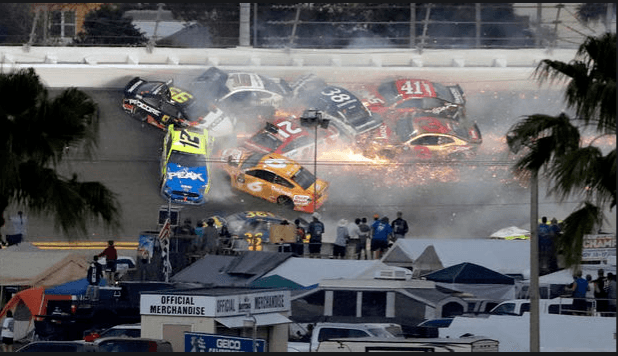 NASCAR Crash
Back in February, a massive 21-car pile-up took place at the Daytona 500. Cars racing at speeds in excess of 100 mph were crunched together like toys as sparks and flames spewed from the track, and the crash scene became engulfed in clouds of smoke. Photographer Chris O'Meara captured this astonishing spectacle at the Daytona International Speedway. Remarkably, several onlookers are positioned to watch the demolition derby from just a few feet away. It's hard to say if those were the best or worst seats in the house.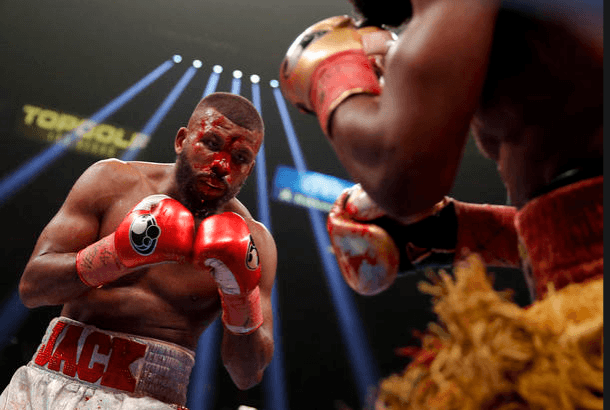 Boxers
Marcus Browne fought Badou Jack (left) for the WBA Light Heavyweight Championship in Las Vegas. Brown pulled off an upset, winning a unanimous decision. John Locher's photo captures Jack's bloodied face, which has a look of both defiance and determination. Also notice Browne's the bloodied gloves of Browne, who is about to throw another flurry of punches. The blue aura of lights makes the moment seem surreal.
Cliff Diving
One doesn't typically associate Beruit, Lebanon with the dangerous spectacle of cliff diving. However, the limestone island off the coast of the Middle Eastern nation hosted the 2019 Red Bull Cliff Diving Championships in July, for the first time. Fortunately, Hussein Malla was at the famed Raouche sea rock with his camera just as an unnamed daredevil made his swan dive into the sea. The image is both perilous and breathtaking.
Dakar Rally
The Dakar Rally certainly isn't for the faint of heart. It's both an endurance test, and a marathon. Race distances vary year-to-year, but it has been up to 9,000 miles. Racers drive motorcycles, cars, and other vehicles over multiple weeks. Many competitors cover up to 600 miles per day on "off-road" routes (meaning, no paved highways or guideposts). The Dakar Rally, which originated in Senegal 40 years ago, moved to South America over the past decade due to political unrest in that region of Africa. But danger hasn't slowed down attendance (600 entrants last year), nor enthusiasm. This photo by Ricardo Mazalan, shows motorcycle racers crossing miles of sand dunes in one of the most inhospitable places on earth — a barren desert at Ica, in southern Peru.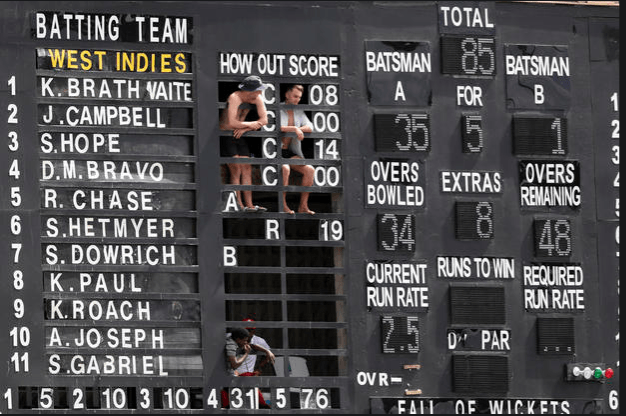 Cricket Fans
Cricket is an obsession in many parts of the world, particularly so in former British colonies in the southern hemisphere, which consider the sport a matter of national pride. This photo captures that obsession, which was taken at the Darren Sammy Cricket Ground in Gros Islet, St. Lucia. Ricardo Mazalan had two photos selected this year, which were among the most remarkable images in journalism. His photo of the Dakar Rally (see above) also received well-deserved praise.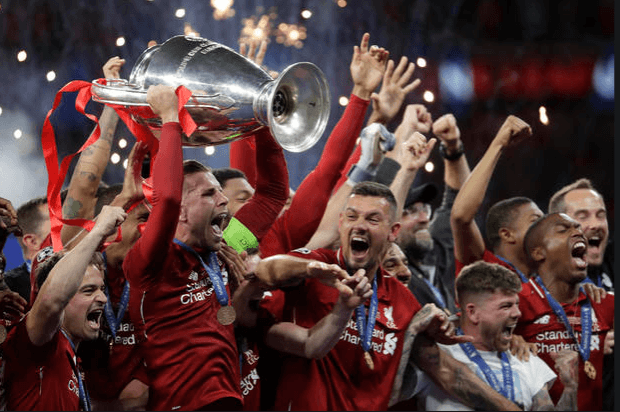 Liverpool: We are the Champions
Liverpool F.C. won the 2019 Champions League title, beating their British rivals Tottenham Hotspur in the final, which took place in Madrid. The victory set off a celebration frenzy captured by award-winning photojournalist, Felipe Dana. Getting this perfect moment of jubilation just as the championship trophy was being hoisted into the air by Liverpool players must have been relatively easy, given Dana's usual travels and occupation. Much of Dana's career as a photographer has chronicled events that have taken place in war zones, including the ongoing humanitarian crisis in Syria.
Simone Biles
The uneven bars have never looked so intimidating. But Simone Biles is such a naturally-gifted athlete that she makes gymnastics look easy. Biles won five gold medals at this year's Gymnastics World Championships, held in Stuttgart, Germany. This marked her fifth overall world championship in the sport, which is unfathomable given the short careers of most female gymnasts. Matthias Schrader captured this image of Biles in the middle of her routine, which reveals tremendous strength, concentration, determination, beauty, and art — all within a dynamic 95-pound package of athletic perfection.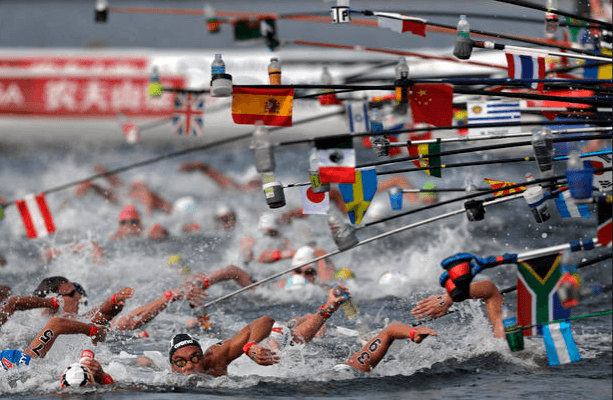 Swimming Championships
Swimmers get thirsty. Who knew? Mark Schiefebein snapped this photo of something which isn't widely seen, nor typically covered in sporting competitions. That is the mechanics of how to deliver clean drinking water to athletes in the middle of a lengthy competition that requires hydration. Notice the long sticks with national flags attached. Swimmers are able to identify precisely which cups to grab. While there's nothing that's particularly daring about this photo, it does reveal the limitless possibilities that exist in sports and photography when one is thinking beyond just wins and loses. Sometimes, the most interesting story is outside the lines.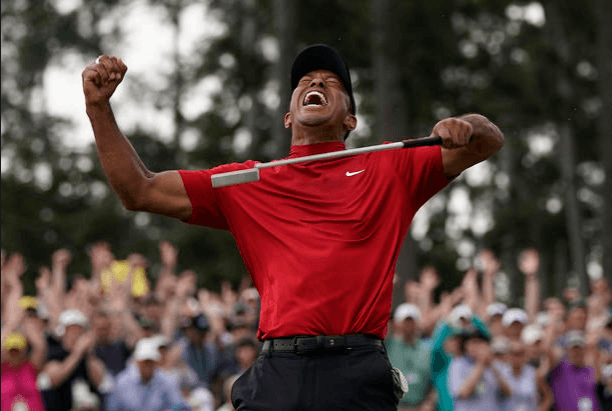 Year of the Tiger
What year was this photo taken? 1997? 2001? 2002? 2005? Tiger Woods won the famed Masters golf tournament in each of those years. He also won it again in 2019 — which was his fifth title. Looking closely at this photo by David J. Phillip, it's almost impossible to tell it was taken last May. Woods seems unchanged, from his trademark red and black colors …. to his Nike swoosh logo …. to his demonstrative jubilation at the moment of victory. Woods' unlikely win at Augusta marked a stunning personal and professional comeback, and sets up a possible record-tying sixth Masters win at the 2020 Masters, and in the years beyond, which would match Jack Nicklaus' all-time record.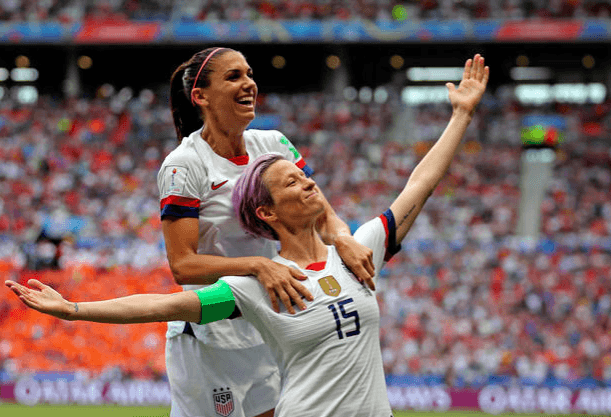 Women's World Cup
The United States Women's National Team made a profound statement at the 2019 World Cup (soccer) played in July in France. They not only won the tournament, but also scored a huge goal for gender equality, much-deserved respect, and long-overdue recognition. The women's team, led by captain Megan Rapinoe (lower) with Alex Morgan (above) captured first place. A few months later, members of the team won a wage dispute complaint versus the US Soccer Federation, which settled a case of overt salary discrimination. If sports are a mirror for the rest of society, we'll see if this inspires future achievements in gender equality.
Kentucky Derby
Finally, we have this extraordinary image from the 2019 running of the roses, the Kentucky Derby.  Associated Press photographer Matt Slocum not only captured a gorgeous racing panorama at Churchill Downs on what otherwise was a dreary, overcast day. Perhaps more incredible, the photograph shows the horse, Maximum Security, ridden by jockey Luis Saez crossing the finish line, seconds after an infraction and moments before the horse was disqualified. Country House, there in the middle, was declared the winner.
Note: Nolan Dalla can be reached at: nolandalla@gmail.com