Tiger Woods became the latest elite athlete to lend his likeness to a series of sports NFTs on the DraftKings Marketplace, as the first two versions of his Autograph Premier Preseason Access Passes dropped on Tuesday.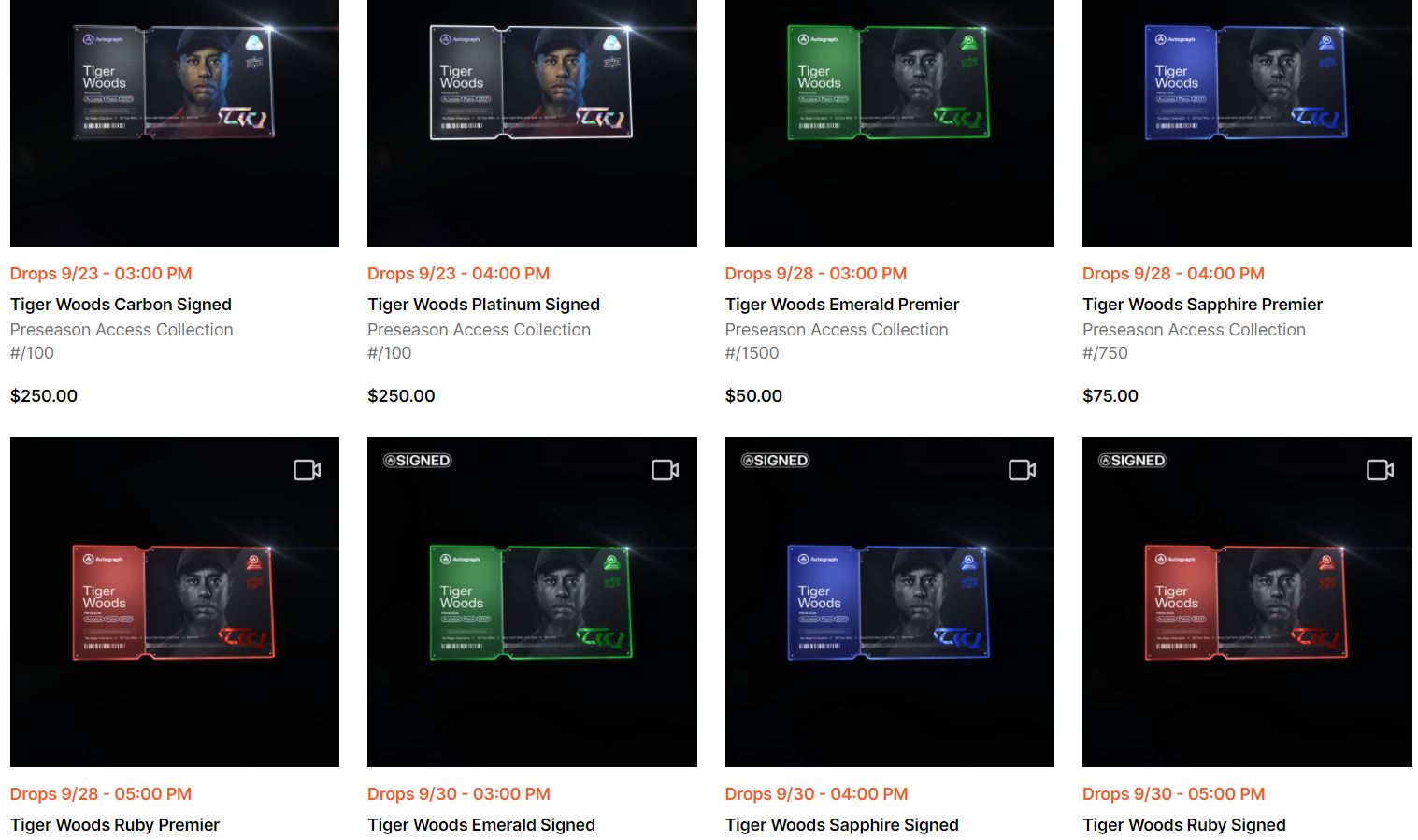 Collectors had the opportunity to queue up for one of 5,000 Carbon Premier NFTs, or one of 2,500 Platinum Premier collectibles.
Tiger Woods NFTs outpace Jeter, trail Brady in value
The Woods NFTs will continue to drop over the next week. On Thursday, Sept. 23, the signed Carbon and Platinum NFTs will go on sale, each limited to just 100 in total. Next week, Autograph will release the rarer Emerald, Sapphire, and Ruby versions of both the Premier and Signed Woods NFTs.
The Carbon Premier version of the Woods NFTs sold for $12, while the Platinum edition retailed for $25. Those prices immediately skyrocketed on the secondary marketplace. Just after the drops ended, Carbon Premier versions were selling for a minimum of $147, while the Platinum version started at $202.
Those numbers compare favorably to the returns of other athletes who have graced Autograph NFTs. For instance, Platinum NFTs for Derek Jeter currently sell for about $119; those for Wayne Gretzky are going for around $110. Tony Hawk, Simone Biles, and Naomi Osaka command even lower prices, though all of the Autograph NFTs are selling for more than their initial costs.
The first and most valuable of the Autograph NFTs feature Tom Brady. As a point of comparison, his Platinum Premier NFT currently lists for around $490.
Brady co-founded Autograph. The other athletes who have released NFTs through the company all sit on its advisory board.
Signature editions command high prices on marketplace
The Woods NFTs promised to be some of the most demanded collectibles of the entire series. Sure enough, tens of thousands of users lined up for the chance to buy the limited edition product.
"The intersection of sports and technology is such an interesting space to me, and I'm thrilled to partner with Autograph as they lead the charge by ushering a new era of digital collecting," Woods said in a statement. "It's been an honor to join their advisory board among so many iconic athletes, and I'm looking forward to bringing fans closer to my memorable sports moments at an accessible price."
Future releases could command much higher prices. Jeter's Ruby Premier NFT – limited to just 375, and retailing for $100 – currently sells for $865. The ultra-limited Signature versions fetch the bigger returns: even the Carbon Signed Jeter NFT now lists for about $3,300 on the open market, after initially selling for $250.
Beyond guaranteed profits for those who snag them, these initial drops will also grant collectors additional benefits. Autograph says that holders will gain VIP access to the first limited edition drops for each athlete, as well as access to a private Discord community.