Sports Illustrated contributing writer Michael Farber wrote on Twitter his feelings about the Thanksgiving weekend Tiger Woods-Phil Mickelson match. He tweeted: "I see the Woods-Mickelson ppv match costs $19.99, which, coincidentally, would have been the year I would have been interested in watching."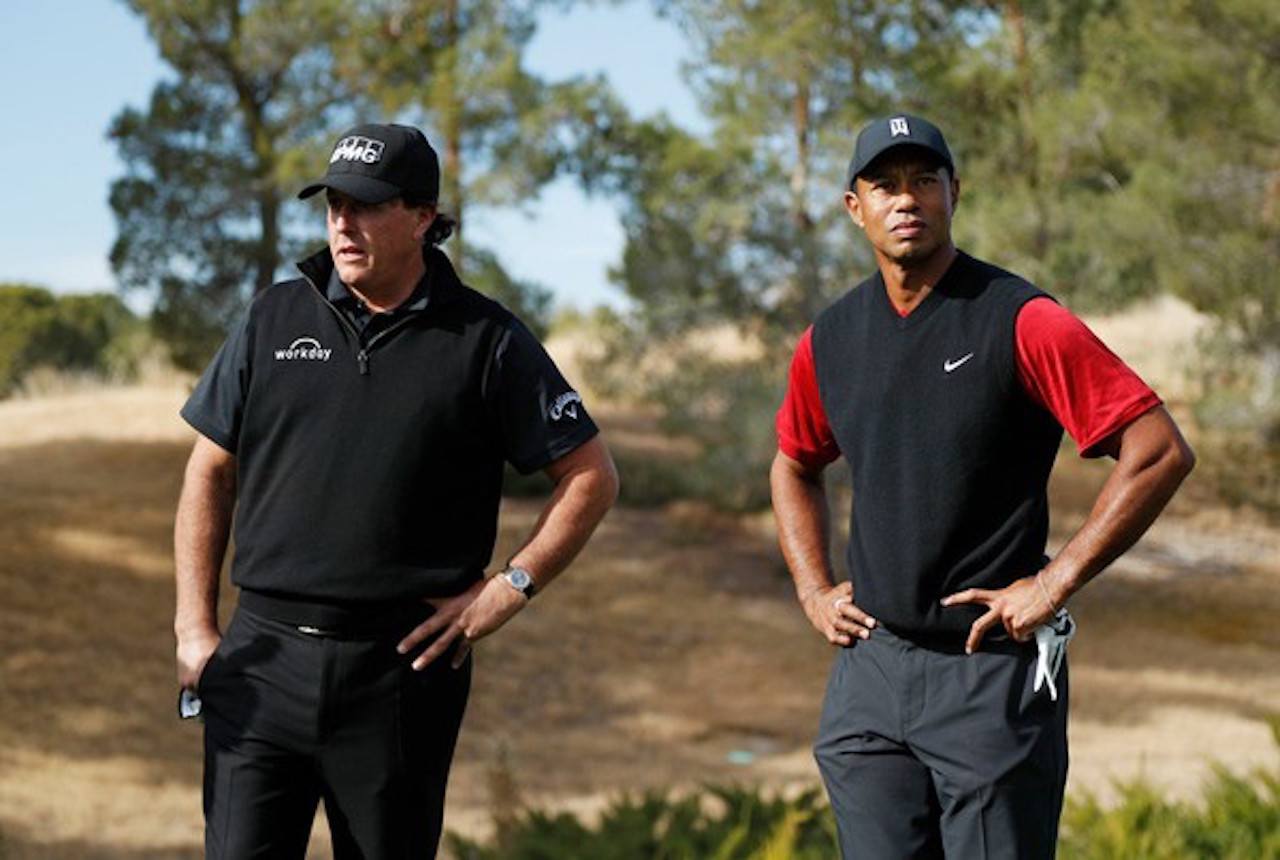 Seems he wasn't alone. "The Match," as it was billed, might have made Mickelson $9 million richer, but it definitely made the sport, and those that follow it, infinitely poorer.
This was a money grab from the start, and not a very interesting one at that. At the pre-event press conference Turner president David Levy mentioned the two had 19 major championships between them. What he left out was that the last one for Mickelson was 2013, and for Woods 2008. A five-year gap from the closest major didn't make this must-see TV, and unfortunately that was proven on Friday at ShadowCreek.
Awkward Television
The two competitors, who truth be told, have never really cared for the other much, tried to hype the 18-hole competition as much as possible. In the pre-event press conference they tried to build an adversarial, though humorous, relationship, and much to their credit, there were a few funny quips.
That didn't translate out on the golf course, however. Once they started playing, the banter stopped for the most part, and the long, silent gaps between shots was painful to watch.
Then there was the golf. Woods has spent an exhausting season, where he won a tournament for the first time since 2013, but played more events than usual. Mickelson also won an event, but his best finish in a major was a tie for 24th at the Open Championship. They both flamed out in the Ryder Cup, with the pair going 0-6.
As the duo started to play, even those that were paid to say nice things about Woods and Mickelson couldn't. Charles Barkley had seen enough by the ninth hole and told the audience what he thought.
"This is some crappy golf," Barkley said. "Y'all know that. I could beat these two guys today."
Popular to Some
He couldn't but his point was well received. It was crappy golf, but apparently 150,000 paid to see it, and another estimated 500,000 tuned in to watch it, getting it for free after technical difficulties with the streaming video froze some people out. Those that were responsible for taking the money, said they will be issuing refunds.
Sportsbook operators said that the handle was about what they had estimated it would be, but weren't blown away with the amount wagered. Jay Rood, vice president of Race & Sports for MGM Resorts International said they had good betting on the event.
"The action on The Match was very good for us and about what we thought it would be," Rood said. "We took a couple of high five-figure wagers (both on Phil).  As we booked this event it really unfolded very much like a championship fight with much of the handle coming in over the course of the last 24 hours."
Years ago we ridded ourselves of Silly Season events because they had run their course. "The Match" just showed us what happens when something past their expiration date is served.