While the horse racing world was focused on Maximum Security's return on Saturday (spoiler alert: he won), the other end of the country produced one of the more surprising upsets in the graded stakes world. That, courtesy of Starship Jubilee, who took down 2/5 favorite Sistercharlie in the Grade 2 Ballston Spa Stakes at Saratoga.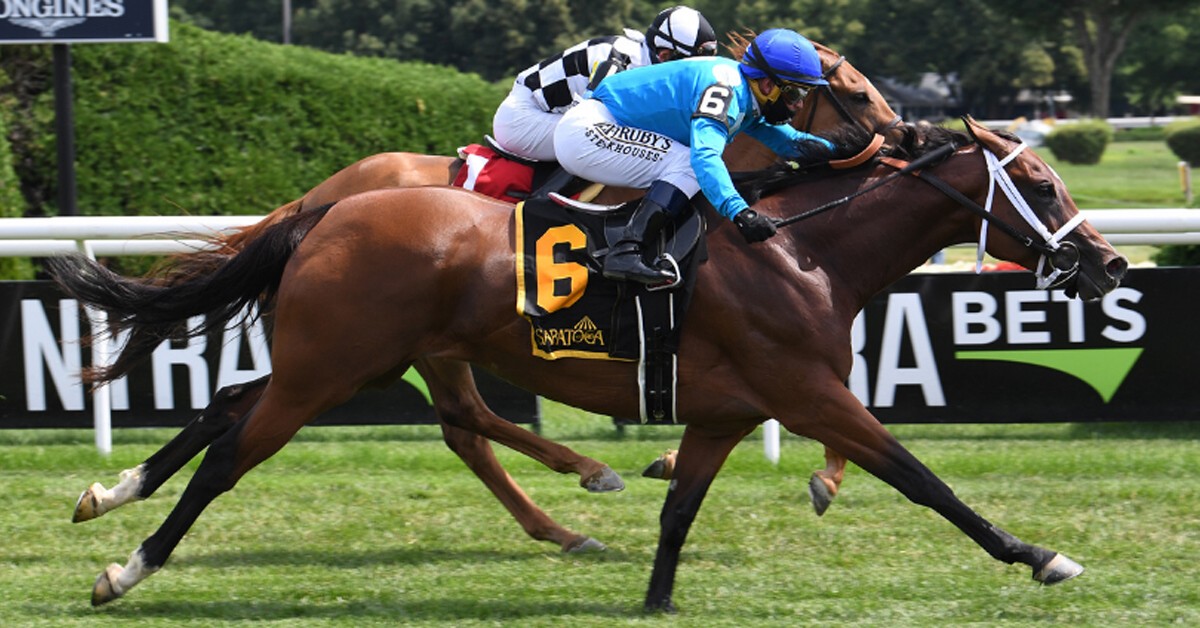 Again, chalk one up for the non-chalk. Going off at 3/1, Starship Jubilee paid $8.20 for vanquishing seven-time Grade 1 winner Sistercharlie, who finished 1 ½ lengths back in third. Call Me Love dueled Starship Jubilee down the stretch before falling a neck short.
And again, chalk one up for AARP crowd – horse racing division. Starship Jubilee is a 7-year-old mare with a lot of miles under her hooves. Not to mention, a lot of wins under them. The Ballston Spa provided Starship Jubilee with her 18th career victory in 36 races, her fourth consecutive win, and sixth in her last seven starts. The lone blip? A second in the Grade 3 Cardinal Stakes at Churchill Downs last November.
The reigning Canadian Horse of the Year, Starship Jubilee owns stakes victories on three tracks in 2020: Tampa Bay Downs, Gulfstream, and now, Saratoga. That goes with five stakes victories at various levels at Woodbine – Starship Jubilee's home track outside Toronto. Eight of her 18 career victories came in graded stakes, producing more than $1.6 million in career earnings.
Starship Jubilee Pays for Herself 100 Times Over
Not bad for a $16,000 claimer. That's what Starship Jubilee fetched in a routine claiming race at Gulfstream Park in January 2017.
"She's just a special horse. She's seven and a lot of horses as they get older, lose a step or two, but arguably, this horse has gotten better as she's gotten older," trainer Kevin Attard told the New York Racing Association's Ryan Martin after the race. "She has the will and desire to win, and I'll probably never come across another horse as good as her."
Attard checked in from Woodbine. He watched Starship Jubilee's clutch victory on TV, unable to travel due to COVID-19 restrictions. He turned matters over to Hall of Fame trainer Shug McGaughey. What Attard saw illustrated why Starship Jubilee improves with age and why Javier Castellano is one of the best riders in North America.
Starship Jubilee's 18th victory was anything but routine. At the start, she broke sideways, slamming Castellano's right foot against the gate door.
Opening Pain Leads to Closing Pleasure
"It was painful. With the pain, I tried to rate the horse and I think I grabbed a little too much," Castellano said after the race. "It looked like the horse was keen, but she wasn't."
Throbbing foot and all, Castellano settled Starship Jubilee perfectly in third, letting North Broadway romp out to an eventual 10-length lead. Meanwhile, Sistercharlie camped right behind, waiting to spring the talent that made her last year's Eclipse Award Champion Turf Filly.
Instead, Castellano sprung first. He turned Starship Jubilee loose approaching the far turn, blew past a tiring North Broadway, and turned away Call Me Love in the deep stretch.
"I decided to be a little more patient and relax the horse," Castellano said. "The way the race developed was phenomenal. I like the way she did it. We had to take on a No. 1 horse in the country like Sistercharlie. I think it was the right time today and the right place to beat her."