Volatile, the standout sprinter who set records on numerous tracks, broke a bone in his leg Monday and immediately retired from racing.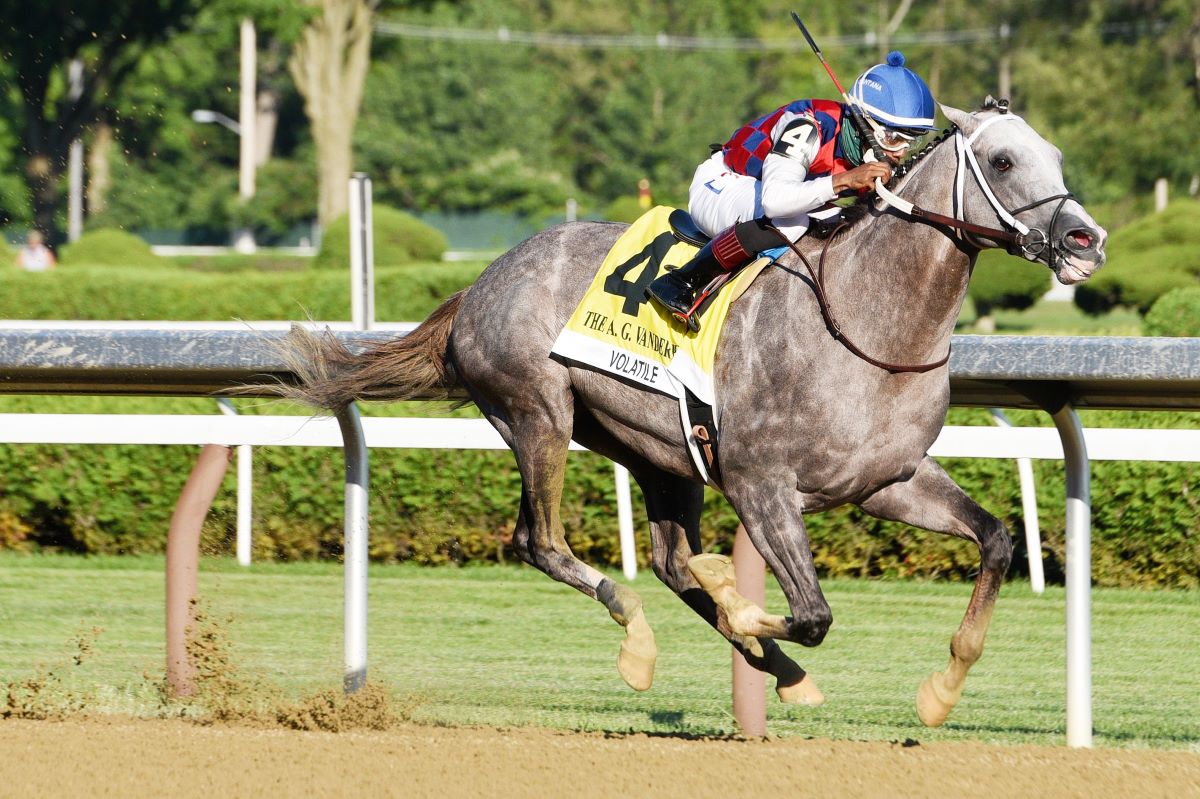 Considered the top sprinter in America, Volatile suffered a hairline fracture of his right front cannon bone. The injury, while not life-threatening, ends Volatile's dynamic racing career and sends him to stud duty at Three Chimneys Farm in Kentucky. He'll begin his stud career in 2021.
One of the Most Dynamic Sprinters of His Age
That takes one of the most exciting Thoroughbreds of his age off the track. Volatile won five of six races during his brief career, finishing second in the one he didn't capture. In late July, Volatile ran over his competitors – all Grade 1 winners — in the Grade 1 Alfred Vanderbilt Stakes at Saratoga.
As the 2/5 favorite in his first Grade 1, Volatile's final quarter-mile time of 22.94 seconds was the fastest in the race's history.
"He was really on his toes today," jockey Ricardo Santana Jr. said after the race.
The Vanderbilt victory followed one of 2020's most dominant performances by any North American horse. Back in early June in the listed Aristides Stakes at Churchill Downs, Volatile rang up a blazing 112 Beyer Speed Figure with his 1:07.57 clocking for six furlongs. Even wrapped up down the stretch of his eight-length victory, Volatile still ran the fifth furlong in 11.3 seconds and the last in 11.91 seconds. His final time was 0.02 seconds off the Churchill Downs' six-furlong record.
The race before that, Volatile entered the Oaklawn Park starting gate after a five-month layoff and dismantled an allowance field by 7 ½ lengths. Again, his fractions were ridiculously fast: a 21.6-second quarter-mile and 44.8-second half-mile. His 1:08.48 clocking for the six furlongs was the fastest at that distance at Oaklawn's meet.
'As Fast As Any Horse I Have Ever Trained'
"Volatile is as fast as any horse I have ever trained," Hall of Fame conditioner Steve Asmussen said. "His brilliant performances this year would have made him the likely favorite or the Breeders' Cup Spring and a tough horse to beat. I trained his mother and his grandmother, the incredible Lady Tak, who won multiple Grade 1 races for us. You will not find a better-looking individual than Volatile, nor one with as much speed or raw talent."
Lady Tak became Asmussen's first million-dollar trainee in 2004.
His owners at Three Chimney Farms and Phoenix Thoroughbreds apparently recognized this when they paid $850,000 for the Violence yearling at the September 2017 Keeneland September Yearling Sale. That was the highest price for a Violence yearling at a public auction.
Volatile Undefeated in 2020
The 4-year-old colt, a product of Violence and dam Melody Lady, won all three of his 2020 races. He retires with $341,040 in career earnings.
"Volatile is a beautiful horse that breeders will like when they see him. He exudes class and is a great physical (specimen). He was brilliant and that is what can make a stallion special," said Three Chimneys Farm Owner Goncalo Torrealba.