Cristiano Ronaldo started Manchester United's big match away at Chelsea on the bench. The Portuguese striker was subbed into the match in the 64th minute, replacing Jadon Sancho. After the final whistle, Ronaldo went straight to the locker room without shaking hands with Chelsea's players or clapping the United traveling fans.
Michael Carrick, who took charge of United's two games since Ole Gunnar Solskjaer departed, is expected to end his interim role early this week. German manager Ralf Rangnick (63) will replace him until the end of the campaign.
Ronaldo was obviously unhappy with how things went for him and United at Stamford Bridge. In his 30 minutes on the pitch, he only earned himself a yellow card without being able to help the Red Devils bite upfront. It's not the first time Ronaldo has been benched at United this season, with Ole Gunnar Solskjaer attracting critics for not using him from the first minute against Everton at Old Trafford in October. Just like the match against Chelsea, the game against Everton finished 1-1.
Back then, even legendary United figure Sir Alex Ferguson was heard saying United should "start their best players," while former influential players Roy Keane and Rio Ferdinand had the same opinion.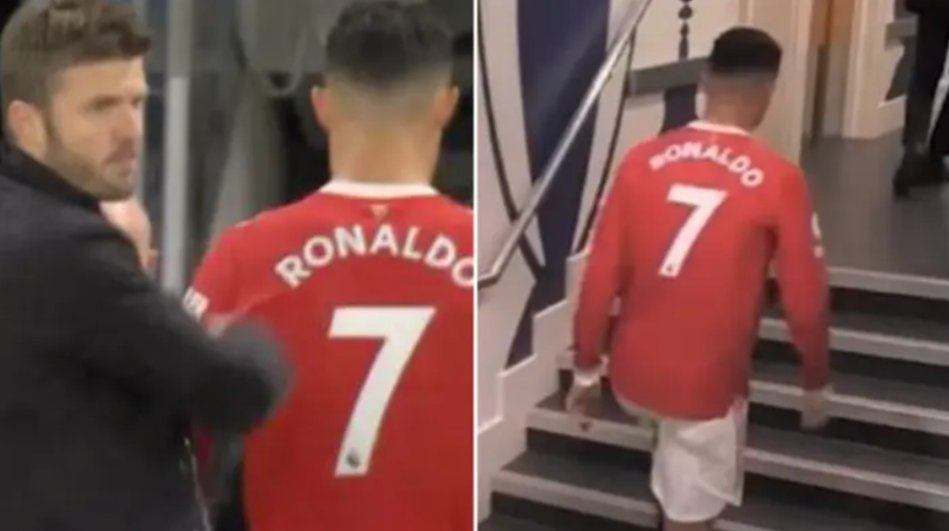 United chasing a Champions League spot
Man. United's draw with Chelsea saw them climb to eighth in the Premier League table, five points adrift of West Ham United which sits in fourth place.
United survived Chelsea's persistent attacks in the final minutes as German defender Antonio Rudiger missed the biggest chance for the Premier League leaders in stoppage time. Rudiger found himself in an excellent position inside the area, but flashed a volley over the crossbar to give United a point.
The man who Ronaldo replaced after the hour mark, Jadon Sancho, gave United the lead at Stamford Bridge following an error from Jorginho. The Italian then fought back and scored a penalty in the second half to equalize at 1-1.
Ronaldo has scored four goals in nine Premier League matches since his return to United in August, also assisting twice. The 36-year-old added another six goals in the Champions League, where he played a crucial role in his team's qualification to the Round of 16.