Trainer Melvin Ovando owns only three victories in his career. But his third career victory etched his name in the Monmouth Park record book when 158/1 long shot Andrez Conquist captured Saturday's 13th race at the New Jersey track.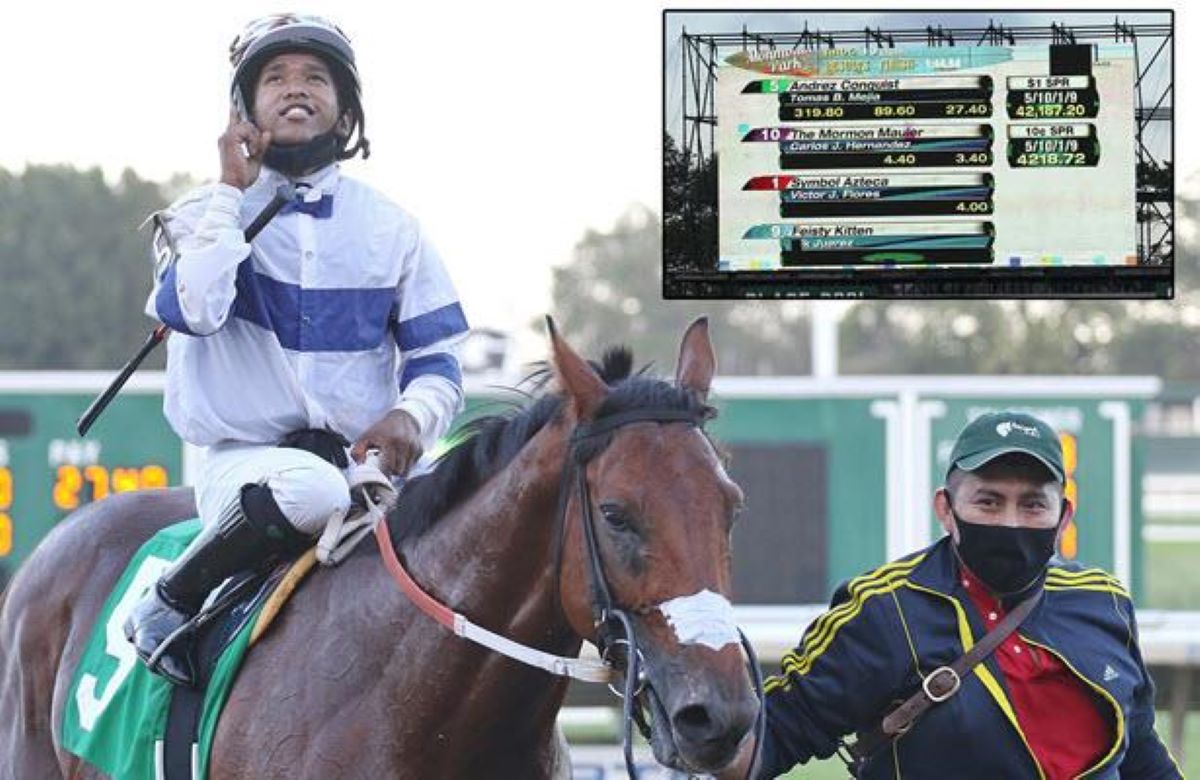 Andrez Conquist's surprisingly easy four-length victory in the maiden claimer produced the biggest win price in Monmouth Park's 75-year history. The $319.80 payoff on a $2 win ticket shattered a nearly 70-year-old record of $229.20, set in July 1951.
Aside from paying $89.60 to place and $27.60 to show, Andrez Conquist's improbable victory produced a $723.70 payout on the $1 exacta. Playing him atop your 50-cent trifectas with The Mormon Mauler and Symbol Azteca brought you $1,246.20.
At the same time, it destroyed everyone's Pick 5s and Jersey Shore Pick 6s. That sent $34,067 carrying over into Sunday's Pick 5 payout. It put $3,766 more into Sunday's Pick 6. Because Sunday is Monmouth Park's closing day, both horizontal wagers pay out.
Who Saw Andrez Conquist Coming?
It also clearly illustrates the you-never-know element to horse racing. Andrez Conquist is a 3-year-old Florida-bred with a career charitably described as "undistinguished." He was 0-for-7 in his previous races, finishing no better than sixth in a career beginning in February with a sixth in a Tampa Bay Downs maiden claimer.
In his last race earlier this month at Monmouth, Andrez Conquist finished sixth in a maiden claimer with a glacial 17 Equibase Speed Figure. He ran in two maiden special weight races – the highest-class event Andrez Conquist entered – finishing sixth and eighth.
So, Saturday's 13th at Monmouth Park defined "outlier" in every sense of the word. With Tomas Mejia in the irons, Andrez Conquist stalked The Mormon Mauler over most of the 1 1/16-mile race before overtaking him and pulling away for the four-length win. Andrez Conquist's 82 Equibase effort was 20 points better than his previous career-best.
Guess What? You're Riding a 158/1 Shot in the 13th Race
Mejia found out from his agent only hours earlier he had Andrez Conquist. He picked up the mount only after fellow rider Jorge Gonzalez understandably chose Storm Afleet. That horse came off the alternate list because of a scratch, finishing sixth in the 11-horse field.
"I don't know what to say. Wow," Mejia told Monmouth Park's media relations team. "They told me all the other jockeys that have ridden this horse have wanted to come from behind. The trainer (Ovando) said 'get him close to the lead this time.' So I was able to sit behind (The Mormon Mauler) for most of the race and then he just finished strong."
This could be the start of a productive relationship because Mejia rode all three of Ovando's career wins. That began with a $79.20 win in Ovando's maiden victory on July 24. The pair connected for a Sept. 6 win that paid $24.20.