It's the only Kentucky Derby prep currently on the calendar, which explains why the Arkansas Derby is popular these days. But 99 nominations popular?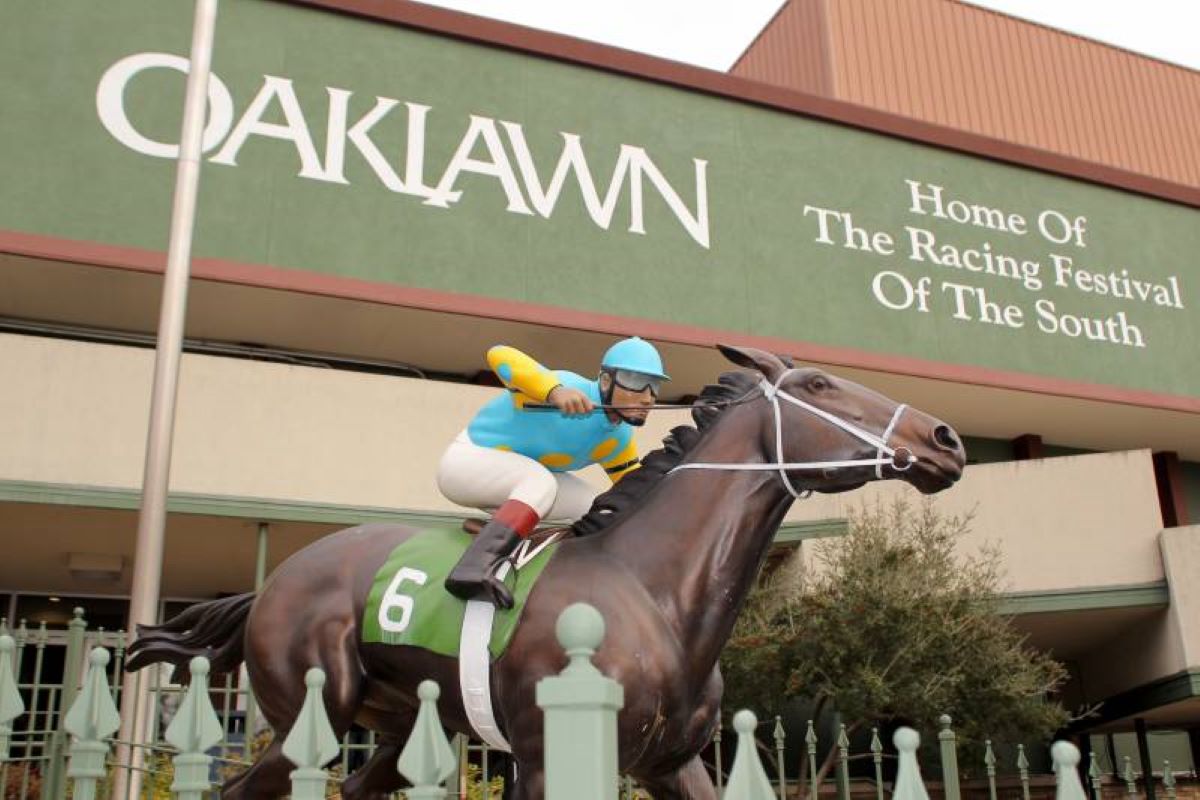 To paraphrase Roy Scheider's character from "Jaws" – "Someone's gonna need a bigger race."
Oaklawn Park published the Arkansas Derby nominations list over the weekend, a list that lends credence to the idea there will be multiple Arkansas Derbys. Oaklawn racing secretary Pat Pope told Bloodhorse multiple Arkansas Derbys are on the table should at least 20 horses commit. Even with the fact many horses on that 99-deep list won't run at Oaklawn May 2, at least 20 horses committing seems to be a foregone conclusion.
As for that lengthy list of nominees, Matt Crawford, Oaklawn's stakes coordinator, listed the contenders in order of earnings – which determines entry priority. That's why colts you probably won't see at Oaklawn, like Ete Indien, Enforceable, and Maxfield are on the list. Storm the Court, the only millionaire in terms of earnings, tops the list.
Nominations for 2020 Arkansas Derby @OaklawnRacing pic.twitter.com/neLsRmayLw

— Matt Crawford (@kaygeon) April 19, 2020
Other prominent names on the list include Rebel Stakes winner Nadal, Tampa Bay Derby winner King Guillermo, Louisiana Stakes winner Wells Bayou, and Southwest Stakes winner Silver Prospector. Along with Nadal are three more undefeated Bob Baffert charges: Authentic, Azul Coast, and the dazzling Charlatan. That latter horse would make his stakes debut after winning his first two races by a combined 16 ½ lengths.
With Baffert, Same Connections Mean Different Races
Earlier this month, Baffert told NBC Sports he is giving Authentic a break from racing until the summer's Derby Trail fleshes itself out. The Hall of Fame trainer doesn't like to pit his 3-year-olds against each other until the last possible moment – usually in the Kentucky Derby. The fact San Felipe Stakes winner Authentic and Charlatan are owned by the same connections lends further credence to Authentic sitting this one out.
After getting reports of Wells Bayou's Sunday workout at Oaklawn, Brad Cox, Wells Bayou's trainer, told Oaklawn Park from his base in Kentucky, "I would label him a candidate right now."
Others on the list, such as Independence Hall and Three Technique, are out. Connections for both horses said earlier this month they are cutting back to one-turn races.
The list also includes Gouverneur Morris, Honor AP, Blackberry Wine, Shooters Shoot, and Anneau d'Or. Three horses on the list – Mr. Big News, Taishan, and Farmington Road – are guaranteed spots after taking the top three spots, respectively, in the Oaklawn Stakes earlier this month.
Horses like Blackberry Wine and Shooters Shoot are far down the list, meaning their status depends on horses above them passing.
'I Don't Want To Face Bob Baffert Until I Have To.'
Conspicuous by his absence on the list is Florida Derby winner Tiz the Law. After Tiz the Law won the Florida Derby on March 28, owner Jack Knowlton told Bloodhorse, "We'll stay here on the East Coast and see what happens. I don't want to face Bob Baffert until I have to."
Normally the final prep before the Kentucky Derby, the 1 1/8-mile Grade 1 Arkansas Derby moved from its original date of April 11 to May 2 — the original date for the Kentucky Derby. That race moved to Sept. 5 because of the coronavirus. Oaklawn Park reduced the Arkansas Derby's purse from $1 million to $750,000 because of reduced revenue from the closing of Oaklawn's casino and racing going on without spectators.
The purse reduction could affect how many Derby qualifying points are up for grabs. Normally, the Arkansas Derby offers 100-40-20-10 Derby qualifying points. The points are based on how much of the original purse is offered for both races. If Oaklawn splits into two $375,000 races, the points could be halved to 50-20-10-5 for each division.