New York Jets safety Jamal Adams requested a trade to either the Seattle Seahawks, Baltimore Ravens, Philadelphia Eagles, San Francisco 49ers, Dallas Cowboys, Houston Texans, Tampa Bay Bucs, or the defending champion Kansas City Chiefs. A two-time All-Pro safety and the Jets top defensive player, Adams believes the team has been too slow to offer him a contract extension.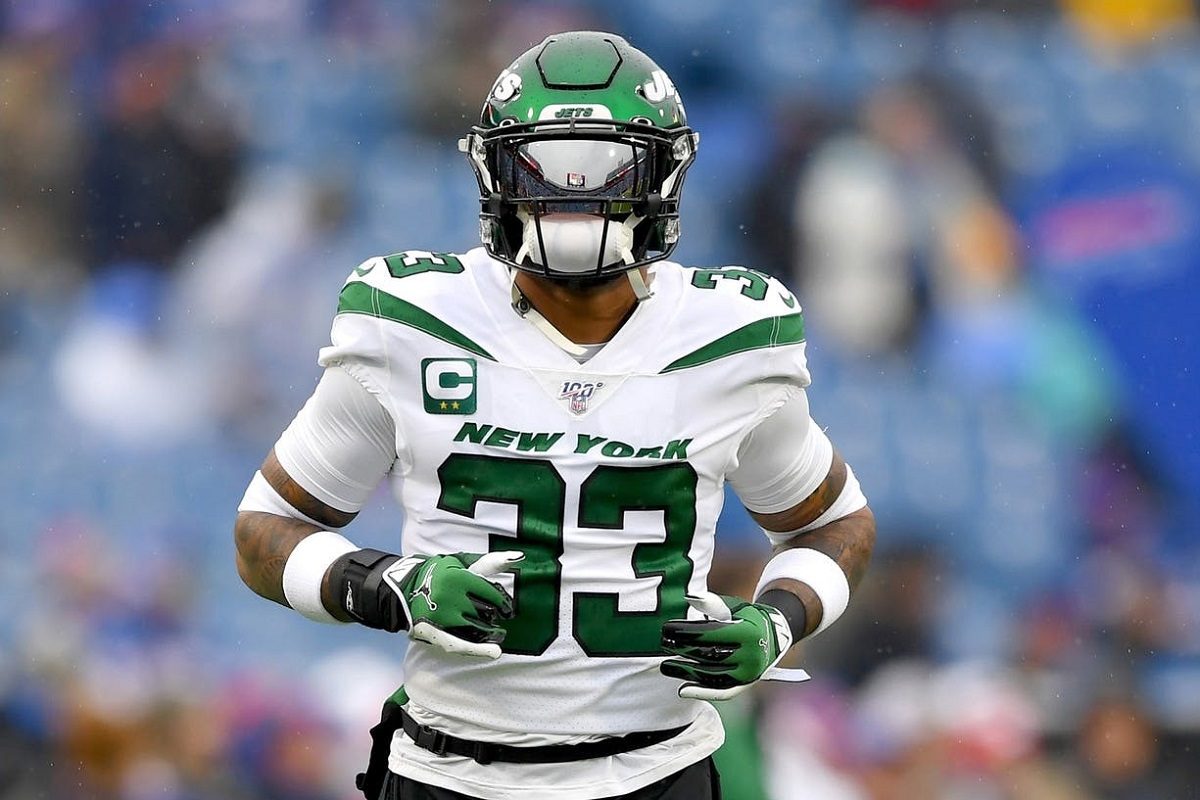 Adams, 24, earned a spot on the Pro Bowl team for the past two seasons. No other DB has more sacks in their first three seasons than Adams (12 career sacks). He's also tied for second for most forced fumbles (6), and he ranks #5 in tackles (272).
The Jets love Adams for his versatility. He's quick enough to help stop the run, and he's strong enough to defend tight ends.
Jets' general manager, Joe Douglas, told Adams he intended to make him a member of the "Jets for life," but that conversation occurred in a pre-pandemic world. The coronavirus outbreak put the entire world in lockdown and upended major sporting franchises, including the NFL. While the league intends to play out the season, teams have to prepare for multiple scenarios. As a result, new contract negotiations have stalled and are not happening as fast as Adams would like.
"He's a playmaker," said ESPN's Booger McFarland. "You have to pay the playmakers. Pay the man."
LSU > Jets
Adams' father, George Adams, excelled at Kentucky as a running back in the early 1980s. George Adams played in the NFL in the late 1980s with the New York Giants. As a backup running back, Adams won a championship with the dominating 1986 Giants squad that won Super Bowl XXI.
Jamal Adams grew up outside of Dallas, Texas, less than 25 miles from Texas Stadium. At Hebron HS, Adams led his team as a two-way football player. By his senior season, scouts regarded Adams as the best defensive player in the state. On a national scale, the five-star recruit was regarded as a Top-10 overall player.
Instead of playing with a Big 12 in-state school like Texas, Texas A&M, or Texas Tech, Adams followed in his father's footsteps and went to an SEC school. Adams attended LSU and won the starting safety job as a freshman. By his junior season, opposing quarterbacks feared Adams and avoided him at all costs. Adams earned a spot on the All-SEC team, which is an impressive feat for any defender in one of the toughest defensive conferences in the nation.
Adams skipped his senior season and declared for the draft. The New York Jets selected Adams with the sixth overall pick in 2017. It's interesting to note that Christian McCaffrey (#8 overall), Patrick Mahomes (#10), and DeShaun Watson (#12) were drafted behind Adams.
Five-Year Extension
Adams signed a four-year deal as a rookie worth $22.2 million. His deal included a hefty signing bonus ($14.3 million) and guaranteed money.
In 2020, Adams has a base salary of $825,000 with a deferred signing bonus payment worth $3.5 million, and a roster bonus worth $2.7 million.
The Jets incur a cap hit worth $7.7 million with a dead cap hit worth $3.5 million.
The Jets have the option to pick up a fifth year at $9.8 million, so Adams is under contract until 2021. They also have the option to put him under a franchise tag in 2022.
"The Jets (still) have every intention of paying Adams," said Jets beat reporter Connor Hughes from The Athletic. "They (still) want to make him the highest-paid safety in the NFL. They (still) do not, nor have they ever wanted, to trade him."
Douglas promised Adams a new contract in February, but the team intended on waiting until the conclusion of the NFL Draft to sit down with him. The pandemic threw everyone for a loop and the Jets' inaction irked Adams.
Teams are taking a wait-and-see approach to contract negotiations during the pandemic. Major stars who were drafted with Adams, including Super Bowl MVP Patrick Mahomes (KC Chiefs) and DeShaun Watson (Houston Texans), are also patiently waiting to negotiate contract extensions.
Adams cited that other teams locked up their stars. The Carolina Panthers opened up the checkbook and paid Christian McCaffrey a ridiculous amount of money with a contract extension to make him the highest-paid RB in the NFL (worth $16 million per season).
"Don't use the pandemic excuse," said Adams on Instagram. "CM22 got paid not too long ago. If you guys don't respect that, cool. It's all luv (sic). Maybe it's time to move on!"
In response to a comment on Instagram, Jets All Pro S Jamal Adams speaks on contract negotiations and concludes with "Maybe it's time to move on!" pic.twitter.com/aGjJ1Vda3s

— Field Yates (@FieldYates) June 18, 2020
Adams Trade Rumors: Dallas Cowboys?
Jamal Adams would love to return home to the Dallas area, if the Jets are willing to trade him to the Dallas Cowboys. He also has no qualms about returning to his home state to play for the Houston Texans.
Adams picked contenders, but will they have the cap space or need for his clampdown services?
NY JETS JAMAL ADAMS TRADE LIST
Houston Texans
Dallas Cowboys
Philadelphia Eagles
Seattle Seahawks
Kansas City Chiefs
Baltimore Ravens
San Francisco 49ers
Tampa Bay Bucs
Historically, the Cowboys don't overpay for defensive players, especially in the secondary. But the Cowboys can use an upgrade.
The San Francisco 49ers don't have the cap space, but they're well-stocked with offensive lineman, which the Jets desperately need.
The Ravens need to bolster their secondary. They might not want to squander an opportunity to win a Super Bowl now, while Lamar Jackson is still on his rookie deal.